My Best Bullet Journal Hacks and Spreads
We may earn money or products from the companies mentioned in this post.
Today, it is all about sharing with you my very best bullet journal hacks and spreads.  I find bullet journaling one of the best things that I ever got into.  I live and breathe by my to do lists.  For awhile, I gave them up in favor of just meditating but that didn't last super long.  I need to have a place to share all my ideas from meditating and also my to-do-lists.  Bullet journaling is the answer!
The fun thing about bullet journaling is that you can make it your own.  You can create it however you want.  If you are more of a minimalist like me or a super creative like Tracey, my amazing bestie or somewhere in between – it doesn't matter.
So let's get down to it.
First, You Must Have Some FAB Bullet Journal Supplies:
Before we dive into my favorite hacks, I want to share some of my best bullet journal tools and where to buy an affordable bullet journal. 
These stencils for making layouts so much faster
This notebook is affordable and perfect for the newbie bullet journaling babe.
These Markers for color coding and decorating your bullet journal
This pen that won't bleed through the page
This Pen for art work and faux calligraphy
I remember when I started, I totally overwhelmed myself and thought bullet journaling was complicated. Really, the only thing you need is your bullet journal and a pen.  So please don't get overwhelmed if you are brand new to bullet journalling. Just keep in mind that markers are super useful for coloring your journal and journal stencils will help save you loads of time in creating incredible layouts.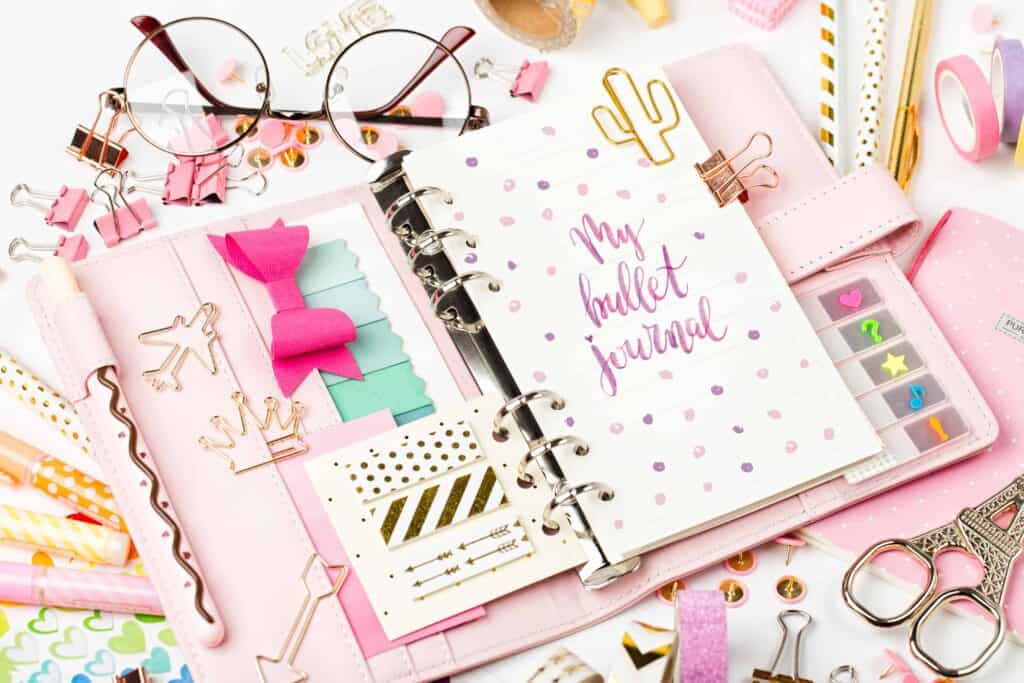 Now, My Favorite Collection of Bujo Inspired Hacks And Spreads:
What About You?
I shared with you some of favorite Bullet Journal Hacks and Spreads.  What are some of yours.  I would love to hear from you whether you are a beginner or an advanced bujo user.  The key is to have fun with it!