The Coolest Playlist Trackers for Your BuJo Planner
We may earn money or products from the companies mentioned in this post.
Music is already a part of our lives. Can you survive one day without listening to your favorite songs?! Hey, I love Lady Gaga and Yoga Tracks. Here's the good news from the bullet journal world–there's such a thing as playlist trackers. Playlist trackers are great additions to every bujo planner. Here are some designs that can serve as your inspiration.
I'm not a singer or a performing artist, but music lifts my spirits on those bad days. If you are having a tough week and are in need of an emotional and mental boost, now is the time to turn to good music!
1. Music helps you get better sleep.
Try listening to classic music or some inspiring tunes. It is a great relaxation technique. Listening to relaxing music before bed equates to tuning your body to a steady slumber mode, both psychologically and physically.
2. Music makes people happier.
Do you know that listening to music can cause our brains to release a feel-good chemical called dopamine? Dopamine is involved in both addiction and motivation. What is your favorite song? You can combat stress by just listening to your favorite tunes!
3. Music improves memory and learning.
According to some studies, music can help people recall information a lot better. It is essential to learning. Clearly, it has a massive effect on our brains and emotions.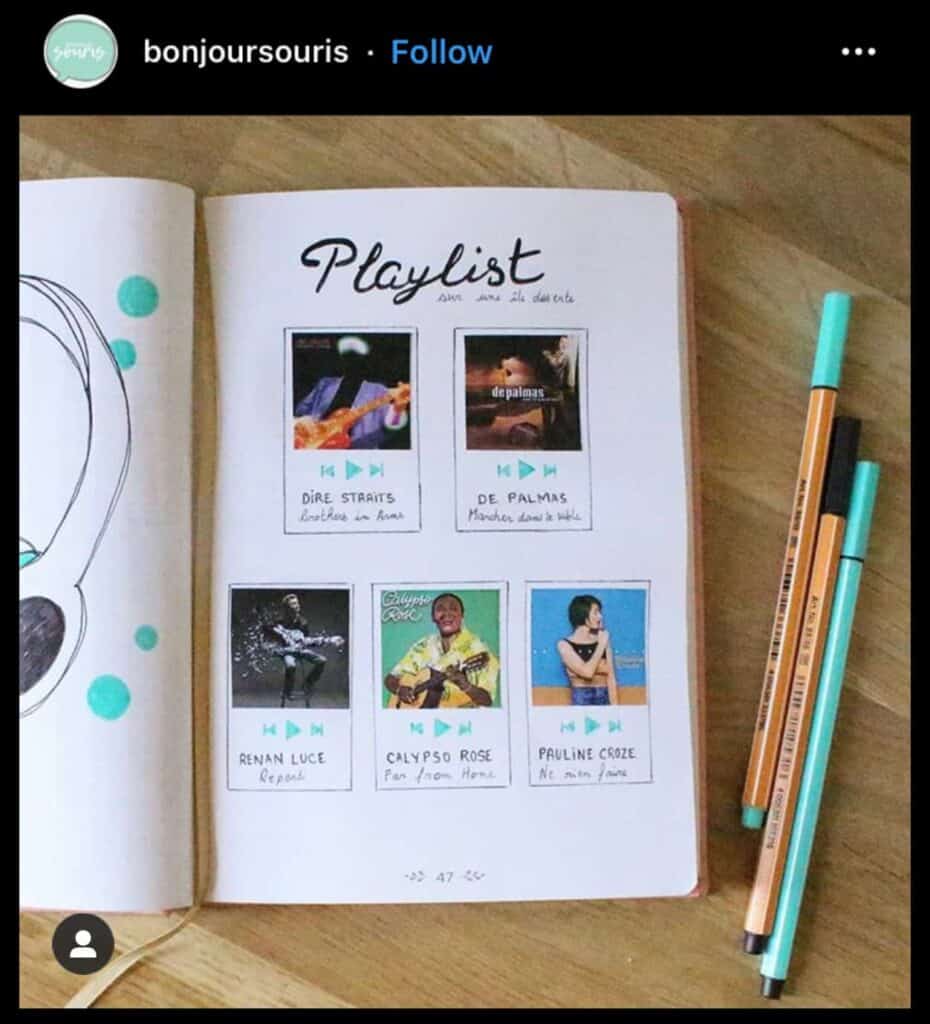 Use These Best Bullet Journal Supplies for Your BuJo Planner!
This bullet journal notebook that is 24% heavier compared to other journal brands.
This journal stencil planner set that you can use not just for your bullet journal, but also for handmade family holiday cards, greeting cards, and letters.
These washable markers are perfect for writing, coloring, and drawing.
These ball pens are loved by many bullet journalist friends because of its great for creating flowy strokes.
This card ink pen set can help you make beautiful letterings and line widths.
These washi tapes have wonderful, unique patterns.
This bullet journal stamp set is great for everyday planning, and can also be used for your travel journal spreads.
This graphite paper will save you tons of time by capturing each detail in your original design smoothly.
These sticky notes will help you remember important activities and dates.
These bullet journal stickers will look beautiful for almost every kind of spread imaginable.
This set of pens is designed for every person who loves calligraphy, drawing and art therapy.
These scissors have sharp blades that will help you finish your task in no time.
This highlighter pen set is a top choice for those who love bullet journaling.
Watercolor brush pens provide good colors for blending and shading bigger areas.
The Best Bullet Journal Playlist Trackers
Take note of your monthly music favorites.
The Source

Our Source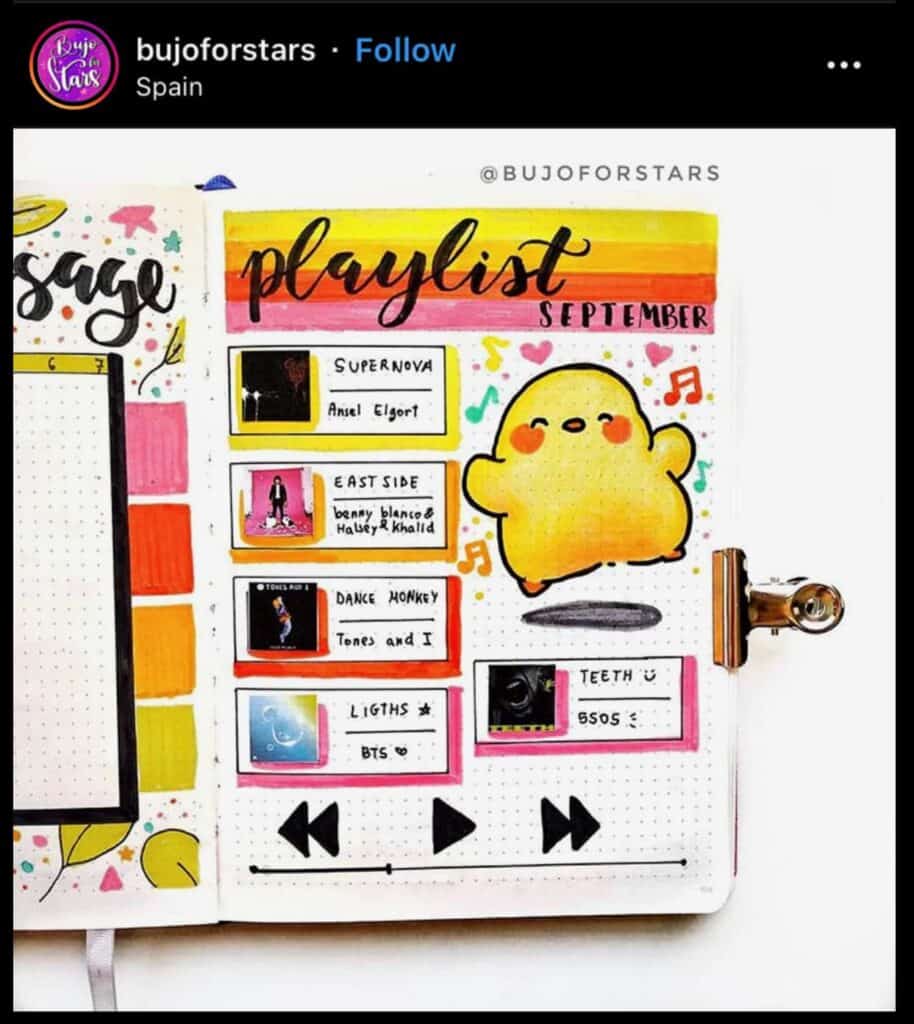 The Source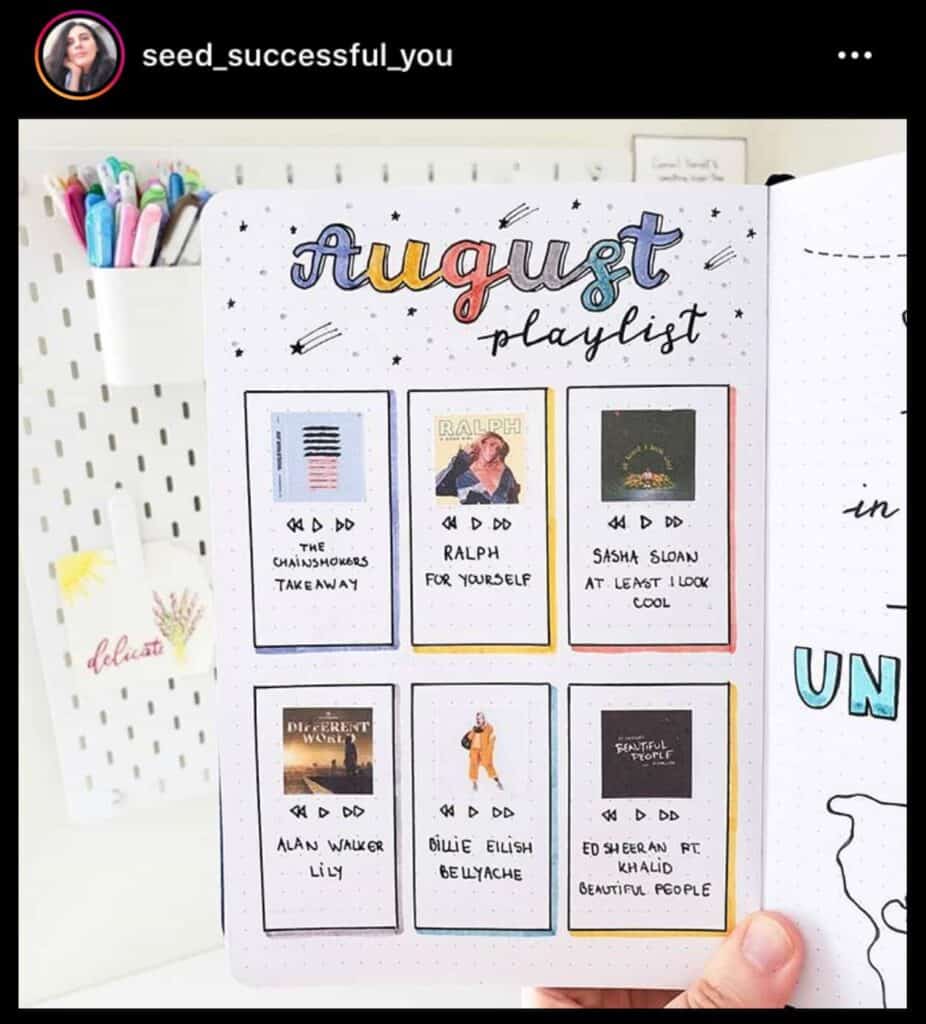 Our Source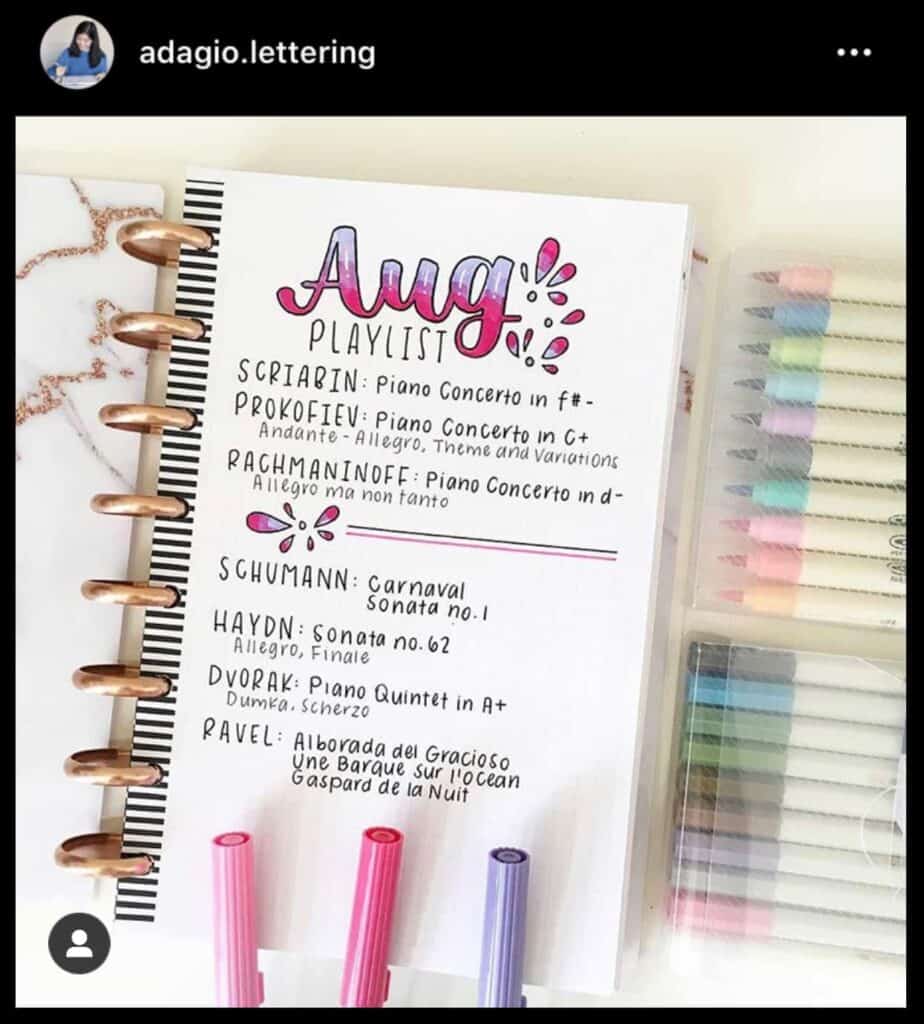 The Source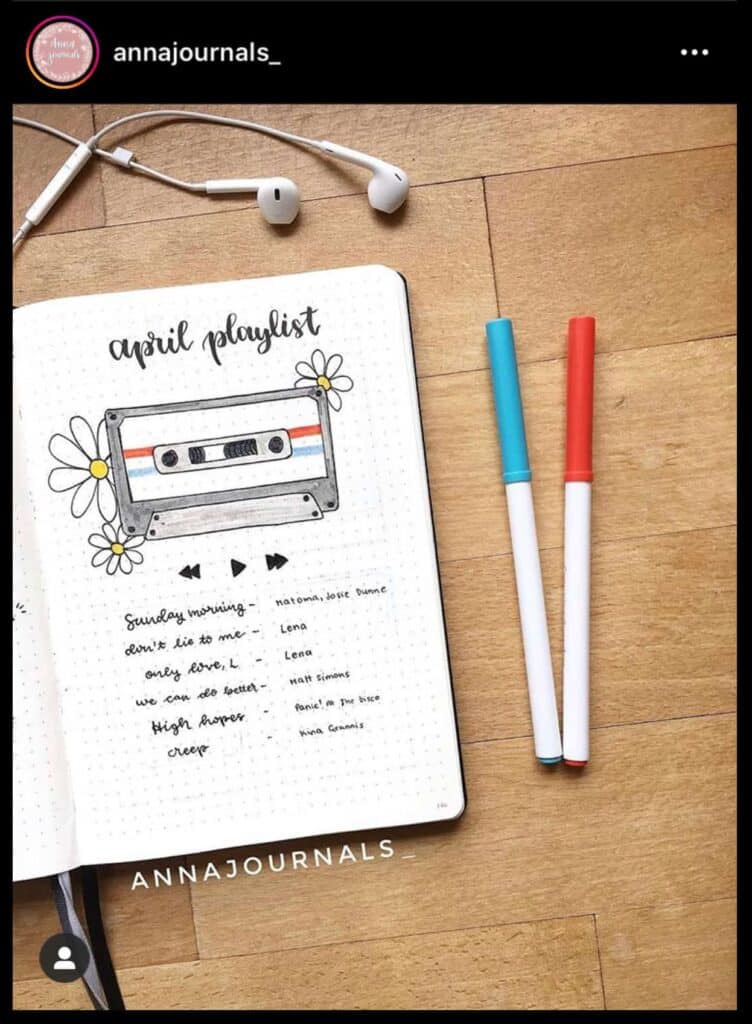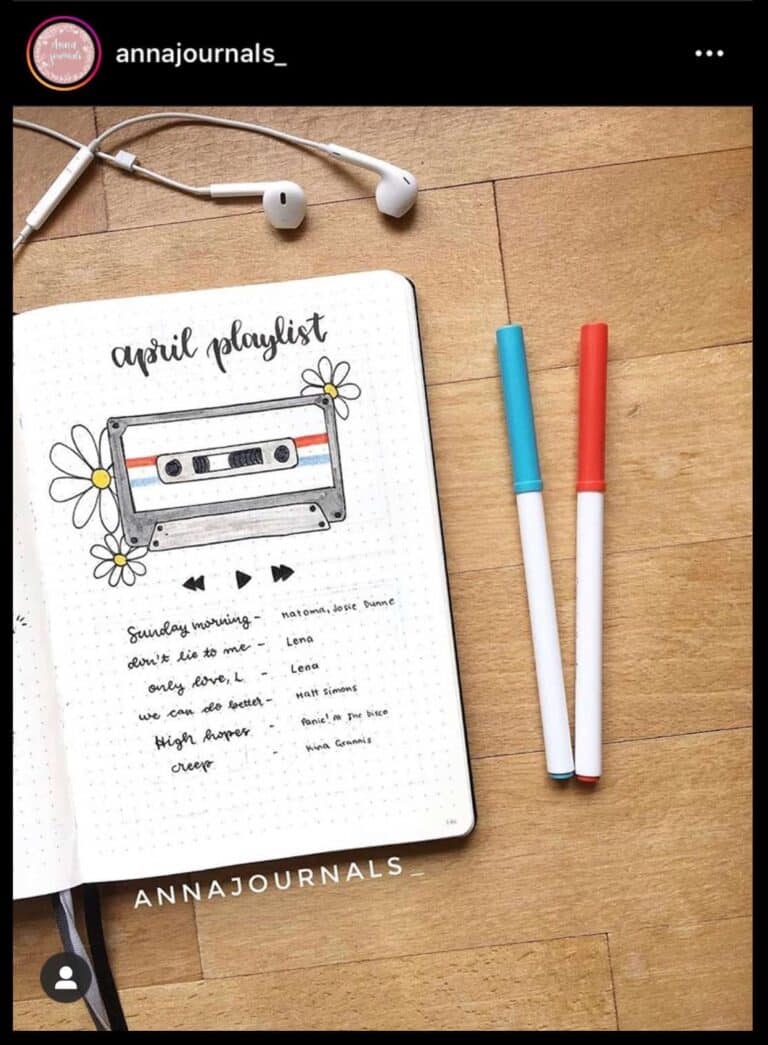 Our Source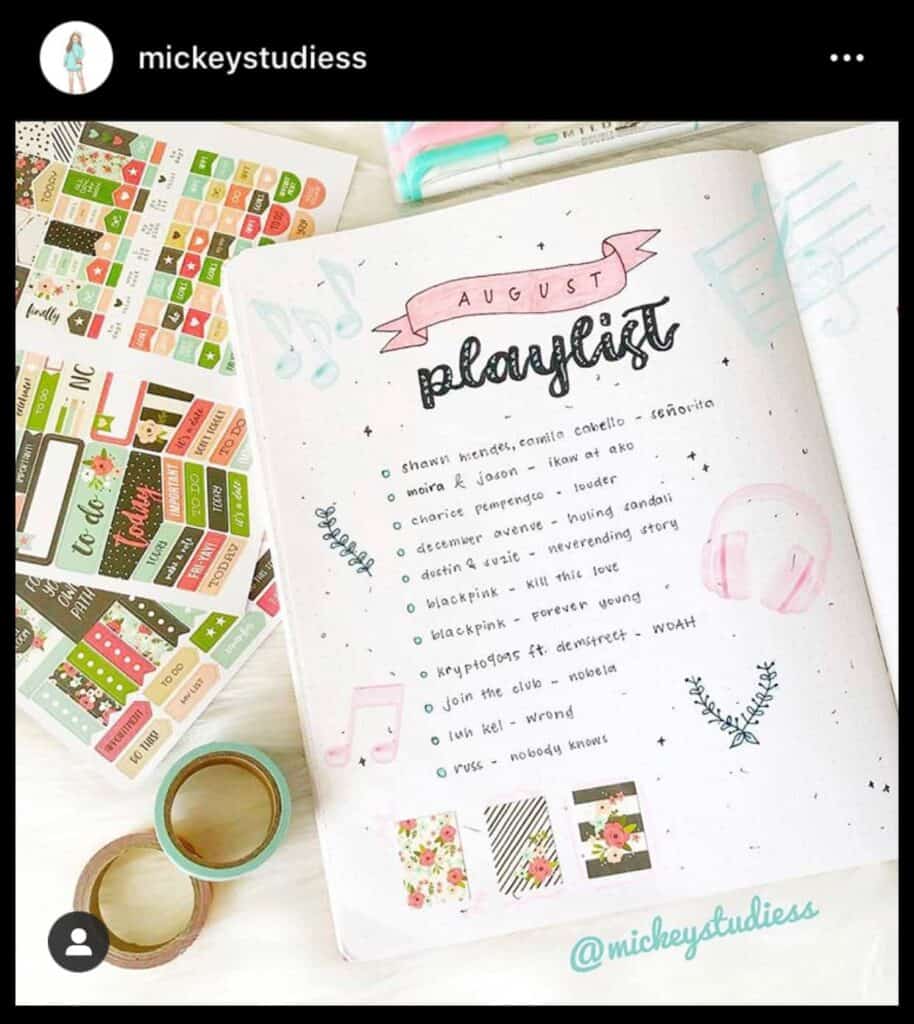 The Source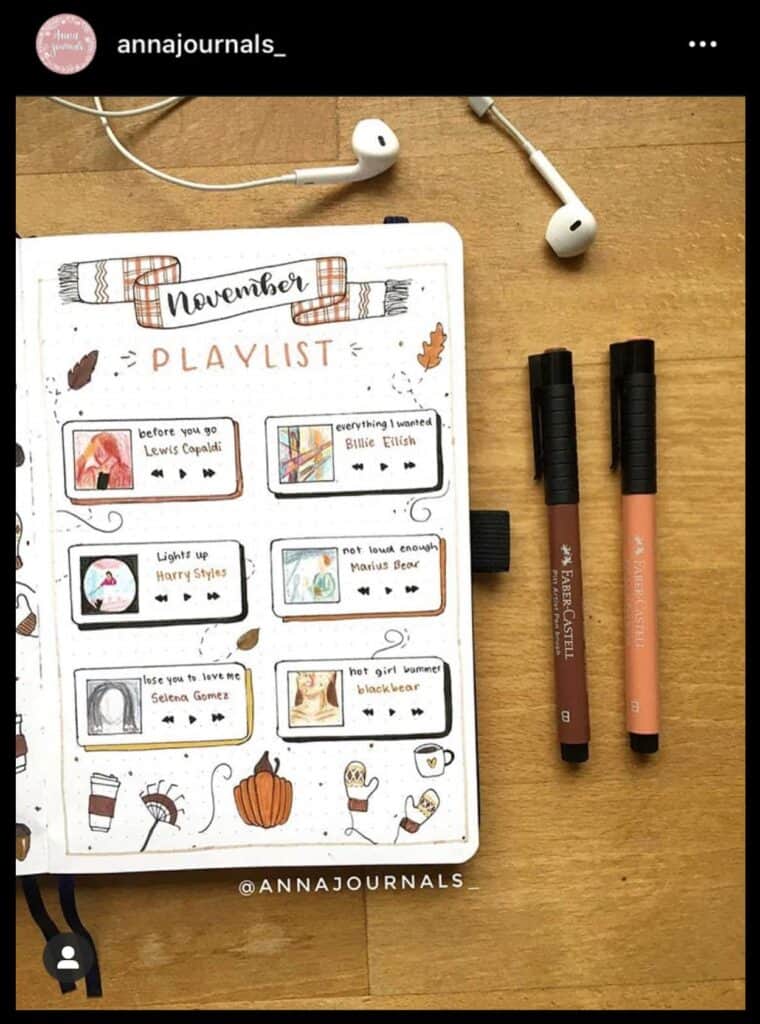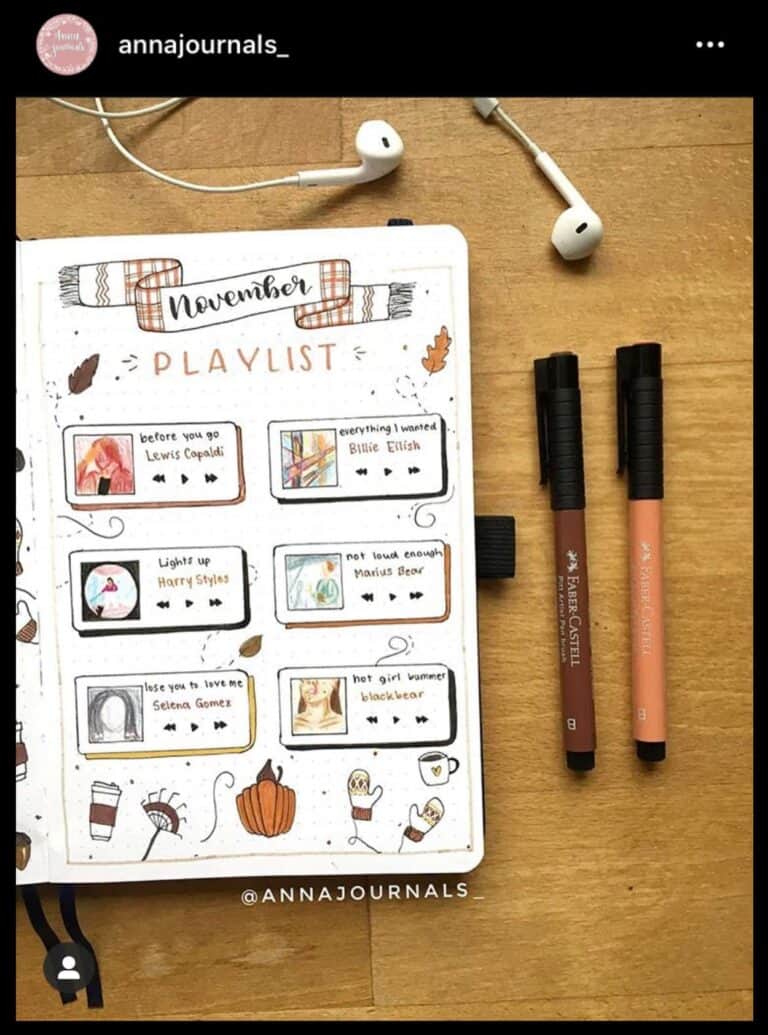 Our Source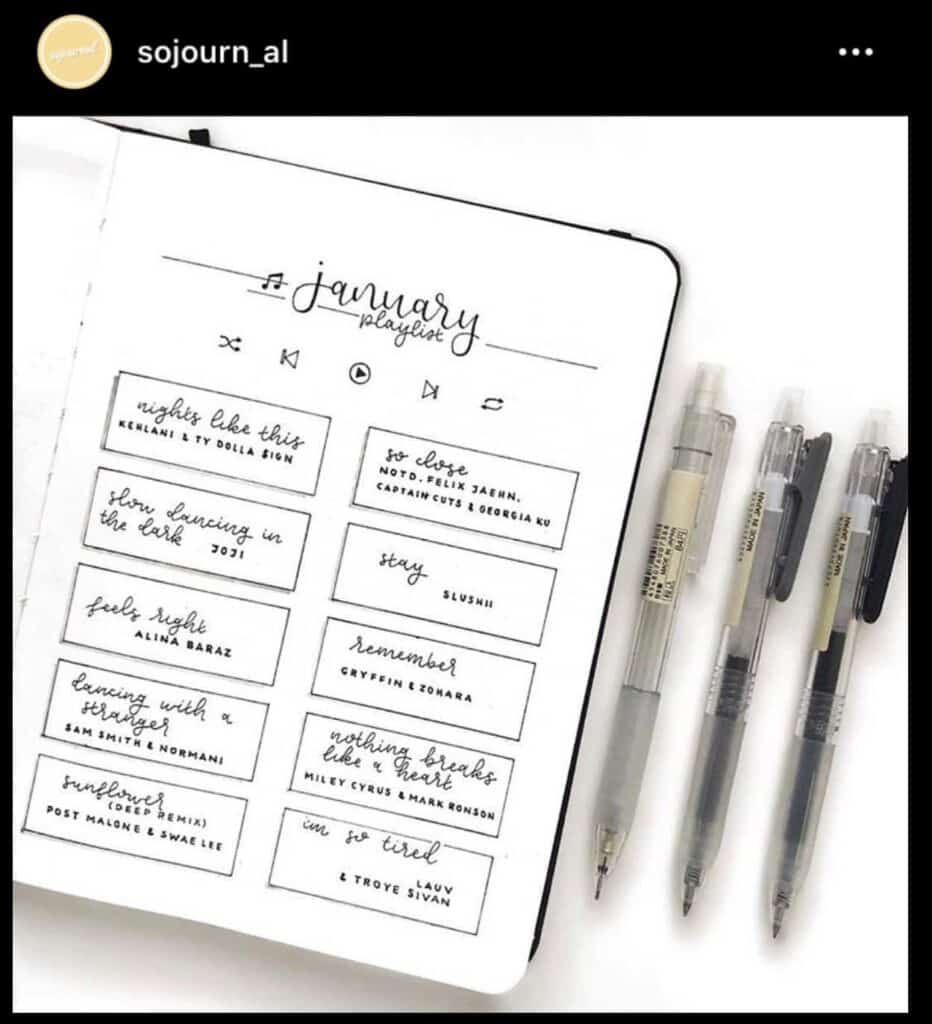 Put together the ultimate BuJo planner summer playlist!
Our Source
Use Washi Tapes and Stickers to Make your Playlist tracker prettier!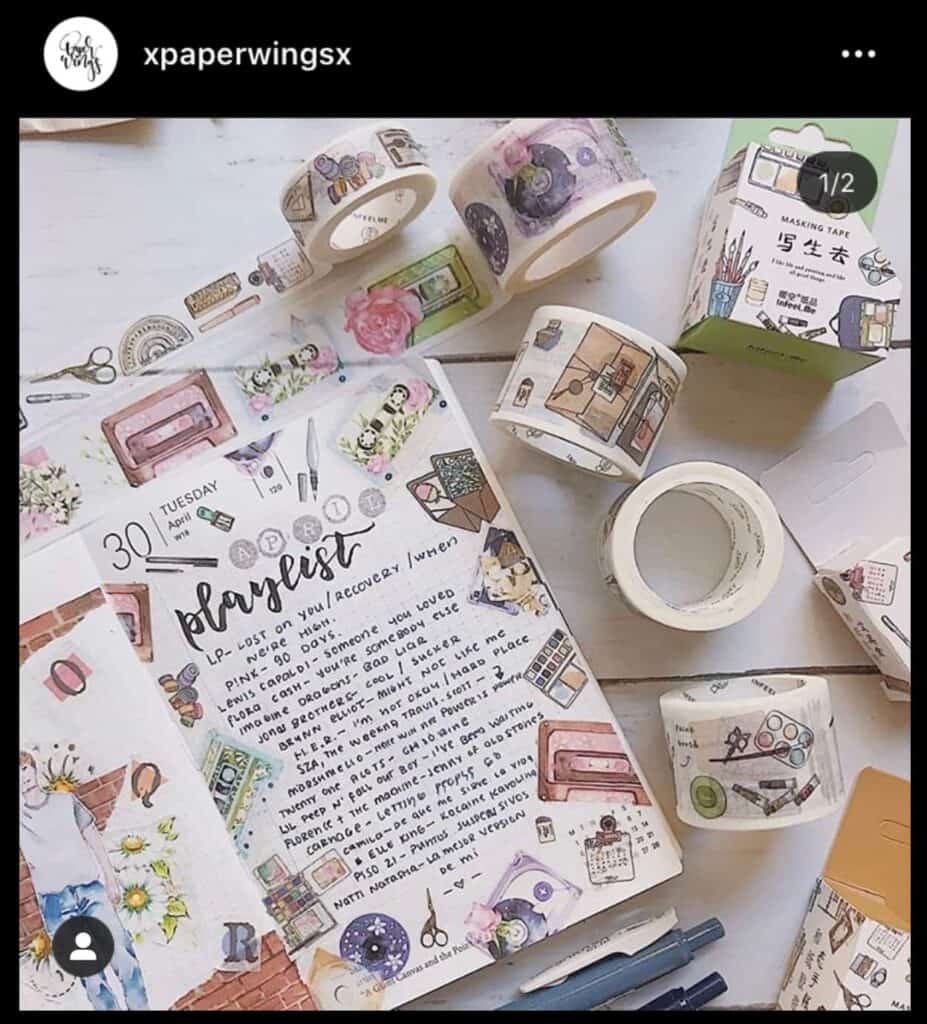 The Source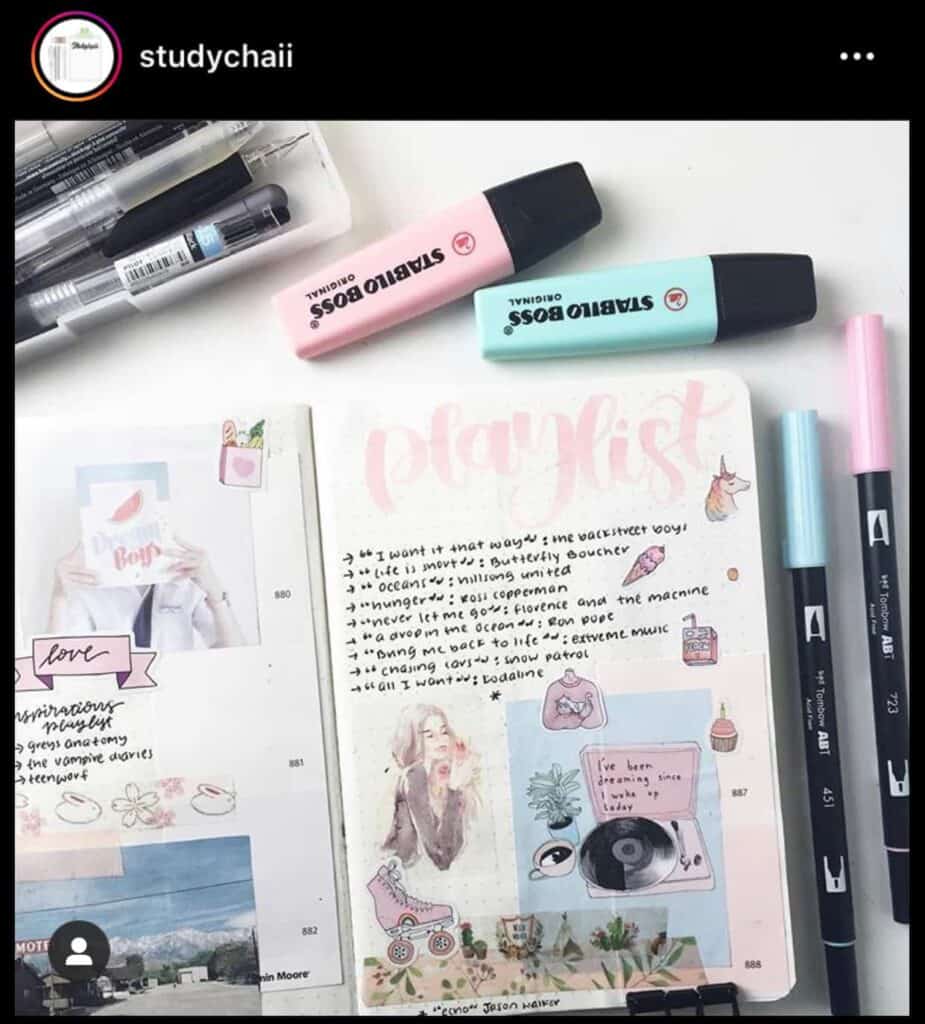 This is the perfect inspiration if you love the color purple.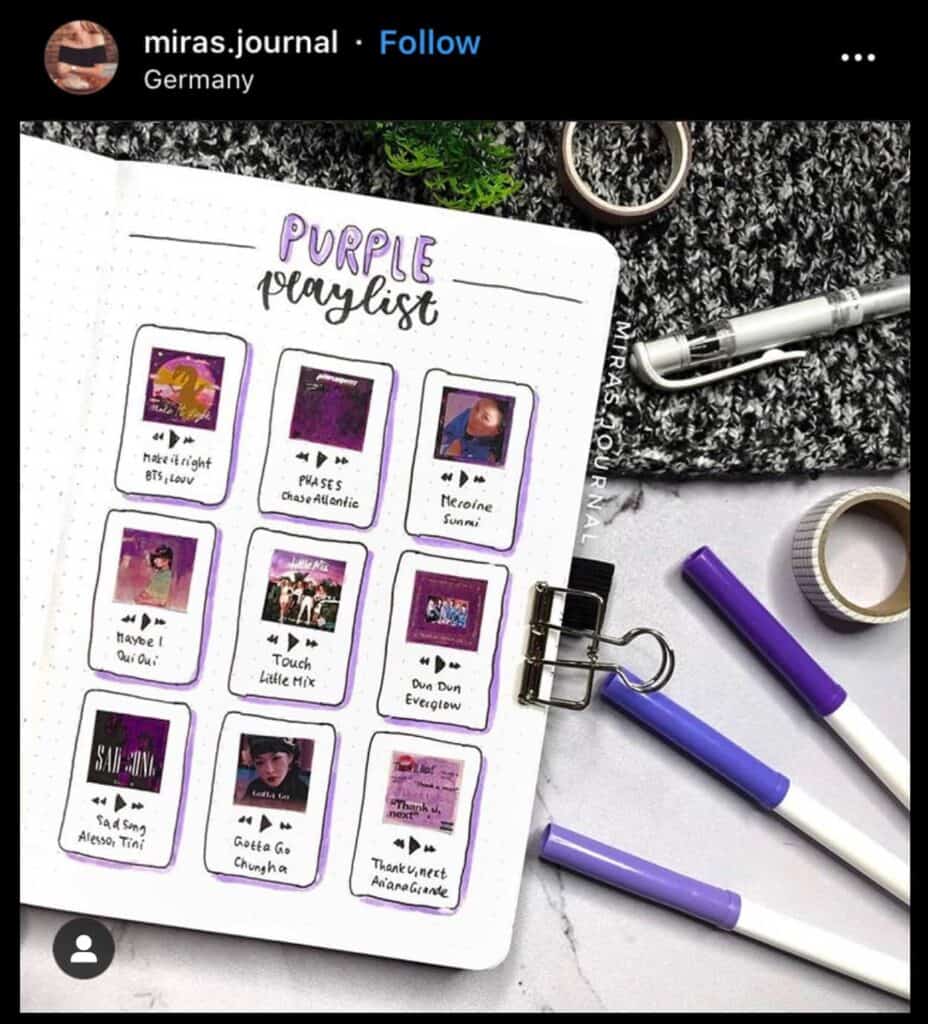 The Source
Create a playlist tracker for every season.
The Source
Keep it clean, simple and straightforward.
The Source


Our Source
Just like your Spotify playlist!
Source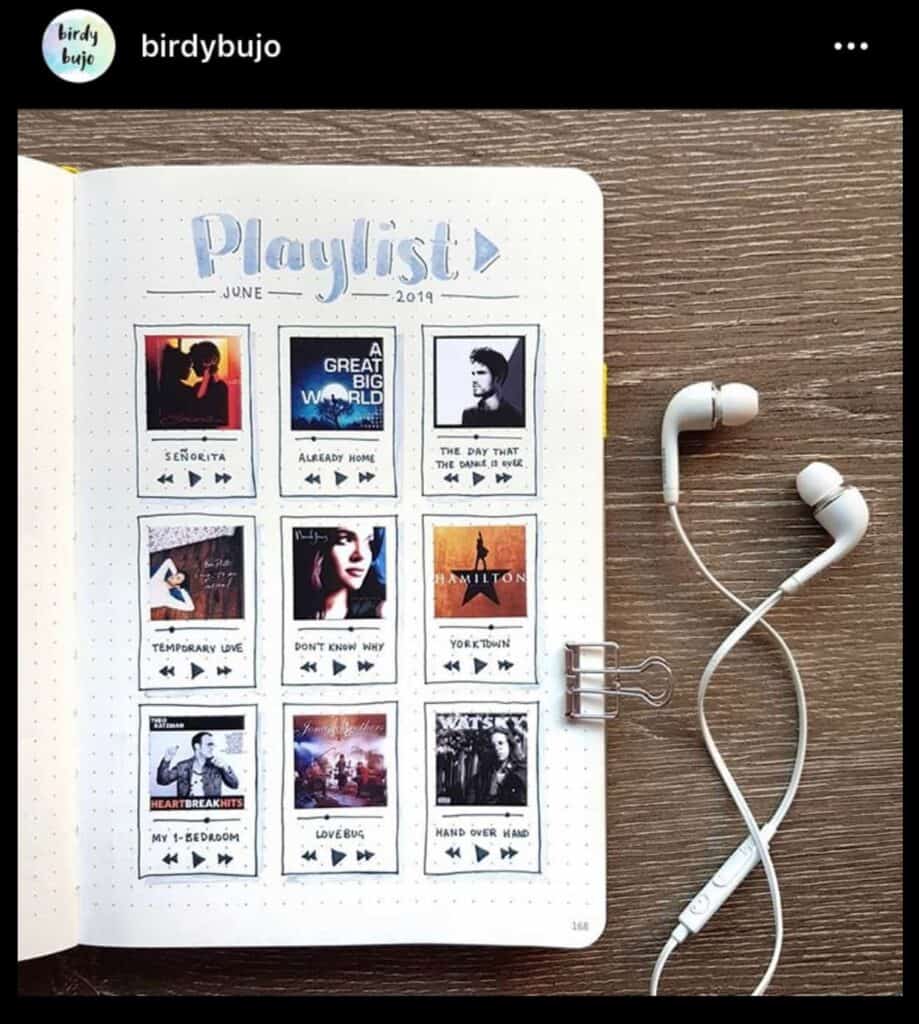 The Source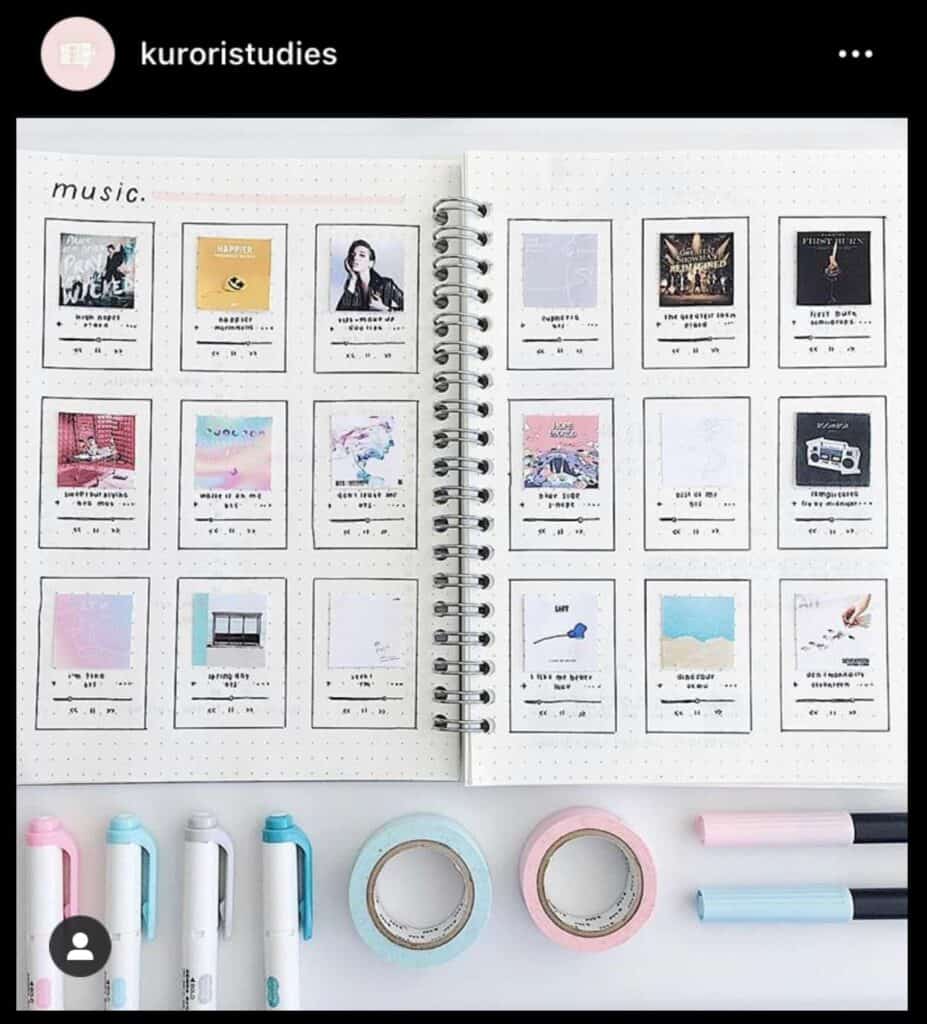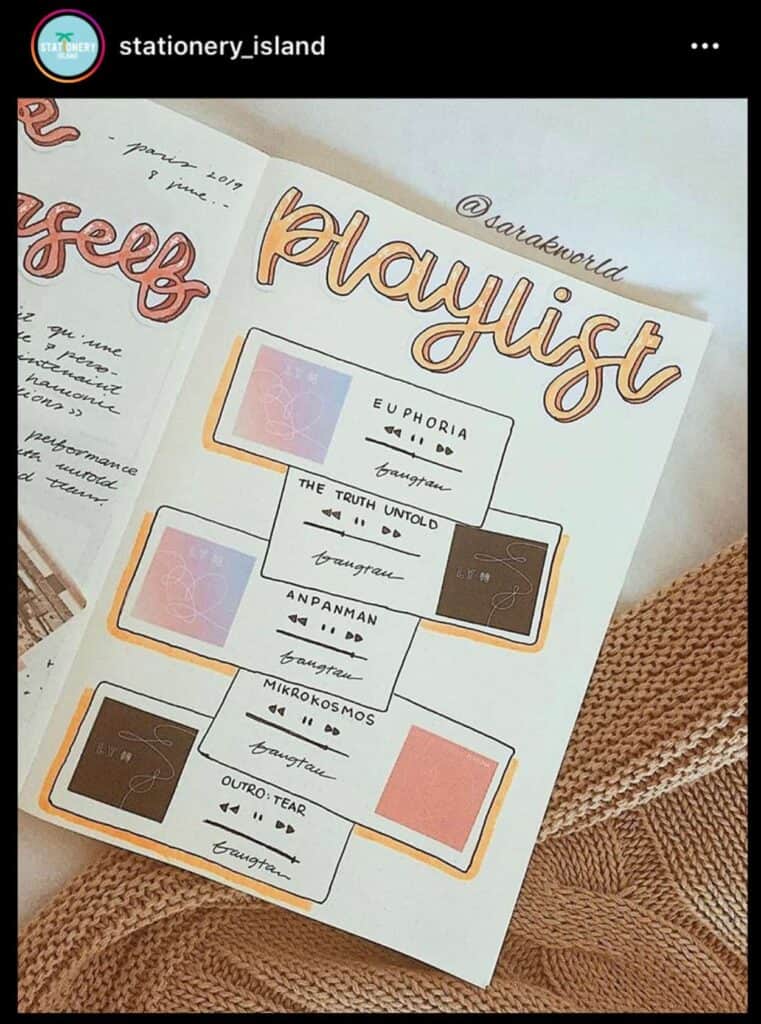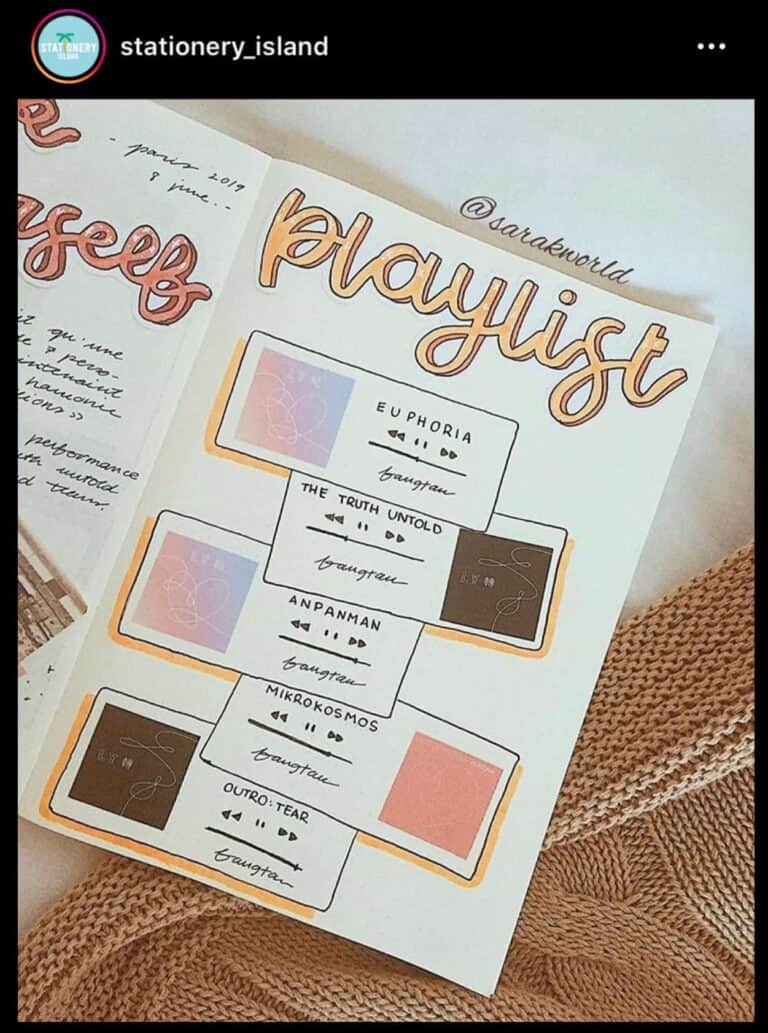 The Source
Plan a playlist spread for the entire year.
Thinking of a colorful way to decorate your playlist trackers? Read Journaling Ideas For Beginners.