We may earn money or products from the companies mentioned in this post.
Have you ever thought of making a bullet journal Instagram tracker? I know that we turn to our bullet journal notebooks to escape the online world and relax but creating this type of spread is just an amazing experience. You can track your followers and engagement, and at the same time exercise your creativity. If you need some new ideas, read on. These spreads are so easy to make!
Start growing your Instagram account today!
Just like in any other social media platform, growing your reach on Instagram can take time. You need to understand its algorithm, and develop an effective strategy to set yourself apart from the others. Why not use your bullet journal IG spread to monitor the performance of your account? Aside from your engagement and follower count, you can also list down content ideas! 
The Best Bullet Journal Supplies for your Instagram Tracker!
This bullet journal notebook that is 24% heavier compared to other journal brands. 
This journal stencil planner set that you can use not just for your bullet journal, but also for handmade family holiday cards, greeting cards, and letters.
These washable markers are perfect for writing, coloring, and drawing.
These ball pens are loved by many bullet journalist friends because of its great for creating flowy strokes. 
This card ink pen set can help you make beautiful letterings and line widths.
These washi tapes have wonderful, unique patterns.
This bullet journal stamp set is great for everyday planning, and can also be used for your travel journal spreads.
This graphite paper will save you tons of time by capturing each detail in your original design smoothly. 
These sticky notes will help you remember important activities and dates. 
These bullet journal stickers will look beautiful for almost every kind of spread imaginable. 
This set of pens is designed for every person who loves calligraphy, drawing and art therapy. 
These scissors have sharp blades that will help you finish your task in no time. 
This highlighter pen set is a top choice for those who love bullet journaling. 
Watercolor brush pens provide good colors for blending and shading bigger areas.
Use bullet journal spreads to monitor your IG page! 
An out-of-this-world tracker!
The Source
Use your bullet journal Instagram tracker to monitor the number of your likes and followers!
The Source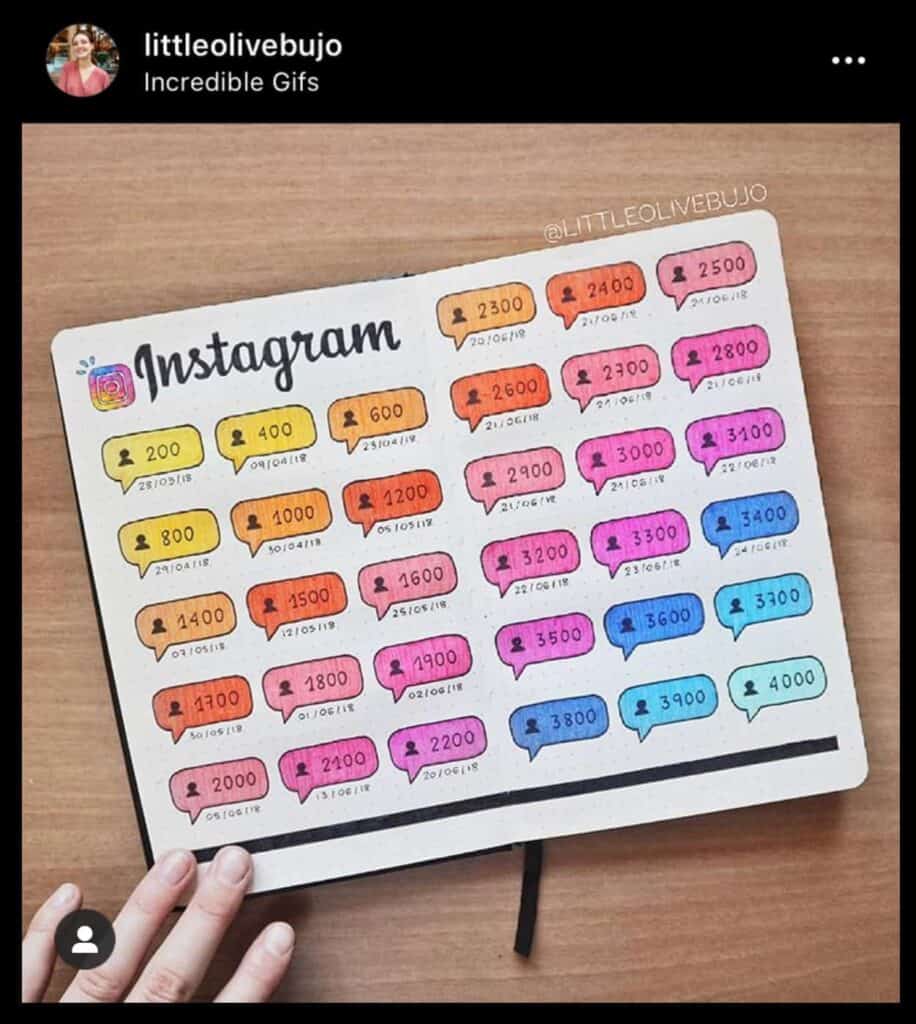 Our Source
The Source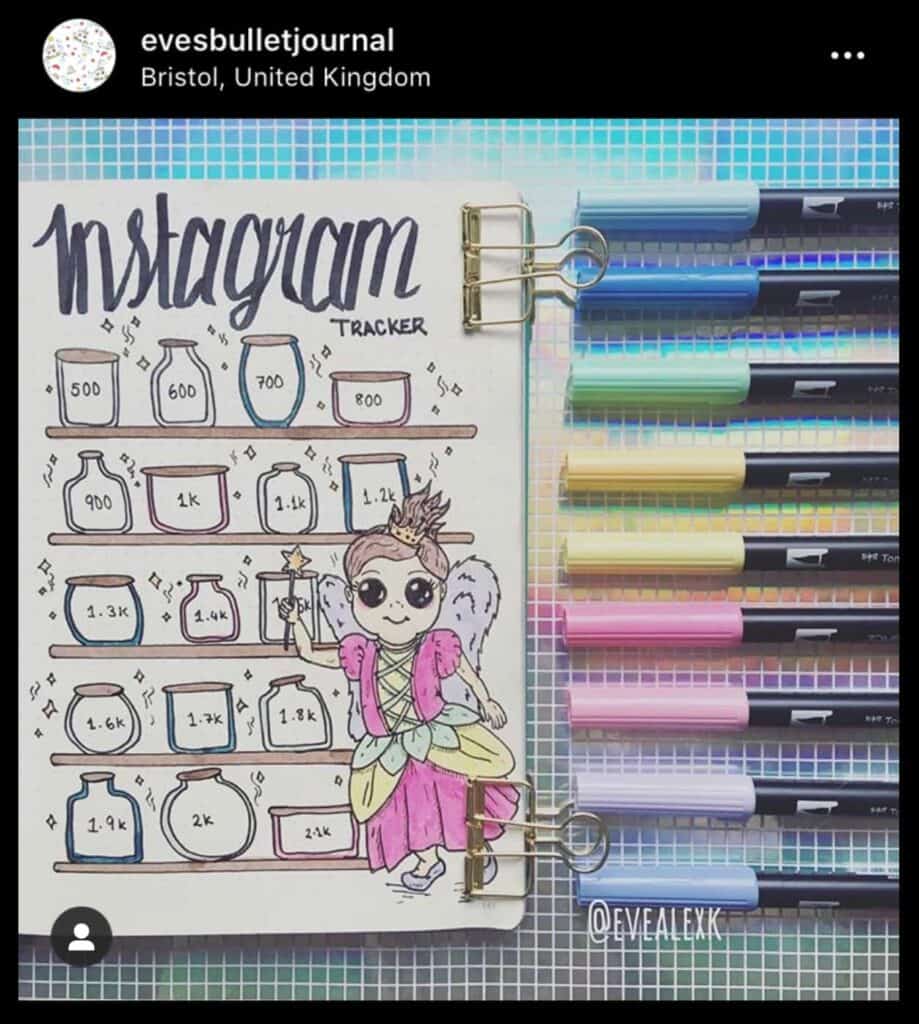 Our Source
The Source
Think about your favorite video game, board game and film characters. Let them serve as your inspiration.
Our Source
The Source
Minimalist spreads are  simple  yet  highly  remarkable.
The Source

The Source
Our Source
The Source
Bullet journal Instagram trackers for plant moms!
The Source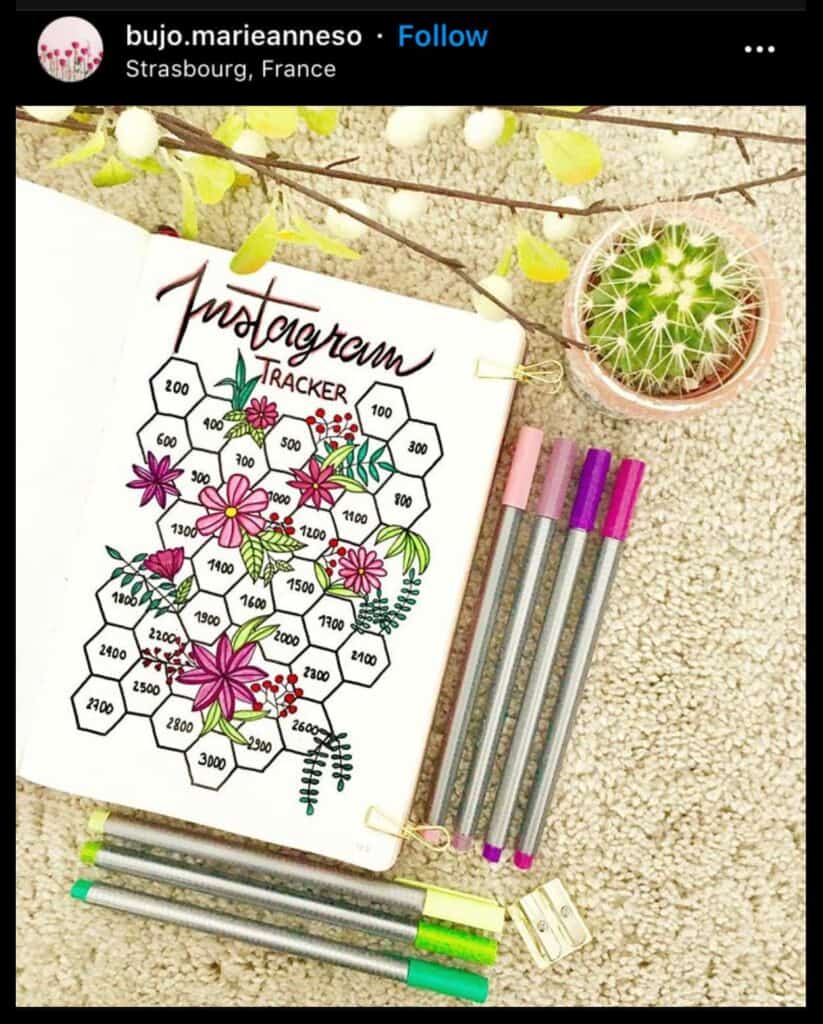 Immortalize the beauty of wildlife in your bullet journal Instagram trackers.
Make sure it has a captivating and relaxing vibe. Don't hesitate to play with colors. 
The Source
The Source
You can either make colorful spreads, or focus on your favorite color. In my case, it's pink! <3
Our Source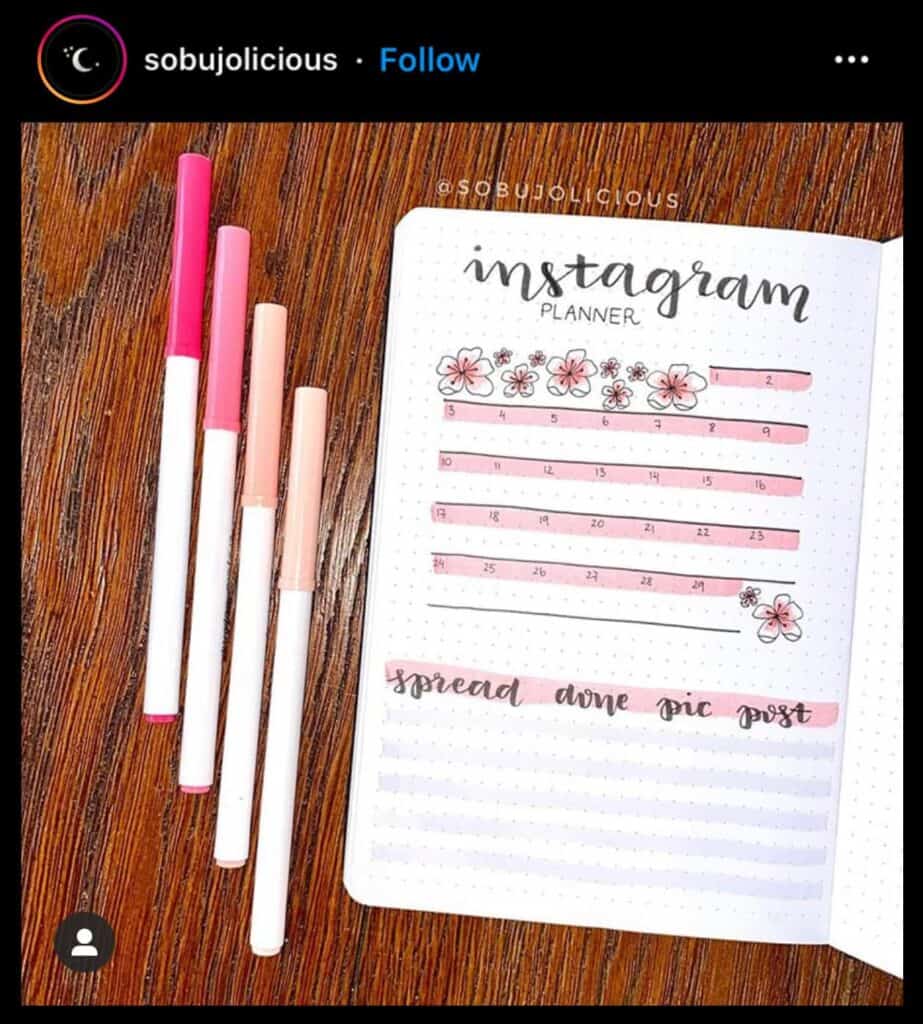 Can't think of a new design for your new Instagram spread? Look into flower designs! Click here for easy minimalist floral design inspirations!
AWeber Sign Up Form authentication failed. Please verify the settings to continue to use AWeber Sign Up Form.