We may earn money or products from the companies mentioned in this post.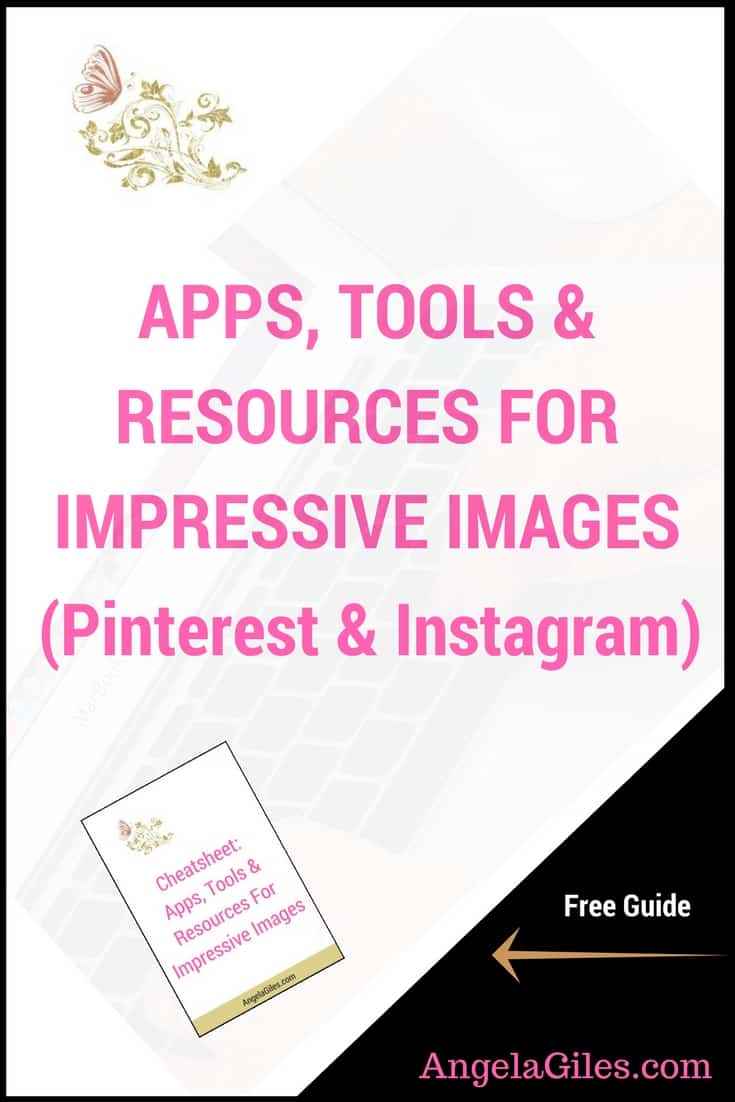 When you're a business owner with a blog or website, having a social media presence is a low-cost yet effective way to showcase your brand. Instagram and Pinterest are among the most popular choices for bloggers to find potential customers or business partners. In case you are wondering why, Instagram and Pinterest are two of the best places to show off your creativity with gorgeous images. Remember, a picture is worth a thousand words!
You need to have an abundance of quality, attractive images to really be successful on these two platforms. But as a small business owner or blogger, you may be on quite the lean budget. But there's no need to start contemplating which color group of properties you need to mortgage to afford those high-quality images! I share some free and inexpensive apps, tools and resources that will be of help. And most of them are very easy to learn and use, so you'll be creating impressive images in no time!
Some of these apps, tools and resources are free. Others have a cost connected to them, but they are all relatively inexpensive and can offer a great return on investment. Some are apps and tools you buy one time and you're done, while others are offered via a subscription.
In addition to apps, tools and resources, I also include some overall tips and guidelines when creating images for Instagram and Pinterest. If you follow the guidelines and tips, you will be sure to have great images that will attract the attention you desire.
So let's get started!

Quality Matters
We hear it all the time, but it is certainly worth mentioning again…the quality of your images is very important. If your images are unattractive and of poor quality, they will not get you the desired results you want. That means you are basically wasting your time creating them.
Study after study show that high-quality nice-looking images get the attention and get the clicks. The apps and tools I have included here are easy and quick to learn and use. However, if you usually tend to have a full schedule, block off time where you can create a batch of impressive images. That way you will always have some ready to use instead of being rushed and use that image that will not do your post justice. (You can also use freelancers to help you.)
Related: 5 Top Resources For Terrific Traffic (Part 1, Social Media)
Here are some tips to help with quality:
Colorful Is Better

50% saturation (intensity) works best
medium lightness (not too light or dark)
red and orange do better than blues (doesn't mean blues can't work great)
variety of different colors
Backgrounds & Faces Matter

show less faces (<20% of pins have faces)
have <30% background (meaning, close ups)
have an interesting, perhaps patterned background
Other Tips
shapes such as rounded corners & circles stand out from the crowd
best aspect ratio between 2:3 and 4:5
use lifestyle photo (using product) v. just showing product alone
SIZE ALSO MATTERS
Size information is included below, but image parameters may change from time to time. It is wise to double check recommended sizes every once in a while (at least yearly) and make sure your template sizes are still accurate.
Social media sites like Instagram and Pinterest may automatically resize your images. So if your images are not the proper size, you can end up with some wonky and unattractive results because of that auto-sizing, including bad cropping. This can be even more true if your image has text. (And you will also have wasted time as you now need to redo the images you just spent time creating.)
It's ideal to size your image appropriately yourself instead of relying on auto-sizing. That way you know your image will look exactly the way you want. And most of these apps and tools are very easy to learn and use, so really there's no excuse for bad images! However, if you're not able to do that, use a much higher resolution image to help ensure it will still look great when reduced. (Of course, if you have data limitations that may not be an option so just do your best.)
Using images that are too small can result in blurry and badly pixelated images. (Imagine taking a wallet photo and turning it into an 8 x 10. Not good.) So if your image is quite small, find a replacement rather than posting a bad image. But if you must use the image, consider having a Photoshop pro increase resolution for you before using it.
SOME SIZE SPECIFICS
Instagram loves square photos. Images between 320 x 320 and 1080 x 1080 will post as the original size. Higher resolution square images will resize quite nicely. The minimum width is 320 and the maximum is 1080. So try to keep your images within that range. If you use landscape orientation, be sure the constrain aspect ratio link is checked before you resize it to a 1080 width.
Pinterest loves vertical images (much taller than wider). They are the absolute best style of image to use. So don't even bother using landscape images unless for some reason you absolutely have no choice. And even then, try to reduce the size and combine it with something much taller so it becomes a vertical image. An aspect ration between 2:3 and 4:5 has been shown to work best.
No doubt you have seen some very tall images, many of which are infographics. Rather than just strive for size (such as so tall that viewers can not easily scroll past it), be sure it fits with your objective, as well as being a gorgeous image. Definitely try to stay within their ideal ranges.
Some ideal Instagram sizes
Profile pic: 320 x 320 (will resize appropriately to 110 x 110 & can use same pic for Pinterest)
Square: 1080 x 1080 (or a square or rectangle between 320 & 1080)
Horizontal/Landscape: 1080 x 608 or 1080 x 566
Vertical/Portrait: 1080 x 1350
Stories: 1080 x 1920 (Critical: Instagram adds overlays & buttons so keep text away from top)
Some ideal Pinterest sizes
Profile picture: 600 x 600 (upload minimum 180 x 190)
Board Cover: 736 x 736 (minimum 340 x 340)
Pins on board: 236 x scaled height
Expanded pins: 736 pixels wide (take full advantage if doing infographics) x scaled height
DOUBLE DUTY FOR APPS AND TOOLS

There are certainly a lot of image-related things that can be done armed with only a smartphone, but there are times you will be using your computer. So I will not only talk about some great apps, but also about some tools and resources for use on your PC or Mac.
Some of the apps and tools (computer versions of the apps) will overlap and can be used on multiple platforms. So be sure to give special consideration to these apps and tools as that is an advantage. That can mean just one app or program to purchase and learn how to use effectively, as opposed to two or more. Apps and tools that can save you both time and money are certainly a plus.
Many people these days not only use mobile devices for perusing social media, they also use mobile media for creating a lot of content and images. I know I do! So don't be afraid to create images that way. (Again, as long as they look great.) Some of the social media apps themselves have some wonderful and fun things you can do with filters, stickers and more!
Either with your compute or armed with only your smartphone these awesome photo editing apps and tools will help you be able to do your thing and stand out! And, for the photo-editing apps you can do it without having to lug around bulky photography equipment or learn complicated editing apps.
So let's talk apps and tools so you can be on your way to the social media goddess that you are!
GREAT PHOTO-EDITING APPS AND TOOLS
ADOBE ILLUSTRATOR (Computer & App)
This is one for those who want to take their photo editing apps process to the next level. While this is the most expensive on this list, it is sure to give you a run for your money. This can be especially helpful if images are the focus of your blog or website, such as photography.
AFTERLIGHT (App)
Working on your phone because your laptop is far away? This cool phone photo editing app comes with a huge selection of tools, filters, textures, frames and more. It also has some cropping presets that let's you turn your photos into shapes like hearts, circles, diamonds and more. This works great with Instagram.
CAMERA+ (iOS App)
Camera+ has a lot of great user-friendly features that can really help improve your images. You can manually control the ISO, digital zoom, white balance and shutter speed. A great feature is being able to take full control of how light or dark your images will be. This app comes equipped with a separate focus and exposure lock that allows you to focus the lens on one part of the scene, while simultaneously putting exposure on another. It also offers a lot of effects and even layering. If you simply need to straighten a crooked image, it has you covered. You can also do borders and captions.
CANVA (Computer and App)
Canva is one of my favorite photo editing apps and programs. It's so easy to learn and use. The photo app is a creating and editing tool that let's you come up with professional looking photos with just a few clicks. You can create all kinds of different things like flyers, banners, and just about anything else you can think of. For images, it offers a variety of options like editing, blurring, textures, frames, captions, layering and so much more.
INKSCAPE (Computer)
Inkspace is a "professional vector graphics editor for Windows, Mac OS X and Linux. It's free and open source." This let's you create beautiful vector images. You can also create and edit photos using features like drawing, reshaping tools like hearts and rectangles, all kinds of manipulations and layering, add patterns, text and so much more.
DESIGN WIZARD (TEMPLATES)
Create impressive videos and image designs in just minutes.  Over 17,000 templates!
PICMONKEY (Computer and App)
This wonderful and easy-to-use photo editing app and tool does all of the usual editing, and has all kinds of filters and stickers. A more unique feature is it's great for creating collages. It can be tough to find a collage tool as easy as this one. You can also easily turn a photo into a sketch. It offers a free version supported by ads, as well as some inexpensive subscriptions.
PIKTOCHART (Computer)
Without argument this is one of the best photo editing tools for creating infographics. Although it can also create flyers, brochures, and much more. There are a variety of templates to choose from if you prefer not to start from scratch. It's pretty easy to learn to use, and they have video tutorials. They have plans for students and businesses, so you should select the plan which best suits your needs. They offer special pricing for non-profits.
Related: Become A Social Media Goddess By Working With Love And Soul
PIXLR (Computer and Apps)
This is a fabulous free photo creating and editing app and tool. It makes it easy to produce impressive images that have a professional appearance. Pixlr offers all of the usual editing options like layering, replacing colors, transform objections, blurring and more. It is built with non-professionals in mind, so the user interface is simple and easy to understand. They offer paid upgrades for professionals with top range features.
SNAPSEED (App)
This is a powerful photo editing app now powered by Google. (They bought out the original creators.) It is a wonderful free editing tool available via Google Play and Apple apps. Its real time sliders means you can effect some basic editing like exposure, contrast, brightness and more, easily without complications. In offers a lot of the usual editing features like blurring, text, all kinds of filters, frames and more. A more unique feature is selective adjustment, which lets you edit particular parts of a picture instead of editing the whole image.
SQUAREREADY (App)
This fabulous free editing app has a unique feature to it. Posting on Instagram typically means square photos. But what happens when you have photos that won't make sense in a square? This is where Squareready lives up to its name by seamlessly posting your non-square photos to Instagram without having to distort it by cropping. As a plus, you can add a white border to photos to give them a bright and clean look and feel. It also offers a full-featured photo editor. While it is free, it is supported by ads.
RESOURCES FOR FABULOUS IMAGES AND BACKGROUNDS
There are times you just want an already available image, either for background or other uses that saves you time spent on a photo editing app. Here are some resources you can explore to get rich, high-quality images.
FREEPIK (Computer)
Freepik offers users "high-quality graphic designs: exclusive illustrations and graphic resources." They also offer PSDs, icons and images. Their images can be used in personal and commercial projects. This site has half a million free vector images and they add nearly 60,000 every month. They have some absolutely gorgeous images. Their free version requires artist attribution, but their paid version does not. It also offers another half million images. Currently you can download 30 or 100 images a day, depending on whether you have the free or paid version.
PIXABAY (Computer and App)
If you're looking for high-quality royalty-free attribution-free photos (even for commercial use), you'll get them here. There are all kinds of images, which are categorized for easy browsing. Their search features makes things pretty easy to find. You an also follow your favorites creators so it's easy to take a look at their new stuff. They offer a variety of image sizes, and do offer some paid options when you need an extra large size of something.
WE'D LOVE YOUR FEEDBACK IN THE COMMENTS BELOW WHETHER YOU ALREADY USE SOME OF THESE APPS AND TOOLS OR WHETHER YOU FOUND SOME NEW ONES! DO YOU HAVE SOME FAVES WE OVERLOOKED? PLEASE SHARE.
AWeber Sign Up Form authentication failed. Please verify the settings to continue to use AWeber Sign Up Form.