We may earn money or products from the companies mentioned in this post.
Are you excited to celebrate the holiday season with your loved ones? The next few weeks will  be very busy! Let your bullet journal notebook can help you with all of your holiday tasks. Create pretty Christmas bullet journal spreads that will further spark happiness and motivation this December. It's the season to be jolly and busy! Enjoy the wonderful time of the year with festive colors and designs.
The added benefit of having a Christmas themed bullet journal is that it helps remind you to take the time to be grateful for all that you have.  While we should do this everyday year round, life tends to get in the way.  Am I right? Adding a page to your journal to take a few minutes to think about what we are grateful for creates a mindset of thankfulness, giving you more of that calming effect.
Are you looking for bullet journal supplies that you can use for your new holiday spreads? Here are some of my favorite tools and supplies!
Start your bullet journaling routine with these supplies!
Before we dive into my favorite hacks, I want to share some of my best bullet journal tools and where to buy an affordable bullet journal.
✅ This journal stencil planner set that you can use not just for your bullet journal, but also for handmade family holiday cards, greeting cards and letters.
✅ This bullet journal notebook that is 24% heavier compared to other journal brands.
✅  This card ink pen set can help you make beautiful letterings and line widths.
✅ These fine tip pens will change the way you approach drawing in your bullet journal.  I adore them and I can't live without them.
✅ These ball pens are loved by many bullet journalist friends because of its great for creating flowy strokes. 
✅ This highlighter pen set is a top choice for those who love bullet journaling. 
✅ These washable markers are perfect for writing, coloring and drawing.
✅ These washi tapes have wonderful, unique patterns.
✅ These set of pens are designed for every person who loves calligraphy, drawing, and art therapy. 
✅ This graphite paper will save you tons of time by capturing each detail in your original design smoothly. 
✅ These bullet journal stickers will look beautiful for almost every kind of spread imaginable. 
✅  These watercolor brush pens offer good colors for blending and shading bigger areas.
✅  These sticky notes will help you remember important activities and dates. 
Bullet journal spreads to use for your jolly Christmas Plans
1. Christmas List Spread — a candy cane layout for your festive plans! 
The Source
2. Rudolph the reindeer-Inspired Monthly Spread
Our Source
3. A weekly tracker that will remind you of your gift shopping schedule
The Source
4. A page for your Christmas must-bakes – prepare delicious Christmas cookies!
Our Source
5. Beautiful Christmas colors in a pretty weekly spread
The Source
Let's sneak a few more in Christmas Bullet Journal Spreads in that we just found …..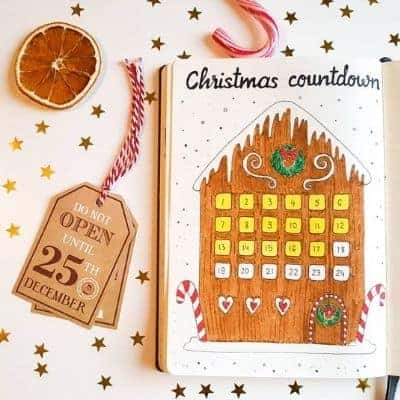 The Source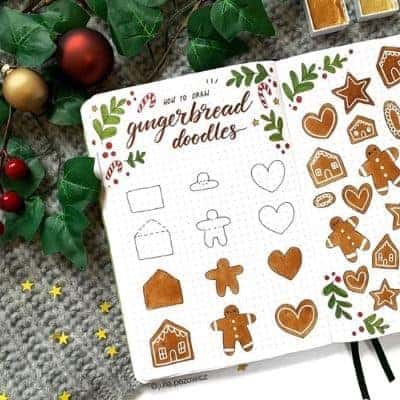 Our Source
The Source
6. A simple gift tracker to keep your shopping routine organized
Our Source
7. Time to write list down names on this Christmas checklist
The Source
8. Another weekly spread for your merry and bright holiday notes!
Our Source
9. Your Christmas goals should be written on this gingerbread cookie-themed tracker
The Source
10. Welcome the December festivities with a pretty page! 
Our Source
11. It's time make a Christmas to-do list while wearing a Santa hat
The Source
12. A sparkly holiday bullet journal page for a sparkly holiday experience
Our Source
13. A minimalist holiday season tracker for the busy you!
The Source
14. Lay out your budget plans before starting your Christmas shopping trips
The Source
15. Christmas gift ideas for your loved ones
Our Source
16. The best minimalist tracker for your upcoming Christmas trip
The Source
17. A colorful layout for your colorful holiday thoughts
Our Source
18. This Christmas elf is ready to help you with your Christmas presents! Write them all down now
The Source
Hooray! The Christmas season is upon us!
Creating beautiful Christmas bullet journal spreads is an amazing way to celebrate the holiday season. Make your pages the prettiest landing spots for your Christmas experiences. Start by listing down all of the things that you would want to do. Don't just make weekly spreads and gift trackers! Write down your thoughts, and document every memory you have.
AWeber Sign Up Form authentication failed. Please verify the
settings
to continue to use AWeber Sign Up Form.