We may earn money or products from the companies mentioned in this post.
?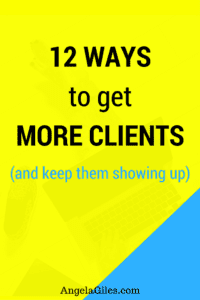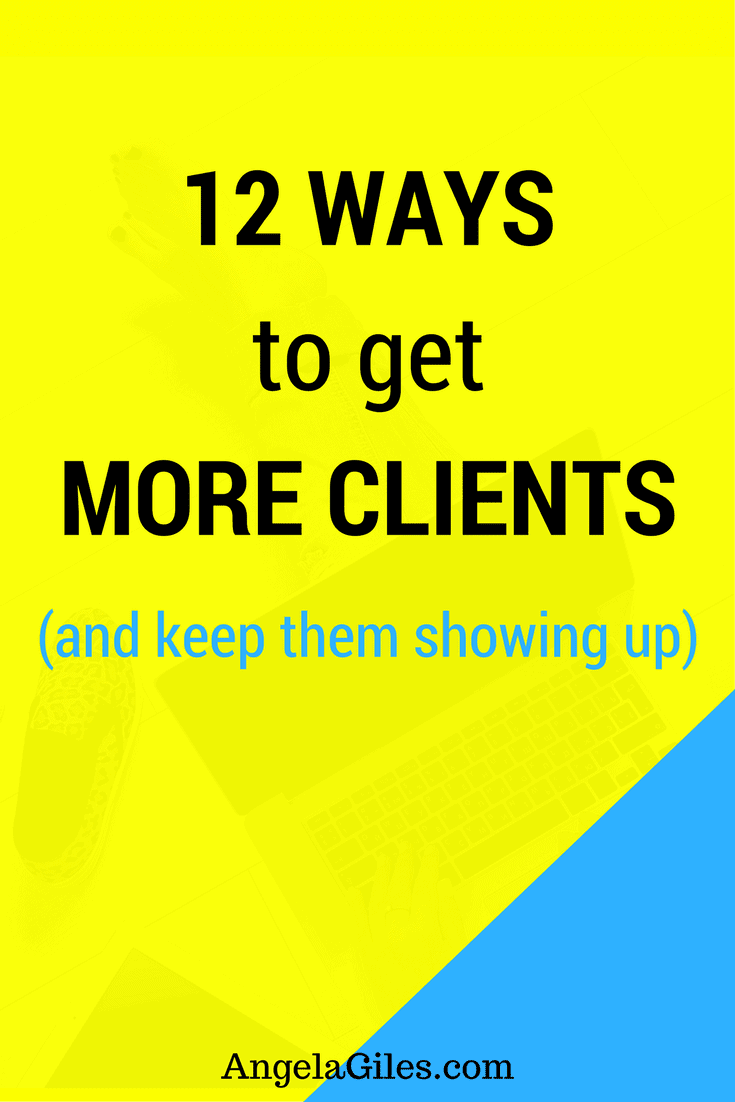 Starting your own business is fun! But when rubber hits the road and getting clients to keep your doors open now that can be stressful. In today?s blog post, I am going to share with you 12 powerful strategies that help you get more clients. In fact, if you want to be solidly booked, then you have landed in the right spot. Read on to find out my absolute best ways to get more clients:
Know your audience.
It is very difficult to grow your business when you are marketing to everyone! It is important to know your audience. Your messaging needs to be crystal clear and speak to your audience?s pain. Your products and services must off offer a solution that will solve their challenge. People buy on emotion.
If you narrow down your audience, then it will be much easier to speak to them. If you specialize in one area it will also make it much more effective. If you are a health and wellness coach, then you may specialize in women that just had a baby. Think about that if you are a fashion designer, then you may focus on women between the ages of 23 and 35. The more specialized you are, the more on point you can be in your messaging and marketing. It builds a trust factor. The quicker you will get clients because they will feel like you are talking directly to them. They will resonate with you and want to purchase your products and services.
Master your client process to get more referrals.
You want to make it as easy as possible for your potential client to turn into a customer. And to top it off, if they loved working with you ? they will refer you to other people. Remember, we live in the age of instant word of mouth and referrals so using this strategy can create an avalanche of new customers. One thing you should never pass up on is training in negotiation, taking a course such as this will help you with customers who may be on the fence about saying yes to your services.
So, take out a pencil and paper and write out your client process. Be very detailed at first. Write down all the steps. Then streamline it. Make sure that it flows smoothly.
Here is an example of my process
Strategy call with potential client -> Email Contract for Signature from Business Manager-> Paypal Invoice for Deposit-> Schedule 1st Session With Me.
Be sure to share the process with your clients so they know exactly what to expect. People like 'simple' in our complicated world. The more streamlined and efficient you are, the more likely your clients will refer you! And when you have a Contract Lifecycle Management that is streamlined your clients will love you! Businesses across many industries, including pharmaceutical, real estate, healthcare, and others, could consider making use of something like this contract lifecycle management software as a central repository for contracts.
Consistently Participate In Facebook groups.
Facebook groups are one of my favorite ways to find new clients. In fact, I would say 80% of my clients come from Facebook groups. The key here is to be of service. Spamming your links will just get your booted from the group. Here is exactly what I do:
I join 5 groups that have my ideal client in them. There are over thousands of Facebook groups, so you should have no problem finding a group that works for you. Every day I go inside the group and type in keywords in their search bar. These words might be word press, sales or marketing. (You would use keywords that are related to your expertise)
I find people that have questions around those keywords and I answer them. When you are consistently doing this, you become known as the expert and you will get private messages all the time with people asking for your client services. It is easy to get clients using this method.
Create an active social media presence.
Create social media platforms and stay engaged on them. One of my recent website clients came from my Twitter account. I maintain an active presence there and he looked me up from there.
The other platform that I get 5 to 10 leads from on a consistent basis is Instagram. I share motivational quotes embossed upon gorgeous images. Entrepreneurs love them. I sprinkle in images about my free Instagram Tribe e book.
Related: How to Get Your 1st 5,000 Instagram Followers and Put Money In the Bank
You can also tag other people in your images to get more visibility.
Follow up with potential clients that have not bought.
It is more than likely you have had people that have inquired about your products and services but never purchased from you. A follow up communication is perfect for this! Here is an email that I have used for years that works like a charm.
Hi Name,
It was so nice to meet with you the other day. I wanted to follow up with you to see if there were any other questions that I could answer for you. Would you like to schedule a short call on Thursday of this week or early next week?
I look forward to hearing back from you.
Sincerely,
Your name
The key here is to ask! If you ask a percentage of potential clients will answer. You will never get any clients using this method if you don?t follow up. Fortune is in the follow up!
Write blog content that speaks directly to your ideal client.
Writing blog posts that your ideal clients want to read is the perfect way to showcase your expertise. Are you a travel agent that specializes in Honeymoon getaways? Share tips on the perfect Honeymoon getaways in the Caribbean. Are you a branding expert? Share tips on how to brand your business when you are 1st starting out.
This is the art of the soft sell. You get to showcase your skill set without feeling like a used car salesman. I highly recommend having a link on your page that directs people to your products and services page.
Use Facebook ads.
Facebook ads are the perfect way to reach your target audience if you have a budget. You can create anything from very simple audience to a sophisticated custom audience. Facebook allows you to choose almost anything about their demographic. You can pick things like gender, age, location, income, hobbies, favorite magazines, etc. It is amazing and very effective way to reach your ideal audience and turn them into clients. I ran a Facebook ad to a short video I created and had over 26,000 views. Within the first 2 weeks of running the ad, I got new clients.
Related: Expert in Facebook Advertising ? Phil Glutting
Related: How to Use Facebook Video To Earn More & Work Less
Follow up with past clients to ask for additional work.
Do you have past clients that may have other projects or could purchase additional products/services from you? Often, people just get busy and have every intention of reaching out to you. Why don?t you do it first. Establish a routine where you check in with past clients at least once a quarter. You could send a quick email to them. I use an email like this often when I am reaching out to clients:
Hi Name,
I hope your quarter has been fantastic. It has been awhile since we chatted. I wanted to follow up and see if there was anything I could help you with. Just a reminder I offer marketing, sales and website services. You can reach me anytime via email or call at xxx-xxx-xxxx.
I look forward to hearing back from you!
Sincerely,
Angela Giles
I like the direct approach because people appreciate it. The other thing that you can do is send them a related news article or something informative you found that will help them in their life or business. People appreciate that. When you add this extra personal touch, you will find it jogs their memory about you and they may even refer you to their network.
Invite potential clients to have virtual coffee chats.
This is one of my favorite ways to network. I invite people I would like to network with to have a virtual coffee. A virtual coffee date is essentially a way to get to know someone. You can do it via Skype, Facebook Messenger via video or Google Hangout.
When you have a virtual coffee date with someone they can turn into one of three things: a connection, a collaboration or a client. It is a nice easy way to get to get future clients without a huge sales pitch. And you never know you can get referrals from this as well as meet some great peeps! Some of my best associates have come from doing virtual coffees.
Stay in touch with your subscribers by building your email list.
Staying in touch with your subscribers is a critical component of growing your business. Building an email list is the perfect way to do this. Keep in mind, that most people check their email every day. When you show up in their email on a regular basis with fabulous content that is relevant to their life they will take notice.
I have lost track of the times I have gotten referrals from people who said they had a friend looking for my particular type of services and my email came that same day. I use my email list to share incredible content and promote my business on a weekly basis.
Host a webinar.
Webinars are the perfect tool to get new clients. A webinar is either a live or recorded video that you typically teach people about something related to your business. The conversion rate on webinars is higher than email I have found because you have your prospects attention for a longer period.
I know one coach who sells $5K packages from a recorded webinar that she runs Facebook ads too. She easily does five figure months every month and it is a sure-fire way to grab new clients. In fact, she does so well she modeled her whole client getting process around automated webinars.
Related: Watch my webinar on Generating 5 to 10 leads per day using Instagram.
Tele summits
These are the perfect way to get new clients. A tele summit is usually a group of people who will offer free training to people around similar topics. Recently, I attended a tele summit about lead generation. Over 25 experts shared their knowledge. I become a new client of one of them. I wouldn?t have even known this person existed if it hadn?t been for the tele summit.
You can start your own Tele summit and invite other experts to participate. The way it typically works is that you share the Tele summit invite to your email list and they share it to theirs. In this way, everyone gets a ton more exposure.
I hope that this information has been helpful. Don't overdo it and try to implement every one of these at once though – you will get completely overwhelmed. Trust me I know. In my early days of being online, I did this and it resulted in less clients. It is better to be fantastic at a few client-getting techniques than do a bunch not well.
I would suggest that you pick a couple of these strategies and strategically put them into place. You should get more clients in just a matter of a few weeks. Then, bookmark this post so that you can come back to it later. If you are still struggling with growing your business and getting more clients, you could work with the team at plannedascent.com, who offer coaching and consultancy. Sometimes getting the help of an expert is the little boost you need.
How do you currently get new clients to purchase your products and services? Please share in the comments below! 🙂
?
AWeber Sign Up Form authentication failed. Please verify the settings to continue to use AWeber Sign Up Form.