We may earn money or products from the companies mentioned in this post.
Growing a successful, profitable blog takes time. Reaching that level of success means constantly improving your content creation approaches, time management skills, creative prowess, and marketing strategies. Implementing an anything-goes strategy just wouldn't do the trick. So how do you make the planning fun and easy? Let your bullet journal help you grow your blog!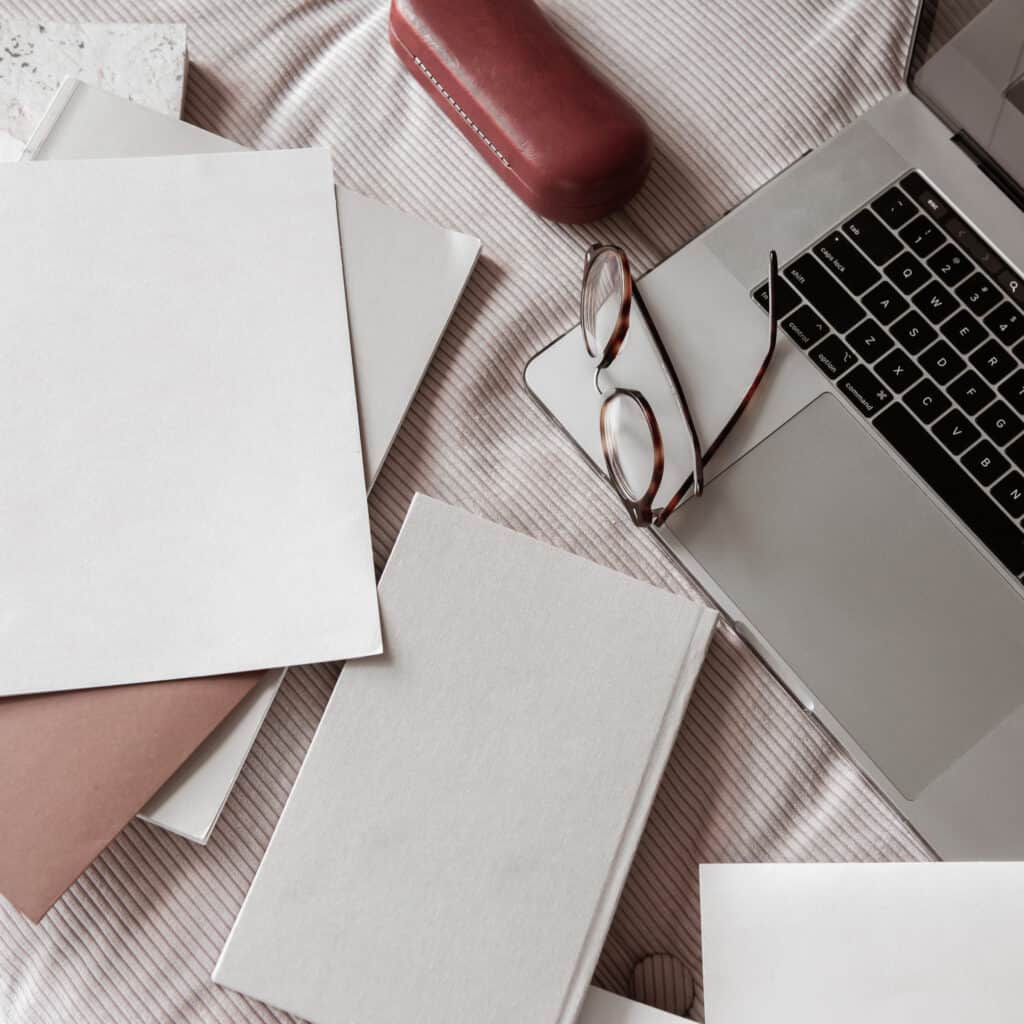 Use Your Bullet Journal to Organize Your Blog
Producing regular blog content takes a considerable level of patience and commitment. You need to treat it as a business to generate money and rave reviews. Run it like a business with a purpose, and consider each article as a tool to improve your target readers' lives.
It's going to be a roller coaster ride! Thankfully, a bullet journal can make your blogging life more enjoyable and productive. Holding a physical pen and paper is still better than any digital app or software. Amazon.com : RETTACY Bullet Dotted Grid Journal with 256 Pages,A5 Dot Grid Hard Cover Notebook with 120gsm Thick Paper,8 Perforated Pages,Smooth PU Leather,Inner Pocket,5.75" × 8.38"
Organize Your Blog With These Bullet Journal Accessories
This premium journal notebook has 256 pages, with quality dotted paper that suits most types of pens. It also has a durable hard cover that functions as a comfortable writing surface and protects the pages while traveling.
This set of 0.38 mm fine point pens is composed of 18 unique colors, perfect for coloring, drawing, and writing. Very comfortable to use and doesn't bleed through paper!
Need more pens? Get this bullet journal pen set for drawing lines and other fine details. They come in a nice plastic storage case that you can easily carry around your backpack.
These dual brush markers have both flexible brush tips for bold strokes and a 0.4 mm hard tip for detailed outlining work. They will help you make challenging designs and styles with ease!
This set includes 30 medium-point felt tip pens with long-lasting, quick-drying ink, providing bullet journal enthusiasts with a smooth designing experience.
These plastic rulers are made of good quality plastic. They are translucent, so you can have a clear view of the design underneath while drafting straight lines.
Get a stainless steel ruler, too! This bend-resistant stainless steel ruler is so easy to use, even in measuring curved surfaces.
This pack of 48 washi tapes has colorful designs, including donuts, animal flowers, and nature patterns. They can be applied to any paper or object without leaving any residue.
This 25-sheet sticker pack with +1,100 stickers will make every page in your bullet journal a masterpiece! There are a lot of special stickers for to-do lists and fitness spreads.
This decorative sticker package has more than 230 unique stickers in 18 sheets. It includes watercolor illustrations and nature-themed designs that will look pretty on your monthly and weekly pages.
This large value pack of 20 planner sticker sheets has more than 350 functional stickers, the perfect accessories to help you organize your day, week, month, and year.
These sticky note pads have a total of 800 brightly colored sheets. They have a strong adhesive, so besides using them in your bullet journal, you can use them to put reminders on doors, windows, and computer monitors.
These silicone clear stamps are made of durable silicone material and are very easy to use. Every pack comes with six sheets of clear stamps and one acrylic board.
Every bullet journal lover has their own set of classic rubber stamps! This detailed stamp set contains seven wood stamps, all made with natural wood and durable rubber.
Keep your bullet journaling area free from mess with the help of this awesome desk storage box. It has six divided compartments that you can use to store sticky notes, stickers, and other journaling supplies.
This large-capacity pen case is an excellent option for storing pens and other small bullet journaling supplies. It can hold around 50 slim pencils and other tools, including a 20 cm ruler and calculator.
Need another large-storage travel case for your bullet journal pens? This stationery bag can hold up to 80 to 100 pens. It also has small side pockets for stamps and other craft supplies.
This reusable stencil set has 15 versatile templates, including a habit tracker and calendar. The thick, flexible material allows you to create beautiful layouts without spending too much time.
Each pen in this pastel highlighter marker set has an ultra-soft chisel tip that writes a 2 mm to 5 mm line. They are great for hand lettering, note-taking and designing spreads.
These erasable highlighters have vivid, translucent colors and clear cleanly every time. So you can repeatedly erase without ruining your notes and layouts.
Bullet Journal Spreads for Blog-Related Tasks
1. Blogging Goals Page
Blogging goals provide motivation, intent, and direction, guiding you toward the best content creation strategy to attract a loyal audience. If you're just looking into making a part-time income, most likely, you don't have them. Some people really just do their blogging tasks whenever they feel like it, and that's fine.
Blogging goals, however, can spark stronger motivation and strengthen your vision for the future. Start by dedicating a bullet journal spread for two or three simple blogging goals. Write them, and then break them down into actionable tasks.
Go for a minimalist design for an effortless start. You can also include your favorite color as part of your blogging goal page design. Red, blue and yellow have soothing, calming effects that have been shown to improve efficiency and creativity. These colors can serve as your guiding light as you set more goals and work on different tasks.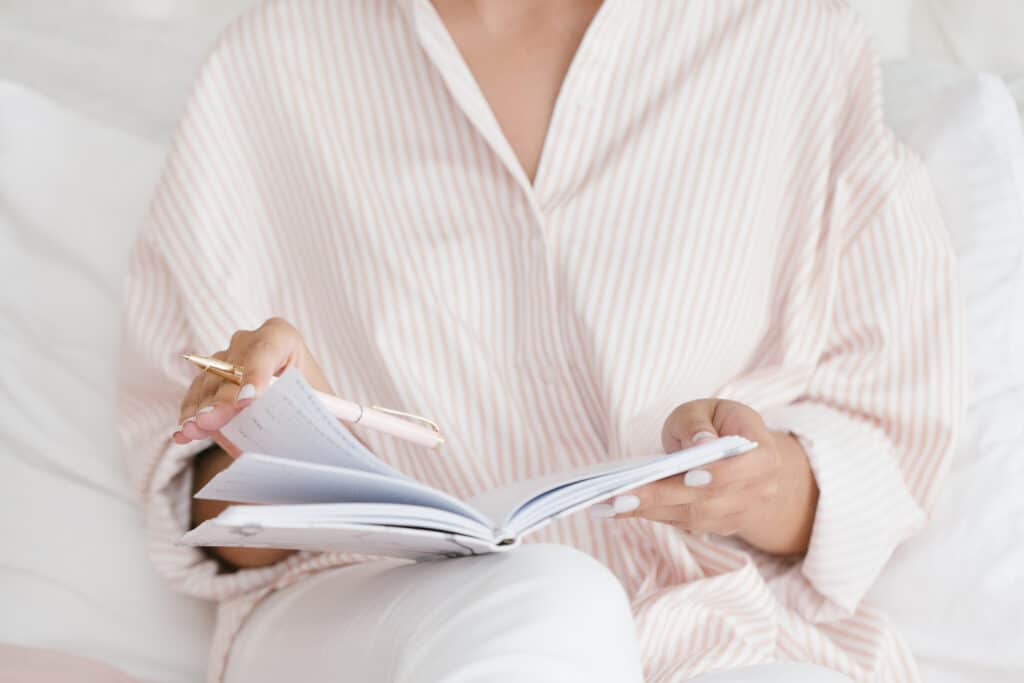 2. Brainstorming Spread
Whenever you come up with a golden blog post idea, jot it down in a pretty idea spread. It can be written on the dotted page itself or through a sticky note that you can easily remove once they're done. I suggest including various categories like arts and crafts, recipes, and household hacks.
Writing down random ideas under one heading also works. Do what works best for you. Next, set timelines and check your blogging calendar. When are you planning to work on them?! Can you still write a few more articles for this month?
When you're done working on a specific topic, draw a symbol next to it. Use a dot, asterisk, or any other symbol next to those items you've already finished. If you use a lot of signifiers, don't forget to create a legend or key page to serve as a quick reference guide.
3. Blog Check-In Page
Design a monthly blog check-in page that provides a general overview of your site, highlighting significant numbers, income, posting schedules, and other vital information. Then, based on those details, figure out what worked and didn't.
From there, make adjustments to your current blogging approach. While goal setting and financial planning in greater depth are best done on separate spreads, you can use this blog check-in page to view your current strategy.
It's crucial to know where to go next! If you need to level up your marketing game, use this spread to outline your next steps. Take advantage of social media and other crucial tools that streamline the work process. Don't worry too much about elaborate designs. A blog check-in page can be just a simple list of helpful details with fewer doodles and colors.
4. Habit Tracker for Blog-Related Activities
A habit tracker is used to monitor your habit streaks and make changes to your routine if needed. You can also use something like this to record your blogging tasks and how often you do them. Again, focus on blog-related activities, such as publishing a new blog post or responding to readers' comments.
Blogging is fun, but it still involves stressful tasks that many try to accomplish after a long day of meetings and household work. The good news? Maintaining a blog is just like committing to exercise and other self-care activities. A habit tracker spread can help prevent pressure and burnout!
More importantly, it holds you accountable for specific tasks and allows you to monitor milestones. A habit tracker with striking highlighter colors and washi tapes can strike a balance between your personal and blogging life.
5. Daily Blog Checklist
Organize your daily blog checklist with the details on the aforementioned pages. You listed down your goals and ideas. Now, it's time to get to work! Remember, the reason why many beginner bloggers don't get any work done is that they put numerous items on their daily checklists.
My advice is to keep things detailed and simple. Four to five blogging tasks are probably enough for each day, with a maximum of three complex tasks. Very few bloggers publish articles daily, so you can just respond to comments, share some posts on social media and fix the SEO of old blog posts.
Moreover, tweak marketing plans, visit other blogs as part of your blog brainstorming, and study blog analytics. Task planning becomes even more complicated when working with a big team of writers. Regular meetings are best scheduled weekly and daily when working on time-sensitive projects.
6. Blog Income Tracker
Blogs can earn through affiliate marketing, ads, sponsored posts, and other methods. As your site earns money, you must consider a sound system and template to monitor it. This can quickly be done through Google Sheets or Microsoft Excel, but you can also write data in your bullet journal for creativity in this routine.
For this spread, include the name of the company that is paying you, the amount due, the date the invoice was sent, when you received the money, and one column for some random notes.
By tracking your blogging income, you can explore new income streams and level up your strategy to make more money. An income tracker can be a lengthy list filled with five-figure projects, depending on your blog size!
7. Monthly Log for Blog-Related Activities
Blogging is easier and more manageable when you plan ahead of time. If there are tasks that you can schedule weeks ahead, do them! This monthly spread gives you an overview of the entire month, allowing you to squeeze more time out of your days.
It's your usual monthly bullet journal spread, filled with tasks and events that can push your blog to long-term growth. So how do you highlight special days and make layout design even more interesting?! Assign a unique theme for each month around the things that you love.
In addition, add inspirational quotes and cute doodles around the borders. Like other spreads, a monthly page can be decorated in multiple ways. For a minimalist approach, create a vertical, linear calendar on the left and then write the tasks on the right.
8. Keyword and Blog Inspiration Pages
Blogging success means conducting efficient keyword research, gaining more relevant traffic, improving your rankings, and eventually outranking the competition. Thus, what comes after a list of relatable blog topics are keywords people actually use.
A keyword tool can help you find the best keywords to run your SEO strategy, but it all starts with a pen, paper, and your ideas. There are many free ways to do keyword research. One option is using Google Trends to find keywords based on your idea and trending topics.
People will come to your blog to look for solutions to their problems. The keywords you will use must represent those solutions. In Google Trends, you can even refine your search to check the term usage in specific areas, categories, and time frames. Let your bullet journal track everything with a touch of favorite colors and themes.
9. Sponsored Blog Posts Tracker
Brands and companies usually pay bloggers to make content that features their products and services so that they can put them in front of potential customers. These are called sponsored posts, a win-win for both parties. But, of course, those who are just starting to grow their platforms need to do a bit of work to look for willing sponsors.
Dedicate bullet journal pages for sponsored posts. How many sponsored posts did you publish this month? Which companies and products? Listing down these details is the easiest part. The most challenging task is growing your blog and encouraging brands to work with you.
Put together a professional media kit! Use your bullet journal to organize the information you're planning to include in your media kit so that they can see your stats, branding image, and potential suitability. This is your chance to market yourself to prospective clients and open a new income stream.
10. Product Review Tracker
Sponsored posts don't necessarily equate to comprehensive product reviews. The former typically offers informational content for service-based businesses. They are shorter than complete product reviews. Once you decide to write product reviews, you need tools to help you streamline the process, especially when writing reviews for tech devices.
Certainly, you cannot review something you haven't used and products that don't align with your niche. This bullet journal spread will undoubtedly require tons of note-taking space and doodles. Use your bullet journal to take down your notes and probably do some sketches.
Divide one page into two, and elaborate on the pros and cons. Make sure to spend time with the product you're reviewing before writing. The goal is to increase the positive perception of a product. Therefore, always take a balanced, honest approach.
Bullet Journal: A Place for All Your Blogging Stuff
The downside of being your own boss? You must do most of the tasks while starting your blogging business. But, as you go along, you can share the load and get some assistance from trustworthy, talented people and a reliable friend – your bullet journal!