We may earn money or products from the companies mentioned in this post.
Do you think having a blog is worth all of your efforts? Do you want to be a top fashion Instagram influencer? The success stories of today's influential bloggers show that maintaining personal blogs is an invaluable asset that can bring you not just money, but also fame in the long run. Learn from amazing online personalities, and from the most popular blogs on the internet. Continue reading this article for the best pieces of advice and strategies that can help you with your blogging career!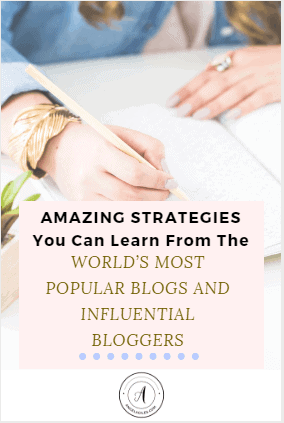 ?
Yes, YOU can be one of those top influential bloggers!
Are you a newbie blogger who wants to create popular blogs for women? Dreaming of creating and managing one of the most popular blogs in the world? Whether you want to be an influential fashion blogger, or just simply write about your personal thoughts, I'm sure you can achieve it. You just need the right motivation and strategy to succeed in the digital world.
This is the same for anyone becoming an influencer on any social media platform, whether that be Instagram, the new and ever-growing TikTok, or using the classic platform of YouTube. You need the right motivation and strategy for each, which is changing on sites like YouTube that have been around for a while and have a lot of competition. In order to grow on a site like this and stand out from the masses of channels also striving for success, many Buy Real YouTube Views to boost themselves closer to the top and get recognized. On other newer platforms, like TikTok, this may not be needed; it's all about knowing and understanding the website you're working with.
Becoming a top blogger in any niche and achieving the peak of the blogging profession are the things all online personalities and influencers strive for. To be recognized as one of those influential bloggers is a challenge, but it's worth the try, right?
Getting people to notice you online was never easy, however, no one said it's impossible either. You just need to work until you no longer have to introduce yourself! So yes, YOU can be a top influential blogger!
Check out some of these fascinating blogging statistics.
Your Own Success Is Just Around the Corner. Here are 13 Amazing Blogs and Influential Bloggers You can definitely learn from!
We admire top fashion influencers on Instagram, but aside from the classy feed and taste in fashion, we also look up to the digital marketing geniuses of Seth Godin, Pat Flynn, Darren Rowse, Neil Patel and Jon Morrow. If you?re looking for the most popular blogs to read and explore, you should definitely visit their websites.
What are the most valuable learnings you have gained from reading popular personal blogs? You love your favorite influential bloggers not only because you enjoy their blog posts, but you also feel connected with them in some way.
Moreover, blogging requires a lot of hard work and creativity, and you wouldn't want to make those common mistakes newbie bloggers like you usually commit. You need to learn from the experienced ones. If you want to understand more about these usual blogging mistakes and how to solve them, just click here!
Influential bloggers can be really helpful for individuals who run their own businesses. Have you read about your favorite bloggers? branding strategies? Use them as a guide when creating and implementing your own digital marketing plans. They are experts in their own fields, so their posts can help you change mindsets and turn losses into profits! Let them motivate you to further promote, interact and engage with your own audience.
The following are 13 reputable, influential bloggers who can help you master the art of blogging.
Apart from enjoying the classy feed of popular Instagram bloggers, I?m sure you would love to read about SEO and blogging tips from a reputable entrepreneur and analytics specialist. Neil Patel is the founder of KISSmetrics and Crazy Egg, and is a known Seattle-based investor. Thinking of turning your new personal blog for women into a profitable website? Reading Neil?s articles will definitely motivate you to strategize further and turn your website into a successful business.
Thinking of new legit passive income ideas? Let Pat Flynn teach you everything you need to know by visiting his website. He provides his readers with informative posts that answer their daily online business questions. Do you want to be one of the most influential bloggers around? Find out how Pat managed to make 3 million dollars over the course of 6 years by creating websites targeting different niches.
Revamp your content strategy now and put your excellent blog writing skills to good use. Who knows? As a blogging beginner, this skill might supplement your income. Visit Noah Kagan?s blog if you need more newbie advice. It is an excellent source of inspiration for those who are just starting out in the blogging business. He posts information-rich content?tailored to the needs of his readers who wish to boost their productivity in the blogging industry.
Darren Rowse is not a top fashion Instagram influencer, but he already made a mark in every millennial?s digital consciousness. He is a former minister with vast interests, from movies and photography to wine and other cuisines. Moreover, Darren is the founder of many blog networks, including b5media and ProBlogger.net. This man is definitely the epitome of a successful blogger. Do you think you have what it takes to be one as well?
There is no denying that Seth Godin is an admirable digital native. He is an influencer, marketer, public speaker, author and entrepreneur rolled into one. When it comes to enumerating the number of things an inexperienced blogger can learn from this extraordinary multitasker, the sky is the limit. If you want to learn from one of the most influential bloggers in the world, all you have to do is check out his blog.
For more than a decade now, VentureBeat has made a name for itself as a primary source of information for discovering and understanding all the novelty factors associated with many technology trends, from mobile and social media to games and health matters. It attracts around 7.5 million unique visitors every month. Sounds impressive and interesting? You should learn from its founder and CEO, Matt Marshall.
I?m sure you would want your newly-created blog to deliver the freshest news that can help many entrepreneurs, executives and technology enthusiasts. Matt and other influential bloggers can guide you into helping your readers make smarter decisions!
Are you determined to be one of the smartest, most influential bloggers in the digital world? Who wouldn?t want thousands of blog readers, views and shares, right? Lead yourself towards that goal by reading Rand Fishkin?s blog. As a celebrated author, speaker, founder of Moz and co-founder of Inbound.org, he has the experience to ?mentor? you through informative entrepreneurship and marketing blog articles.
If you want to make your blog profitable, you need to master internet marketing, just like all the other influential bloggers. You might need social media manager and blogging coach Pauline Cabrera?s help regarding this! She founded TwelveSkip, a top-rated resource for internet marketing articles to address the problems experienced by small business owners who are struggling to boost their online visibility.
How to be one of those influential bloggers? Read quality information on blogging, content marketing, visual marketing and affiliate marketing. TwelveSkip can provide you with these, plus other step-by-step social media tips and tutorials!
Get access to "Cheatsheet: 5 Important Things You Can Learn From Blogging" by joining our Free Resource Library, just click below!
If you?re a blogger and haven?t heard about Timothy Sykes, then you might be missing a part of your digital life. Timothy is one of today?s most influential bloggers, and owns the highest earning internet blogs in the entire world. He is a highly esteemed financial activist, educator, stock trader and entrepreneur.
Do you know that he owns around $180,000 a month just from his blog? That?s a goal we all want to achieve! Timothy?s achievement proves that turning a website into a profitable business is far from impossible. Read his interesting posts if you want to revamp your blog strategy.
Jon Morrow is the founder of CEO of SmartBlogger, a successful website run by competent, virtual talents from all over the world. His motivation to start this business? Teach intelligent and hardworking writers how to start their own blogs and get the online presence they deserve. Well, what are you waiting for? Go to his blog now for some readings.
Also, as of writing, SmartBlogger?s Twitter account has more than 44,000 followers. I?m sure you would also love to learn more about this smashing social profile success!
Amit Agarwal is definitely a source of inspiration for any blogger and influencer. As a bold promoter of freedom of speech in India, he made the first steps towards becoming the first professional blogger in his country. Are you looking for a reliable source of expert advice when it comes to the utilization of web-based services and tools? Then, Digital Inspirations, one of his most ambitious projects, can be of great help for you.
You think you already know the typical vibe of a social media person, blogger and influencer? Well, Ileane Smith is certainly not your average example of social media influencers. Through her website, she is always ready to uncover the secrets of digital media to help readers find their own voices, craft better content and keep readers engaged.
As a newbie blogger, you would want to improve your relationships with your audience and maximize earnings the easier, more convenient way. This is why Ileane strives to provide free expert guidance as an experienced podcaster YouTuber and blogger.
Many companies create blogs because they want to sell faster and better. By having a website, they can reach their readers and stay one step ahead of their competitors. Always remember that quality content can make you richer and wiser at the same time.
If you?re one of these business owners and influential bloggers who should step up their online visibility game, then turn to Enstine Muki?s tips. Do you need to address some urgent concerns about your blog? His success stories and guidelines would let you solve the issues that may be impacting the effectiveness and visibility of your website.
Learn from the most popular, influential bloggers in the world. Here are 5 Amazing strategies that they use!
It?s really hard to make a name for yourself in a digital world full of remarkable, influential bloggers and blogs. This becomes even more difficult when you?re sailing without a compass.
As a newbie blogger, you need more than just a few general, standard tips to improve your influence level and increase your audience. Do you want to be like all the successful, influential bloggers I mentioned above? Transition from a nervous rookie to a confident blogging superstar through the following amazing strategies!
1. Find the Perfect Combination of Mindset, Goals and Tactics
The most determined influencers and bloggers who get excellent results in the blogging field implement a perfect combination of 3 major important things: a productive mindset, a personalized strategy and a unique vision. Newbie bloggers like you can get free blogging guides online, but in order to experience long-term success, you need more than a just few tips.
2. Stay Active on Social Media Platforms
I?m sure you know by now that influential bloggers explore and leverage the tremendous power of social media to sway everything to their best advantage. At this day and age, we can already consider blogging as a full-time job so you should work around-the-clock to promote your content.
List down all of your creative ideas. Put them in a social media calendar (click here for a social media content calendar guide!). If you want to get positive results and improve your readership, you should start by employing effective tactics. Study the social media profiles of the top fashion Instagram influencers and other most popular personal blogs in the world for the best ideas! Save the best creative concepts that can inspire your future content plans.
3. Invest in the most effective Tools That can Contribute to Your Success
Top fashion influencers, as well as other most popular bloggers in the internet, use certain tools to help them manage their websites and social profiles. Are you looking for a platform offering various image templates? How about a tool that can strengthen your search engine optimization strategy? Read this list of useful blogging tools that can surely help you.
There are a lot of free tools and platforms available online, designed to help beginner and influential bloggers to stay competitive and relevant. Maximize your digital growth and creativity now!
4. Collaborate with other Bloggers
Influential bloggers know how to turn foes into friends and competitors into collaborators. Why not collaborate with your fellow bloggers and influencers? An example of this is an effective guest posting strategy. You can use it to your advantage! Have you ever tried this?
Need a comprehensive guide to guest blogging? Click here.
If you really want to boost your online popularity and target a broader readership, abandon your comfort zone and create beneficial relationships with industry friends and experts. Trust me, they can become a part of your content strategy.
5. The best way to achieve Recognition as an influencer and blogger? Be the Best Version of Yourself!
There are lots of tools you can use and strategies you can implement, but always remember that above anything else, staying true to yourself is the real key to success.
Your unique personality and originality are the most powerful digital weapons that should be part of your arsenal. Also, you?ll never run out of time improving yourself. Continuously improve your writing style and make it recognizable! Make your own mark.
Need an essential guide to profitable blogging? Click here.
For instance, Neil Patel?s writing style is completely different from the one embraced by Jon Morrow. They both operate in the SEO and blogging fields, but they both have different styles. The two of them are exceptionally gifted professionals providing readers with a constant flow of information on blog promotion and optimization, yet their own approaches are unique and easily recognized by readers who are familiar with their posts.
Get access to "Cheatsheet: 5 Important Things You Can Learn From Blogging" by joining our Free Resource Library, just click below!
Work until you no longer have to introduce yourself!
This is probably the best piece of advice you can ever get while working hard to grow your blogging business. Obviously, the success stories of today?s most popular influencers and bloggers show that having a website is an invaluable asset that can bring you money and fame in the long run.
Always muster the motivation, and never lose hope.
If those influential bloggers can do it, you can do it, too. The success stories you?ve just read prove that you can turn your simple blog into a thriving business. There are a lot of great opportunities wherein you can establish online authority and long-term positive results in terms of new leads and more traffic.
Blogging can change your life. It really can. Push yourself to make a difference every single day. Create, innovate and contribute to a flawless user experience through your best blog content. You should consistently gather new knowledge, and motivate yourself to make significant progress!
By being an influential blogger, you can transform the world;-) Start your online world domination strategy and get more views to your site like my friend Lena did. She was able to go from 17K to 400K+ pages views in 10 months. In her Transformation Guide, she shares her 21 strategies you can implement right now to increase your social engagement and web page views.
WANT TO BECOME ONE OF THE MOST INFLUENTIAL BLOGGERS IN THE WORLD? WHY DO YOU BLOG, AND HOW DO YOU MOTIVATE YOURSELF? LEAVE A COMMENT AND LET'S CONNECT! I WOULD LOVE TO LEARN FROM YOU!