We may earn money or products from the companies mentioned in this post.
Trying to monetize your blog through ads, affiliate links or sponsored posts will take a long while to make serious money. Is there a faster option? This post is going to show you how to become an entrepreneur using your blog. Transitioning from a blog owner to a business owner can initially seem impossible, but I'm here to help make your transition smooth.
So let's get started with 10 ways to help make you a business owner!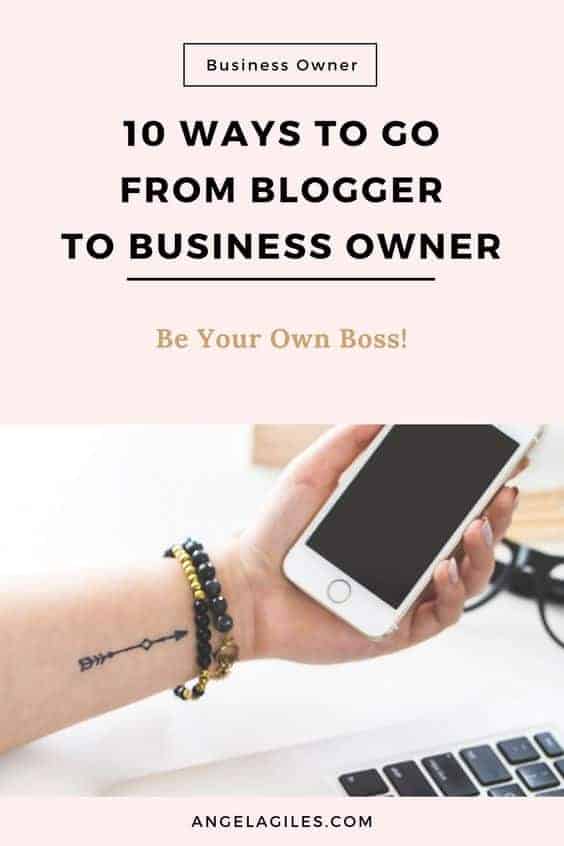 1. Consulting Packages or One-On-One Coaching For Business Owners
Offering packaged services is a surefire way to transition from blog owner to entrepreneur. If new to that idea, perhaps begin offering your skills and knowledge through packaged services before moving to scalable courses, bigger products, group coaching and ebooks. Experiencess gained from one-on-one coaching help make better products.
Narrowing the package helps achieve maximum results. Pick that special thing you're great at and that you'd like to teach to others. Going all over the place will leave your clients frustrated. Plan your packages so your clients see measurable results gained from your package. Let there be a plan with tasks that leads to results.
Offering an "ask me anything for one hour" isn't usually as effective as "follow this plan to move from blog to entrepreneur in one day." The second is more impressive. It doesn't matter if a client simply spends that one hour asking you questions because they will still leave satisfied.
Need ideas?

These one-hour sessions should get your creative juices flowing.
write copy that makes your audience fall in love with you
draw up a plan to help you achieve your desired weight
create a personalized nutrition plan to make you healthy
help you choose a profitable niche and determine your ideal client
brainstorm on how you can make your blog profitable
Rather than needing certification to offer them, knowing what you're talking about is the main criteria. Add in being confident sharing your knowledge and being clear and easy-to-understand when sharing it and you're ready to go!

Many businesswomen are looking for someone with which to discuss their ideas, and who will understand because they've been there, done that. They need someone who can point them in the right direction to help save them time and frustration and help them avoid mistakes.
2. Paid Group Programs Or Group Coaching Sessions For Entrepreneurs
A group program combines courses and coaching into one. It's common with online entrepreneurs and digital business owners. For those just starting out offering their skills and knowledge to others, starting with a group program is ideal. My friend told me to check out executive coaching london but there are loads of coaching sessions available worldwide. As you interact with members of the group coaching class, help each one attain their goals, provide solutions to challenges and motivate everyone, you will be in a position to find their fears, questions and struggles.
In the end, this priceless information will help in creating a watertight course some time in the future. Because you're now armed with onsite market surveys, input and opinions of those who bought the course.
What happens in a group coaching program? First, members of a group coaching program all have similar goals that they are working towards. As the coach of the group, you're responsible for making coaching calls, providing worksheets, content and other resources needed to ensure each member achieves their goals. Since group coaching programs have a community feel, members can offer assistance to each other where they are capable.
You do not have to spend months preparing a group coaching program. Simply have an idea of a solution you want to offer to your clients' challenges, then set up your coaching call schedule. A completed agenda to share with all members can be helpful, but you can also create just the first part and create the rest as you go along.
The value of a group coaching program includes things such as scheduled access to you for questions, calls with you, and access to accountability and support from other group members.
Now that you have all of the above cut and dried, it's time to plan for the program. You first need to decide the duration of the coaching program. Will it be one year, six months, six weeks? Next, fix a price tag that reflects the value of the program. If you're wondering what value, keep in mind the value points we talked about earlier, among others" access to you for their questions and worries, calls from you, and access to accountability and support from other members. These are the value points. A price range of $299 to $5999 can be expected. However, pricing can vary from niche to niche, and can go much higher based on your expertise and program length.
What's the point of having a coaching program no one can access? Set up a sales page for the program and include various payment options to make it easier for your clients to buy your digital product. Luckily, there are multiple financial technology services out there these days to benefit an online business. However, it's important to find the one for you. For those who have an online business located in Europe, they may want to look at these merchant accounts in Europe to help customers safely purchase their online products. It's so important to choose a reliable financial service to process your online payments in order to get customers' payments easily. A lot of people prefer credit card payments these days, so it might be worth incorporating that onto your sales page. Additionally, broadcast your coaching program via social media, e-newsletter, your blog, and guest posting.
And if you are wanting to free up some time (especially if you are wanting time to create more products) and already have some one-on-one clients, let them know about your group option. You may get some time back if they are interested in switching.
3. Create A Digital Product or Ebook
This is a favorite of many blogging entrepreneurs and a sure way to become a businesswoman and not just a blogger. Creating an ebook or digital product is very scalable because you can make money from it over and over again, even several years later. When creating your product, adopt the one-to-many model rather than the one-on-one model if you desire to reach more people, and of course, sell more.
Ads, sponsors and affiliate links may offer something to help your audience, but creating an ebook or digital product for them makes them feel special. They know you took the time to deliver this valuable information to them. It may be the only medium through which some of your readers will have access to you or the only way through which they may try to know what's going on in your mind.
4. Create And Sell An Online Course
Our mobiles devices can be used for just about anything, including learning. That is where the idea of ecourses came from. One can create an ecourse for practically anything, as long as you've got something to teach people. Ecourses can continue to earn you money for as long as the ecourse is available for sale, which is what smart digital entrepreneurs do.
Ecourses may also produce a better return on investment and get better results than an ebook or a group coaching program. Ebooks get read but rarely implemented, and a group coaching program may involve a lot of your time. An ecourse, however, does not need much involvement from you once it is set up. You can easily relaunch them once they are over, even two or three more times in the same year. Just add updates and fresh information based on the experiences of those who have taken the course and you're ready to go!
Several mediums can be incorporated into an ecourse, such as videos, audios, text or any medium that makes learning easier. And usually providers of ecourses have a group for those who take their ecourses, such as a private Facebook group or a forum, thus adding more value. No wonder ecourses command premium price tags.
Related: 11 Proven Ways To Monetize Your Blog (and actually make money)
5. Paid 1-Day Online Workshops
One-day paid online/virtual workshops are becoming very popular with the rise in virtual classrooms. Today's business owner is much too busy and would gladly leap at an opportunity to attend a one-day paid online workshop at her convenience. Prices for these workshops range from $50 to $500. Some workshops have limited seats for attendees, thus giving it that private, personal feel which most people prefer.
Usually virtual workshops are live events, so attendees have the opportunity to do things like interact and ask questions live, something a course would not have. An online workshop is the best time for an entrepreneur to launch or deliver digital products. You can give your listeners real-time explanations on how the digital products work, and they get to test it real-time and give you feedback.
Are you a businesswoman intending to launch a big product? Having a one-day workshop around the product is a good way to test the waters. The response of the limited attendees will give you an idea of how the public will receive your product. If response is good you know you've got the green light to make it big! And if the response tends to indicate a few tweaks are in order, it's great to find that out before the big launch.
How do you go about the workshop? Pick a date and time. Be sure to pick a very narrow topic. Remember, it's a one-day event so a narrow topic gives you sufficient time to handle the topic within the allotted time. Choosing a wide topic where you end up only touching the surface will make your attendees feel they haven't gained anything from your workshop, which is not good for you as a business owner.
To get people to register for and buy your workshop, create a sales page complete with a "buy now" button. You can use tools like LeadPages, GoToMeeting, Webinar Jam or Google Hangouts On Air to set up your live workshop. After doing all the above, it's now time to start preparing your teaching materials for the event.
Virtual workshops are also great for those just starting their blogs that do not want to currently commit to a complete course or write a lengthy ebook. View the online workshop as a testing ground. If things go well, you can later develop the workshop into a bigger digital product. Your live workshop recording can also be sold (usually at a higher price) to those who didn't attend.
6. Successful Entrepreneurs Offer An Extremely Specific Service
Looking for the fastest route to becoming a business owner and not just a blog owner? Then start offering specific services. When you're specific in the services you offer, you're the first person that comes to the mind when your clients search for that particular service.
Resist the temptation to offer everything you can do. Don't be afraid that you will lose potential clients if you only offer one specific service. On the contrary, really narrowing your niche will draw more customers to you.
Your specific niche service could be technical, creative or just about anything. There are a million and one specific digital services you can offer. The best place to start looking for who you can offer services to are those within your immediate circle, such as those you follow, subscribed to their newsletter or once received a service from. If you think there is something lacking, just reach out to them and offer that specific service.
Basically you're offering a service you can do better than the person you're offering it to. That can be creating Facebook ads, designing a website, blogging, or even digital marketing. Target those whom you know are in dire need of your services and offer them your specific services.
Related: How To Attract High-End Clients Using Instagram With This 3 Step Formula
7. Create A Membership Site or Service
A membership site is preferable for some customers who prefer a low recurring monthly payment. Membership sites can take a lot of work. You need to get people to sign up, remain signed up, and constantly maintain their interest.
That a blog business owner successfully launched a membership site does not automatically mean it will keep holding customer interest. Your members need to see the benefits of them remaining a member, such as new content.  You will also need to make sure that you are designing a website that is easy to navigate for this membership site.
Nevertheless, a membership site is perfect for the entrepreneur who loves managing communities and is capable of sustaining interest with regular fresh content. The recurring monthly payment will be a source of steady income and provide stability.
What happens in a membership site? Usually there is an exclusive members-only forum, exclusive members-only content, exclusive group calls and exclusive access to you the business owner. Only paying members will get access to these.
One way to keep members is to offer a yearly fee. For instance, if your membership fee is $19/month, you could offer $200 for one year. It still looks like the price of a course, but you will keep those members for at least a year.
To also ensure you keep offering value to members, screening of new members is essential. You do not want members that come with negative minds or that keep pestering other members.
A paying product can be created from almost anything. Items such as those free newsletters, free forums and free Facebook groups can all be turned into paying ones after reaching a certain level of popularity. Why? People are more likely to value something they are paying for monthly.
So if you're offering real value on your free platforms, people will be willing to become paid members because they love the value you're giving to them.
8. Physical Products In An Online Shop
Selling physical products through your online shop can be a worthwhile venture. Although it requires more overhead, costs like looking for an office space for rent to keep the products you sell or for employees if your business grows, and time to set up, it's a cool way to become a businesswoman and not just a blogger.
Take time to choose products your readers will like. For example, if you're a fashion blogger, consider selling clothing or accessories. If you're a pet blogger, consider selling products your readers and their pets might need.
You also need to take into consideration what kind of products you want to sell. Will they be handmade, locally manufactured or imported? Also, if you are dealing with physical items, it may be a good idea to implement customer service into your business so that your customers can communicate with you should they have any queries of concerns. The way many businesses do this is by using help desk software… what is help desk?
9. Speaking Gigs At Entrepreneur Events
A great way for a businesswoman to make money from her blog is getting paid to speak at events. Most speaking opportunities you will need to find for yourself. However, as you get more known, many may be from people who instead contact you!
Public speaking and getting paid for it boosts your credibility as a digital entrepreneur and increases your followers. So while it can be great to have a product to offer at a speaking gig, sometimes it can be a great option even without one.
10. Combine Them All! Try Everything!
The secret to being a successful entrepreneur is to have multiple streams of income. Combining all of these ideas will help you figure out the ones that best suit you, your audience and your niche.
Many time the product or income stream you least expect to be best will be your most successful. So as you combine these options, time will show you those that work well and are the best fit for you. You can then adjust as time goes on. But you never know until you try.
Be sure to take note of those products that do well, especially those you least expect.
So try your hand at any and all of these! Take charge of your finances and become an entrepreneur and businesswoman using any of the products mentioned.
Go from blogger to business owner real quick by increasing the views to your blog! Start your online world domination strategy and get more views to your site like my friend Lena did. She was able to go from 17K to 400K+ pages views in 10 months. In her Transformation Guide, she shares her 21 strategies you can implement right now to increase your social engagement and web page views.
WHICH OF THESE BLOGGER TO BUSINESSWOMAN IDEAS BEST FIT YOUR BLOG, AUDIENCE AND NICHE? WE'D LOVE TO KNOW, SO PLEASE SHARE YOUR ANSWERS IN THE COMMENTS SECTION.
AWeber Sign Up Form authentication failed. Please verify the settings to continue to use AWeber Sign Up Form.