We may earn money or products from the companies mentioned in this post.
Bullet journal beginners easily get caught up in looking for the perfect notebook or pen to use for beautiful spreads. There are tons of brands out there offering bullet journal supplies, but keep in mind that fancy and expensive don't always mean high quality. Here are some supplies recommended by the professionals.
Looking through different notebooks, pens and accessories can be stressful. You will be tempted to get everything! Feel free to practice your bullet journal routine with a cheap pen and notebook. After that, you can start buying high-quality supplies that you can use in the long run. So, how do you choose the perfect items? Where can you find the best bullet journal starter kit? Here you go!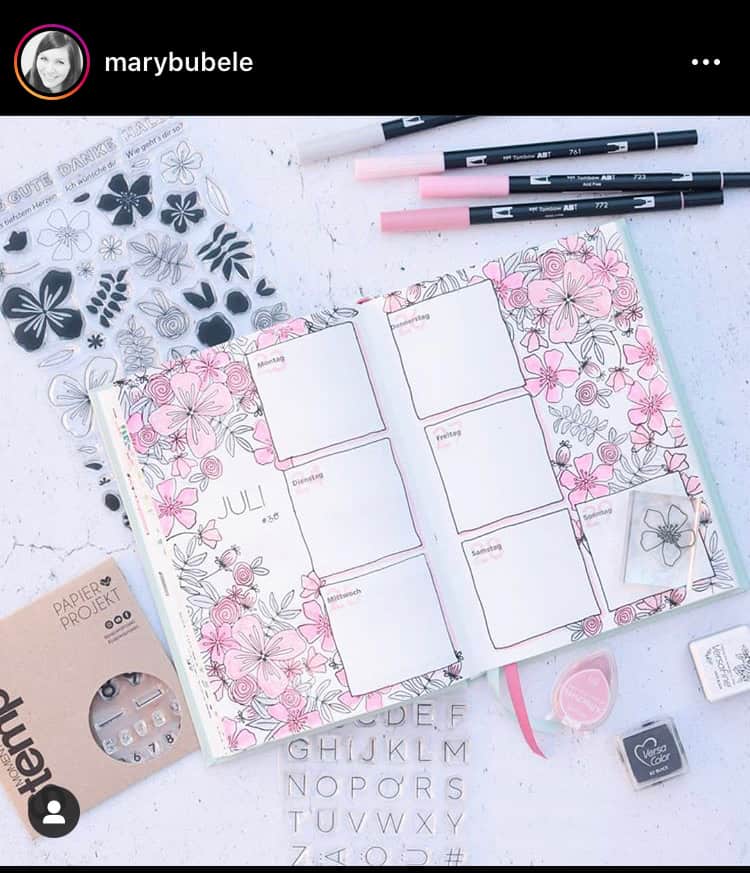 The Source
Start your bullet journaling routine with these supplies!
1. Essentials Dot Matrix Notebook
You will love this bullet journal notebook! Its paper is 24% heavier compared to other journal brands. This makes it excellent for sketching, designing, planning, and creating graphs and charts. You can practice your note-taking methods right after buying this one! Get it here.
2. Journal Stencil Plastic Planner Set
This stencil planner set is the ultimate creative weapon! You can use this not just for your bullet journal, but also for handmade family holiday cards, greeting cards and letters. Get it here.
3. Crayola Washable Super Tips
Crayola Washable Super Tips has a smooth, non-scratchy, durable tip that is perfect for writing, coloring and drawing. You will be able to fill in the most elaborate details in your bullet journal spreads. Get it here.
The Source
4. Pilot Precise Rolling Ball Pens
Pilot Precise is a favorite of many bullet journalist friends because of its great for creating flowy strokes. Even beginners love its unique ink formula. Get it here.
5. Sakura Pigma 30062 Micron Blister Card Ink Pen Set
This is an amazing bullet journal pen that helps me make beautiful letterings and line widths! It can also be used for illustrations and scrapbooking purposes. Get it here.
Good bullet journal supplies will motivate you to use your notebook more!
Consider every bullet journal tool as a motivation to use your bullet journal. Since you are excited about your things, and for that unique chance to be creative, most likely, you will use your pages to be productive.
It's okay for beginners to use tons of different supplies. One of the best things about starting a bullet journal is exploring different styles and tools. Here are some more supplies and accessories you can use! It's time to make new bullet journal spreads!
6. Washi Tapes
For many people, bullet journal spreads are nothing without washi tapes. Who wouldn't love those unique patterns? Trust me you will love using washi tapes with fresh elements like tropical fruits, geometric lines, plants and animals. Make sure to choose washi tapes that are easy to stick to and peel off at any place. Get it here.
7. Stamp Set
Bullet journal stamp sets are everything! Wit just one stamp, you can give your page a more unique, remarkable look. It is perfect for everyday planning, and can also be used for your travel journal spreads. Get it here.
8. Graphite Paper
Carbon paper is great for art and craft projects like bullet journaling. It allows you to trace different images into surfaces such as canvas, glass, metal wood and paper. This transfer paper will save you tons of time by capturing each detail in your original design smoothly. Get it here.
9. Sticky Notes
Have you ever used sticky notes for your bullet journal? You can use these fun notes to help you remember important dates and activities. There are tons of brands out there that you can buy, just make sure to get those that stay firmly in place. Get them here.
Our Source
10. Stickers
Bullet journal stickers are for good for almost every kind of spread imaginable. If you are thinking of showering your new tracker with hundreds of different stickers, the best choice would be Planner Stickers by Clever Fox. These cute, little stickers will help you organize your planners in a more personalized way. Get it here.
11. Pens
You are a bullet journal user, so you need pencils and markers that are good quality. These set of pens are designed for every person who loves calligraphy, drawing and art therapy. Get it here.
12. Scissors
It's not everyday that you will see a beautiful stork scissor fit for everyday use. Its metal handle feels comfortable, and the sharp blades would help you finish your task in no time. Get it here.
13. Highlighters
This highlighter pen set is a top choice for those who love bullet journalling. You will love its subtle and soft colors, and how softly they show on paper. Get it here.
14. Watercolor Dual Brush Pens
Watercolor brush pens are excellent presents to your artsy friends. This specific set of brush pens are well-loved by newbie artists! It offers good colors for blending and shading bigger areas. Its smaller tip, on the other hand, can be used for outlining and writing smaller spaces. Perfect for the bujo addict! Get it here.
Bullet Journal Notebook Supplies to Manage Your Busy Life!
The number one purpose of a bullet journal is to manage your busy life in a creative way. If you don't have the right bullet journal supplies to make spreads and layouts, how can you maximize your productivity? It's the perfect time to build a wish list of amazing supplies!
AWeber Sign Up Form authentication failed. Please verify the settings to continue to use AWeber Sign Up Form.