We may earn money or products from the companies mentioned in this post.
A bullet journal is a customizable, analog system that helps you track tasks, manage your time, and foster creativity, all while offering a unique charm that apps often lack. It's perfect for tactile learners or anyone seeking a more intimate connection with their planning.
While some may view journaling as a personal hobby, its adaptability makes it an excellent choice for managing and growing a small business. Discover how embracing this method can elevate your business strategy and resonate with your goals. 
This guide gives you ten easy tips for tracking your business essentials using bullet journals.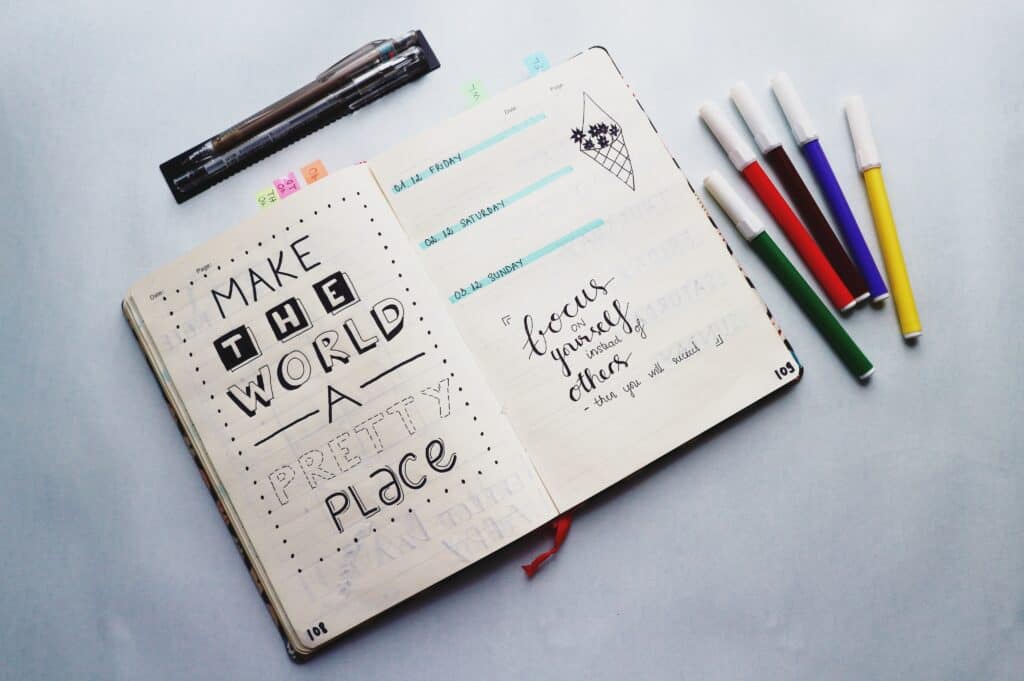 Start Your Bullet Journaling Routine With These Supplies!
How to Optimize Bullet Journaling for Your Business
1. Break Down Your Annual Business Goals
Setting annual goals is common, but keeping track of progress throughout the year can get lost in daily operations. Use your bullet journal to segment these lofty goals into actionable steps spread out over the months.
For instance, if you aim to increase yearly sales by 20%, break this down into monthly or quarterly targets. As you approach each milestone, you can adjust your strategies based on performance. 
2. Managing Your Inventory Effectively
If you own a retail business, a bullet journal can be an invaluable asset for tracking inventory. Within its pages, you can design a dedicated layout that lists each product alongside its stock-on-hand, reorder levels, and suppliers.
By using color coding, you can turn your entries into clear visual signals, making it easy to spot items that are nearly out and need to be reordered.
3. Monitor Your Cash Flow
Keeping a steady cash flow is crucial for your financial well-being. Set aside a page in your journal each month to get a clear picture of your finances. Make a habit of listing your predicted earnings and anticipated expenses.
It might include incoming client payments, planned marketing costs, salaries, and any other inflows and outflows. That way, you can easily see if you're on track or if there are areas you need to adjust.
4. Track Your Sales Funnel Progress
Service businesses, in particular, require a meticulous approach to customer relations. The stages of your sales funnel—such as "Initial Contact", "Proposal Sent," "Follow-Up," and "Closed Sale"—can each claim a section in your journal.
Here, you can list leads and track their transition from potential leads to confirmed customers. Perhaps add notes about conversations, their needs, and feedback. As they progress through your funnel, you can easily track their movement.
5. Organize Employee Schedules
Dedicate a page to sketch out a weekly grid, letting each row represent a distinct team member. As you fill in this grid with their respective working hours, incorporate a color-coding system for different shifts.
This not only gives you a quick visual overview but also simplifies any adjustments or swaps that may arise. Over time, you'll find this method more manageable and efficient.
6. Analyze Your Competitors' Moves
Use your bullet journal to jot down your firsthand observations whenever you spot something noteworthy from competitors. Don't just stop at noting the event; dive deeper into how it could impact your business. Could their new ad campaign divert some of your audience?
How does their latest product stack up against yours in terms of features and pricing? By examining these aspects, you can brainstorm strategies to counter their initiatives or capitalize on the potential gaps they've left open.
7. Improve Your Event and Promotion Strategies
Promotions and events, with their many moving parts, are anything but simple. In this case, your bullet journal can be your playbook.
Within its pages, you can map out everything: the nuances of your advertising campaigns, the start and end dates of the promotion, the staffing assignments for peak sale hours, and even the metrics you'll use for post-event evaluations.
By consolidating all these details in one place, you can ensure nothing gets overlooked, leading to smoother operations and better results.
8. Building Your B2B Network Connections
Business networking events can be a whirlwind of introductions and exchanges. Post-event, use your bullet journal as a dedicated space to log new contacts, detailing the nature of your interaction, potential collaboration avenues, and critical follow-up dates.
Dive deeper by noting specific details about your conversation: what caught your interest, any potential areas where you might collaborate in the future, and any commitments or promises made. And most importantly, always mark critical follow-up dates.
9. Map Out Your Content Marketing Plans
Your bullet journal can be a fantastic tool for brainstorming and organizing your content ideas. Use it to jot down monthly themes, potential topics, and target keywords.
Say you run a bakery: for December, you might note ideas like "Seasonal Desserts" with keywords such as "winter treats" and "holiday pastries."
While you might still rely on digital tools to schedule exact publication dates and track analytics, your bullet journal ensures you have a tangible space for creativity and strategy.
10. Track Your Social Media Interactions
While there are plenty of digital tools for detailed analytics, your bullet journal can act as a space to capture insights, trends, and feedback. Dedicate a section in your journal for noting down significant engagement spikes and recurring sentiments from your audience.
Say you frequently see comments appreciating behind-the-scenes glimpses of your operations; that's your cue to consider producing more of such content.
Remember, although apps can provide the data, your bullet journal can offer a more personal touch, helping you understand the human side of those numbers.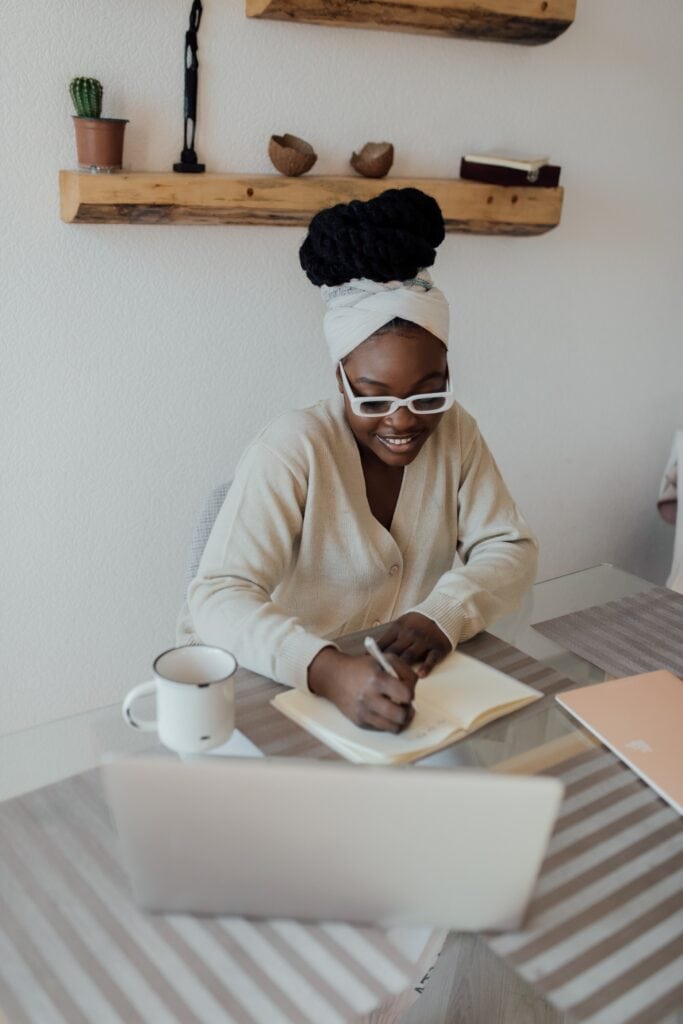 Empower Your Business Strategy with Bullet Journaling
For small business owners, every day brings its own set of challenges. Yet, there's a powerful tool that can turn these challenges into growth opportunities: a bullet journal designed especially for the entrepreneurial spirit. Use this method and see your tasks become clearer and more inspired. Let's tackle challenges and create successes, one note at a time!
Bullet journaling + better business strategy = game changer. Want in? Book a call with me, and let's get started!