We may earn money or products from the companies mentioned in this post.
I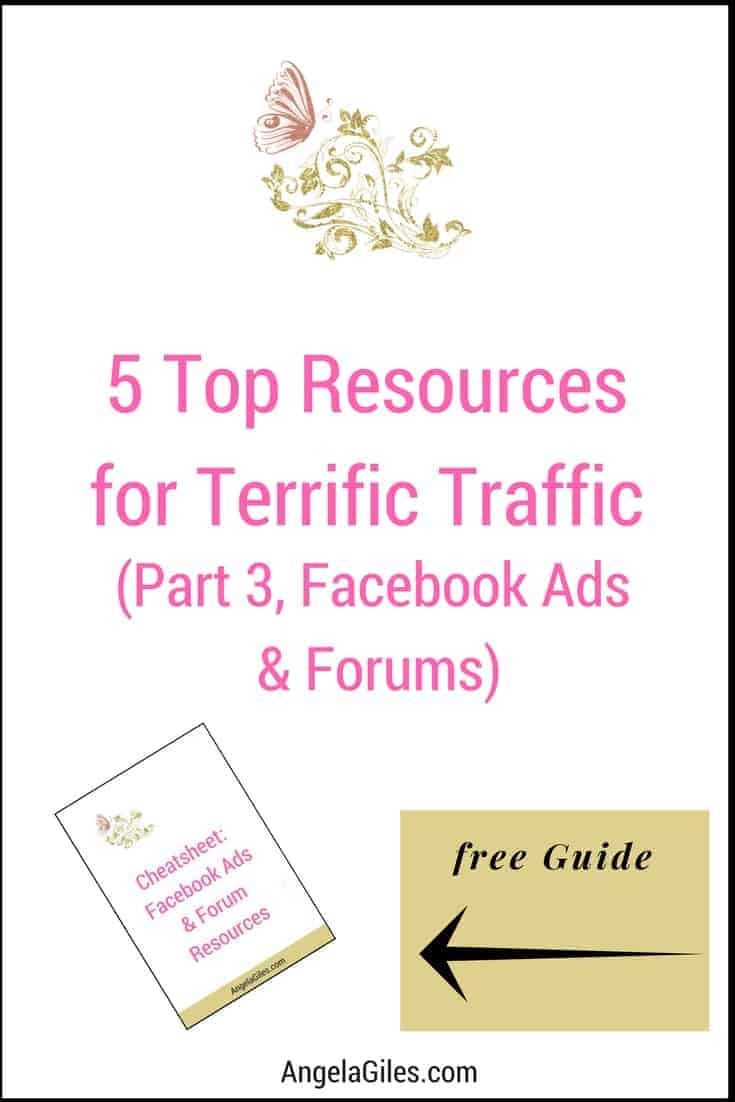 Welcome to Part 3 of my 4-part series on getting increased traffic to your blog or website!
I previously talked about using search engines and SEO for increased traffic, along with looking into a few SEO Package plans that could boost your websites rankings as well as social media being a valuable resource for increased traffic. In this section I'll dive a little deeper into social media and talk more specifically about using Facebook Ads. Before we start, ad campaigns can be challenging to run, especially if you don't have much time or aren't very good at working with computers. If you apply to either of these then it might be best to get the Knoxville TN SEO by BlackStorm to help you out. If you aren't sure how to SEO correctly then it may end up hurting your business and site.
I'll then move on to some great benefits of using forums to get traffic. While forums can get a bad rap because they can have a lot of spammers, or they seem old school, finding the right forums and using them the right way can get you wonderful results! Let's get started!
An Overview Of Facebook Ads
A Facebook Ad is basically an advertisement created to reach Facebook users based on their activity and their demographics.
They are a popular way of getting increased traffic using Facebook. They're pretty easy to understand and set up. Combining social media marketing with Facebook Ads is a very powerful strategy.

Facebook Ads can help generate a lot of traffic pretty quickly. Unlike some of the other traffic generation methods, such as using search engines and SEO, this method takes no time at all to kick into action. However, they can take a bit of testing and tweaking to find the ads that get you the best results. It will totally depend if you're looking to target a specific area. I.e. taking advantage of seo perth area (if this is where you're looking to target) will be hard since the market is very clustered. But if you were to target seo in Lichfield, you're bound to be luckier!
One downside is it does cost a little money, but you do have control over how much the ads cost you. And if you have monetized your blog or website correctly, your ads can pay for themselves.
How Facebook Ads Work
Similar to Google AdWords, Facebook is a pay-per-click (PPC) marketing channel. This means you pay when someone clicks on your ad. Depending on how your ad is set up, you can be charge based on video views, ad impressions or other metrics.
If you?re even more strategic, consider using cost-per-action (CPA), which means you only pay when someone completes a particular action. So in a sense, an advertisement only costs you money when it is successful and gets you the increased traffic (or other outcome) you want.
There are various different actions you can set up with Facebook Ads, but this is definitely a way to get increased traffic to your blog.
Remember: The increased traffic is also very finely targeted, which is extremely important. This allows you to target your ideal clients and specific niche while avoiding wasting money advertising to people who are unlikely to click on any ads.
Targeting Your Increased Traffic
With Facebook Ads, you can target people by things such as location, age, gender, marital status and even their hobbies and interests. For example, if your niche is gardening equipment, you can target only those people who have gardening listed as one of their hobbies.
There?s no point in getting a lot of increased traffic to your blog if it's not targeted. This can be even more true such as a local business only wanting to reach a local audience. You don't want to waste your advertising budget getting traffic from people located in Australia if you run a hair salon in Dallas.
How To Create Great Facebook Ads
If your main objective was making money from Facebook Ads, the best strategy would be setting up a landing page to sell your product and then create advertisements to direct visitors there. Your Facebook ads would be very upfront and even include the price. That way people would only click (and cost you) if they were interested in potentially paying for a product like yours.
However, when your priority is increased traffic, you?re playing the longer game. In this case the best type of ad could be a CPA ad to get Likes to your Facebook page, then you could do some promoted posts which then get seen by a greater number of your followers.
Keep in mind people generally won?t just Like an ad for a company. Your best chance of getting them involved is speak to them on a more abstract level and get them excited for what you?re doing. People do regularly Like pages that are about the gym or travel because they are interested in the lifestyle and they want to communicate that aspect of themselves.
So instead of simply advertising your product or brand, advertise the lifestyle you represent. Target people who are likely to want to be associated with that lifestyle. Try to be less of just a company and be more of a movement. That way you can get people excited for what you?re doing!
Tip: Remember to regularly log into your ad manager to see how your ads are performing. If needed, make small tweaks to see what increases their success rates and what doesn?t.
5 Great Reasons To Use FB Ads For Increased Traffic
Highly effective
Quick and easy to set up
Quick results
Reach your ideal target audience
Lots of customization options
Now let's move on to the next wonderful way of getting increased traffic to your blog or website!
An Overview Of Forums
A forum is a message board attached to a website where users can discuss a mutual interest, usually the subject of the main site. Before instant messaging and social media, this was one of the main ways people discussed subjects online.
While forums are less common these days, there are still various subjects that lend themselves well to forums. Members on these boards tend to be highly committed. So don't just think of forums as old school and count them out.
Some Advantages For Increased Traffic From Forums
One great thing about forums is anyone can post links there. More importantly, Google counts these as inbound links, unlike social media links which are usually treated differently. These links also help your SEO, so at the same time you're getting increased traffic through SEO and search engines.
This mean forums are a fantastic source for getting increased traffic! For various reasons, they are severely undervalued by many marketers. With the explosion of social media, forums have somewhat fallen out of favor. It's a big mistake to write them off. Forums offer some powerful advantages.
Because forums have somewhat fallen out of vogue, you may find significantly less competition. That can also make it easier to be seen as an active member, making it that much easier to stand out.
Success on a forum is just as nuanced as on any other corner of the web though. So let?s unravel how you can make this really work.
The Challenge Of Forums

The main mistake most people make on forums is thinking they can just sign up and start posting links to their blog and get increased traffic. This approach doesn?t tend to work very well on any platform, but it?s particularly ineffectual on a forum. That's because there will be a tight-knit community of users who know each other and regularly visit the board for discussion and entertainment.
If you sign up only to immediately start posting links, you will be seen as a spammer. Your account may then be banned faster than you can say spam. Along with that, your links will be deleted and you will have hurt your reputation among the regular users. They may be leery if and when they see you elsewhere on social media.
You probably already get the idea, but here's an example of how this will be perceived by the forum users. Imagine someone new joining your book club and immediately trying to sell their products. It won't go over well and they may be escorted out before they even get to enjoy snacks. Don't be that person. (Anywhere. Ever.)
Related: 9 Ways To Treat Your Blog Like A Business
Using Forums Properly
Instead, use the forum to gradually build trust and make friends first. This involves a lot more work, but if you put the time in you?ll find it massively pays off. Not only will building trust help avoid your account being deleted when sharing links, it also sets a precedent of quality. That means forum members will more actively be interested in the things to which you link.
In fact, if you build enough of a relationship with the forum users, you may even find they actively help you with your promotion efforts, similar to how a friend might in the real world. If you first spend time developing a reputation as someone who adds value and makes useful contributions, then discuss that you?re working on your own blog or website, you may find they volunteer to share your link and that they provide useful discussion and feedback. And be sure to reciprocate!
Having a small number of truly dedicated fans can sometimes be enough to provide you with the backbone for a business. In addition to social media, a forum gives you the perfect place to develop those fans and then enlist their help to promote your products or services. The difference is that they start as fans of you and then migrate to the brand. This works very well and comes across as far less cynical.
Remember that forums are not about just leaving a bunch of generic posts with your link in the signature block. To get increased traffic and other results you want, you need to participate.
How To Find Relevant Forums
An easy way to find forums is thanks to SEO and Google's search bar.
Simply type in your niche and the word forum. If your niche is multiple words, type it within quotation marks and then add forum. For example, if your niche is jigsaw puzzles, be sure to type it as "jigsaw puzzles" forum so you don't end up with results that include the jigsaw power tool or the movie.
Instead of you niche, you can also try using some of your main keywords. Using your top keywords should get you the result you need, but use some of your less used keywords if you're not getting as many results as you'd like.
You can also use a search term people within your niche would search for. Using the jigsaw puzzle example, you could search on "puzzle glue" forum. There are bound to be forum questions about the best glue to use. And I doubt you'll find many non-puzzlers searching for puzzle glue.
Another potential route is searching based on a product you sell, or even a competitor's similar product.
For info and links to 7 entrepreneur forums to get you started, and to make following these steps easier, be sure to download the Cheatsheet. Just click the Resource Library image to get this free download!
Ensure The Forums Are Useful
Now that you can find forums, let's ensure they're useful for your goal of getting increased traffic.
You want active forums with regular posting. Sometimes that's easy to spot and other times not so much.
The easiest way is if it shows how many registered users and guests are using the forum at that moment. While some show the numbers, most won't so it takes a little more work.
Next look at the last few posts. Check their creation dates. If most were created within the last 48 to 72 hours, it may be worth registering. You should also look at how active members are in commenting and replying. This may involve looking back a little more as it sometimes takes days or weeks to get a lot of comments. But basically you want a forum that appears active.
Once you've found active forums, get registered. Picking the right username is important to helping you stand out and therefore getting more traffic to your blog. People will regularly be seeing it and associating it with you or your brand. So use your name or your brand name. Don't pick something like Mary1980. It's not helpful.
Next create your signature. Your forum signature is very important as it can be what helps get increased traffic to your blog. Don't make it simply identical to a keyword or anchor text on your blog. (No brownie points from Google.) It's also helpful to put in the form of a call-to-action, doing something. For example, Take my survey on X or Add me as a Facebook Friend. (Remember, you're also going to use targeted Facebook ads and they'll see them!)
Next step, participation!
Participating To Contribute And Get Traffic
While it can take time to stand out and become a trusted and respected member of the forum, it's also quite easy. And like social media, it can also be fun sharing ideas with fellow marketers and helping them.
Here's the process you can use:
Introduce yourself (there is usually a section for this)
Take part in some discussions and be friendly
Demonstrate your knowledge by answering questions
Create threads ? contribute topics of your own and show that you have interesting ideas
Help others with their own projects if the opportunity arises
Post some links to useful other sites
Mention your own projects
Copy and paste shortened, relevant and helpful info from one of your blog posts (Google is okay with this)
Post to your own blog or website ? only in a situation where it's relevant to the discussion (you don't want it to be jarring)
This is also a great way to find contacts and people you can work with!
Related: 5 Top Tips To Earn Money Blogging
Similar to your social media efforts, you can once again use a cross-pollination method. In other words, if your subject appeals to more than one niche or type of audience, this is a great way to get a lot of increased traffic. You can even create new content specifically for a forum you belong to.
Tip: Some social bookmarking sites work similarly to forums. Reddit is an example, if you find the right SubReddit. The same rules apply.
5 Great Reasons To Use Forums For Increased Traffic
Can be a tight-knit community that supports each other
Google counts the links as inbound links (also helps your SEO)
Forum members may actively help you with your promotion efforts
It's an easy process (though takes some time)
Can be easy for you to stand out (easier than on social media)
Our accompanying cheat sheet has info and links to 7 entrepreneur forums to get you started! It also helps make following all of these steps easier, so be sure to download the Cheatsheet. Simply click the link to the Resource Library to get started.
There you have it! Two more wonderful ways to get increased traffic to your blog!
If you've not already read Part 1 on using social media to get traffic, or Part 2 on using search engines and SEO to get traffic, be sure to check them out!
WHAT DO YOU THINK OF THE GREAT REASONS FOR USING EACH OF THESE? AGREE OR DISAGREE? ARE YOU UP FOR USING FORUMS? PLEASE SHARE IN THE COMMENTS BELOW.
AWeber Sign Up Form authentication failed. Please verify the settings to continue to use AWeber Sign Up Form.