We may earn money or products from the companies mentioned in this post.
Do you want to share your knowledge, and explore a modern way of teaching? When it comes to online learning experiences, creators usually choose between an online course and membership site.  And to be completely transparent, I have had both a membership site and online courses throughout my online career as a digital marketer.
Which one do you think is the better business model for you? If you are a coach, practitioner, or therapist who is looking for a promising passive side hustle, I  totally believe creating online courses is the better option! Selling online courses from your own website can be a financially rewarding and fulfilling venture. Let me show you how to do it.
>

Should you go for a membership site or online course? Monetize your expertise online now!
If you have some experience with online marketing, then maybe you have already heard about the wonder of online courses and membership sites. If you are already an online coach or practitioner, you know that doing one-on-one work is fulfilling but it limits the amounts of income that you can receive.   If you want to scale your business, this is where a course or a membership comes in.
However, if you are new to looking for a passive side hustle, consider monetizing your expertise online. Membership sites and online courses require distinct approaches when it comes to revenue generation, content creation, and community building. Before choosing one, do some research first. Read on for a quick overview of their commonalities and differences.
Online Courses versus Membership Site: The Pros and Cons
What is a membership site? 
A membership site is a set of web pages with protected content. In order to access its content, a user must log in. This means that its in-house content is only accessible to those who pay membership fees. Membership fees can be provided as a one-time payment good for lifetime access, or a recurring subscription that charges each year or month.
Recurring passive income is fabulous when you build a membership site that people love!  They will never leave.  So if you have a passion for teaching and love engaging with people than a membership might be right up your alley.
The other thing that is awesome about having a membership site is you can assign different levels within it. Then each membership level assigns specific, unique content to their subscribers.  Each membership site level is usually priced differently as well.   
The Advantages of Creating and Managing a Membership Site
1. Flexibility
Maintaining a membership site requires quite a lot of work, but at the end of the day, your routine is still flexible. If you want, you can work on the site at night, and focus on other things during the morning. You still have total control of your schedule. 
2. Community Engagement Is Awesome in a Membership Site
A membership site allows you to communicate well with your members on a weekly or daily basis. As you continue making relevant, helpful content, you can get to know your members more–who they are, how you can help them more, and why they joined your membership site. Reaching out to people is important if you are aiming for long-term success in the online learning industry. 
Other people prefer selling online courses on their own websites, but some still choose to deal with the tedious tasks involved in membership site maintenance for the reason that it is number one when it comes to community building.  So if you are into building your own brand and having a tribe than having a membership site is fabulous!
3. Affordability 
Membership site payments are split over a specific period of time. If you want, you can pay quarterly, monthly, or go for any other type of set up. Splitting the payment means members can enjoy more affordable payments. You can offer something affordable, and at the same time give them the option to upgrade their membership.  
The Disadvantages of Creating and Managing a Membership Site
1. Maintaining a Membership Site is an Endless Content Marathon!
It's true that there are so many wonderful things to love about membership sites, but producing ongoing content can be difficult and time-consuming. If you decide to create your own site, content creation will forever be on your calendar. Be prepared to produce tons of engaging, relevant content all-year-round.  
2. A Membership Site Requires Huge Maintenance Effort
I'm not saying that online courses require less effort. It's just that, with membership sites, there is the pressure to create continuous, informative content for a long period of time. Apart from spending time in creating content, you also need to set up the website effectively, to attract more members. 
What is an online course? 
Online courses are digital learning materials that don't require in-person meetings. It is a way to gain new knowledge and skills from the comfort of your own home. Some online courses are offered for free, while others are paid, and are created by industry experts. 
Click here if you want to create online courses as a passive side hustle.
The Advantages of Creating and Selling Online Courses
1. Access to Self-Paced Courses
Access to self-paced learning materials nowadays is crucial. We're already so stressed and overwhelmed with personal matters, so when it comes to online resources, we are always looking forward to highly flexible timelines. Selling online courses from your own website means your students can enjoy self-paced lessons, and that they can function according to their own schedules. 
2. Lucrative Passive Income
Creating online courses on your website is a great source of lucrative passive income. Just organize learning materials, arrange them in modules, and sell and promote it on your own website. Just wait until you make money while you sleep! You can either ask students to provide you with a single payment or in installments.
3. Little Customer Support
Unlike membership sites, online courses don't require that much support. The chance of students requesting refunds is small.  Typically, online courses offer support with an online community in a portal or a Facebook group.
The Disadvantages of Creating and Selling Online Courses
1. Harder to estimate future revenue
A membership site allows you to have a steady amount of students month after month. However, with an online course, you might go from selling around 250 courses to 0 every month if you don't continuously market.  To be able to sell your work effectively, you need to implement a good marketing plan. 
2.  Possible Limited Revenue (if you don't market)
Clearly, you will only generate income when someone purchases your course. If you are looking into making a steady amount of money per month, you can get that from selling online courses. However, you can be severally limited in your revenue – if you don't continuously market. The only way to make money here is to sell helpful, engaging online courses on your own website, and finding new clients who are willing to buy them. 
3. Intense Competition
As I said, the online learning industry is a huge one. There are probably hundreds of online courses out there on personal development, time management, and self-care. See to it that yours can offer something unique and interesting.  You have to have what I call a DDM – your Distinct Delivery Method.  A Distinct Delivery Method is how you deliver your products and services different from anyone else out there.  It may be even something small but that is how you differentiate yourself.  
A membership site is amazing, but I'd still go for online courses. Sell online courses from your own website now!
No matter how hard you work full-time as a coach, practitioner, or therapist you won't be able to scale YOUR INCOME like you can if you have a course.  In fact, now you may lead a comfortable life or need or want more money for whatever reason.  In fact, there are thousands of people out there in the same industry who are struggling to earn enough to help their families and boost their life savings. 
How many more years will you save to finally live the life you have been dreaming of?  Or are you having to put things like emergencies, kids sports, or college educations on a credit card? The truth is, most 9 to 5 jobs don't pay ALL the bills and all extras. If you are just starting out, I'm sure you are having a hard time. I know that very well…been there done that!
To all people out there who are struggling to earn extra income, I was once like you!
Imagine trying to live on a full-time paycheck and still not having enough. Yah that was my hubby and me for a while and it's crazy! 
Dedication to your family is one thing, but paying the bills without sacrificing everything is another. To all the people out there who are struggling to earn extra income, I was once like you!
At one point in our family, I had quit a $97,000 a year Information Technology job in Corporate America to stay home with my two babies, age 2 & brand new.  I was exhausted from working 13 hours a day and never seeing my children or husband. I thought the transition would be easy but after a few months of trying to live on my husband's salary of $32,000 a year – I knew I couldn't continue to just take care of my babies all day and not help bring in income.
So, I did what some of my friends were doing, I started a day-care.  I was making around $1200 a month. It helped even though we were still bleeding financially.   Although I loved watching my day-care kids, I was feeling antsy, we needed to make more money and I was bored.  
So I started spending some time on the computer and I found that so many people were making a killing online selling various courses and products.  I thought it might be a good idea but I wasn't completely sold yet. So instead, I decided to join an mlm company.
I tried to sign up everyone, I knew into my new mlm venture.  I even bugged my mail lady about it. But I wasn't having much luck.  So one night, I decided to spend our last $57 we had in savings on fliers to advertise my mlm. 
Little did I know that that would change my life forever.
I got up at 5 am early on a Saturday morning and went out with my friend to drop off fliers in the nice part of town.  When I came home around 7 am and I went back to bed. The thing, I remember was being in that state of almost asleep, and I heard a loud bang. 
I woke up, jumped out of bed, ran downstairs, and saw that our garage was on fire.  I yelled at my husband to go outside and check it out. And I went and got my babies out of their room and ran out in the backyard.
I remember thinking, I should have spent that last $57 on new underwear.  You see I was wearing holy underwear with a ratty old teeshirt out in my backyard with the babies.
I was yelling like a banchee at my husband to be careful – I am sure the neighbors 2 blocks away thought there was a domestic dispute going on.   Then firemen showed up and put a big ladder over the backyard so we could climb over the fence into the neighbors back yard.  
I was horrified and mortified.  The fireman and all my many neighbors got to see my granny panties that were full of holes.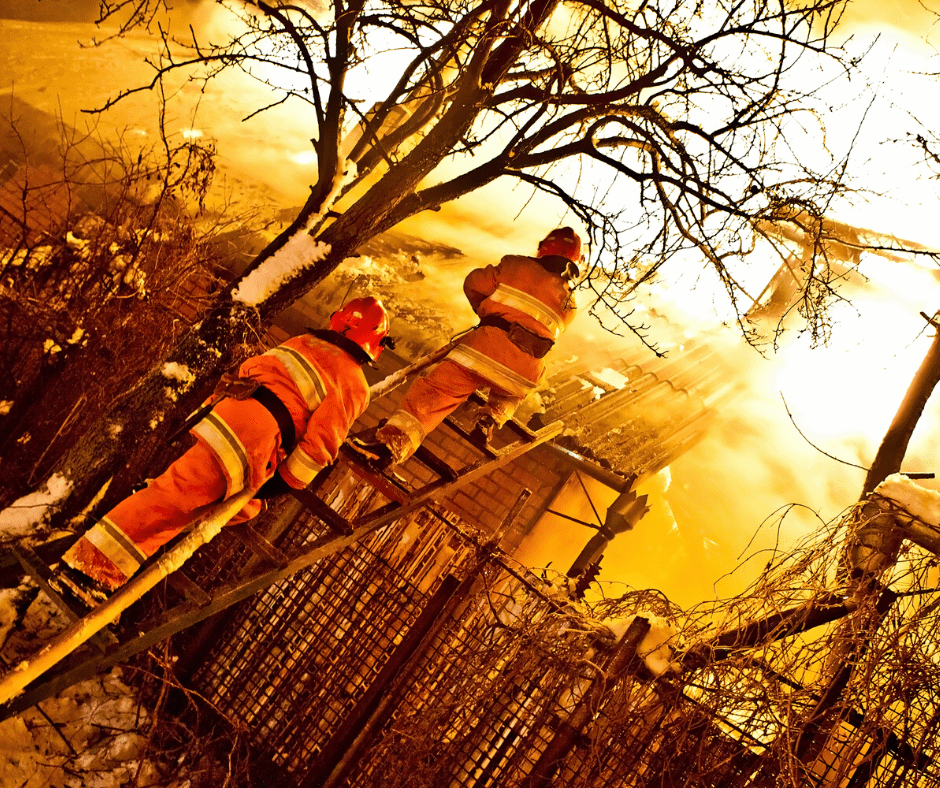 At that minute I knew life had to change.
So I put on my thinking cap and got super resourceful!  It was summer-time. I moved all my little kids into one room and hired a live-in nanny to stay with us for the summer.   She helped me take care of my kids and the daycare kids. I paid her out of the salary from the daycare.
I had one of those big old thick computers and a ratty old desk in my laundry.  And believe it or not, I spent 4 months in that laundry room during the summer learning how to generate leads online.  My break-through came when I learned how to generate cheap leads on eBay – after spending over $23,000 on credit cards and from our savings on various scams online.  
It was a steep and costly learning curve.
From there I learned how to generate more cheap and free leads online.  I wrote an ebook and sold it for $37 over and over again. Then I discovered how to use Facebook to generate leads online.
The best part was then I went on to create an online course called the "7 Touch Series" and I taught it to over 2,000 solopreneurs and people just like you who are looking for a passive side hustle.  The "7 Touch Series" was all about how to use this system to build their own online passive income source.  
Trust me when I say this, it hasn't always been an easy journey but it has been worth it. Good thing I discovered the magic of creating online courses and sharing my knowledge with other people like yourself. It allowed me to generate money online, and help other entrepreneurs who wanted to make money online. 
I can help you too.
Trust me, if I was starting all over, I wouldn't start with a membership site.  I would start with a simple-profit online course.  
Creating an online course is a better option than a membership site.
The online learning industry offers vast, promising opportunities even for newbie digital educators. I know that you're so excited to start this amazing business, but before taking huge steps, do some research first. Should you go for a membership site, or just sell online courses for your website?! 
Membership sites and online courses are both popular, but you still need to decide which one best fits your end goals, audience, expertise, and level of commitment. As for me, an online course is the best option. I know that you are attracted to the thought of creating an ambitious membership site, but as a beginner, I suggest you start with a simple yet helpful online course. Imagine this. If you are a life coach, you can come up with an online course that can change lives for the better!
Learn exactly how to create a simply profitable online course.
How to create the best online courses? Use these online course creators! 
If you are thinking of creating courses as a passive side hustle, check out Thinkific and Teachable. These platforms enable professionals to sell, market, and create their own online courses in a smooth, effective manner. To make the best choice, look into the tools and features you need to turn your online course into a sustainable business.  I will say though, that I host mine on my own WordPress site.   Learn exactly how I do it by learning about my simple profitable online course.
How can we sell online courses and make money?!
1. Choose a subject that you are passionate about.
Don't let yourself get stuck on a topic that you don't genuinely love. Teach a subject that you love, and enjoy sharing it with people. For now, it's best to consider this task as a passion project instead of solely an ambitious, money-making venture. I chose content marketing, affiliate marketing, and blogging since these are the ones I'm so passionate about. Now, working at my online courses doesn't feel like a job at all! 
2. Check your previous content.
So, you already know the course you want to teach. The next step is to check the resources you currently have. Look through some learning materials, social media content, and other blog posts that you have produced previously. Do you think you can use anything for that new online course you are making?
Selling an online course from your own website can be overwhelming at first, so try your best to make things easier. Put all of your current content altogether, and then afterward, assess the need to fill the gaps. By doing so, you can see what parts need to be addressed.
3. Lay the groundwork of your new online course. 
It's finally time to lay the foundation of your course. Prepare your existing learning resources, and gather new details for your course. Layout all the information, and then put them all together by theme. From there, you can come up with course modules, and further organize your lessons. 
4. Choose the best learning method for your clients.
Another important aspect to consider when creating your online course is how your specific clients learn. By understanding the learning process of your clients, you can pinpoint the best way to present the online course. Remember, whether you are creating an online course or membership site, a positive, effective learning experience is always a priority. 
Consider polling your future clients. Check if they favor a combination of audio files, images, written content, and videos in online learning materials.  You can find them in various Facebook communities and do a survey if the group allows it.
5. Price your online courses right. 
The very first thing that I did when I went to price my online course, was to check out other course creators online. Look into your competitors, and how much they are charging. What are their guarantees? Figure out how their learning materials compare to yours. It's quite a process, but worth it. If you have the time, you can take similar online courses, and evaluate how you can make your own better. What is clear is that the more value you offer, the more you can charge.
The Most Profitable Online Course Ideas
1. Personal Development Course
Whatever industry you are in, a little help on personal development will go a long way. It may appear irrelevant at first, but it can change your life for the better. Since you may be a coach, practitioner, or therapist, this subject should be on the top of your list. Plenty of industry people are struggling to do better in their day-to-day challenges.   Think about it like this:  90% of business success is your mindset.  Can you help them deal with their daily struggles?
2. An Online Course on Healthy Relationships
The key to lasting, good relationships? An online course on healthy personal and professional relationships. It's true that so many people out there think that they can't utilize the digital landscape to learn more about this topic. Well, good news! This battle is not theirs to fight alone. Help them benefit from this type of online learning experience. 
3. Online Life Coaching Course
Life coaches assist other people to bridge the gap between where they want to be, and where they are at present. Guide people throughout the entire process of reaching their life goals, and improving their connections with an online course.
4. Time Management Course
You may not believe this but I'm telling you, a course on time management can help you live a healthier, happier, and more productive life. Try taking one yourself, and apply what you have learned in your daily routine. Going through the entire online learning experience yourself will help you realize that with a clear mind, you can be productive and successful. 
5. Achieving Work-Life Balance
Discuss the different conflicting values that pull at people every day.  Help them focus on their core values that contribute to happiness and productivity.  One of the best strategies here is to target strong women leaders and help them maintain the balance between their personal and professional lives. 
Have you ever thought of creating an online course from scratch? Click here to learn more about it.
AWeber Sign Up Form authentication failed. Please verify the settings to continue to use AWeber Sign Up Form.