We may earn money or products from the companies mentioned in this post.
Are you looking for new student bullet journal ideas and bullet journal inspiration? This blog post is for you, then! Get inspired to log your study schedule and monitor your grades with these visually appealing spreads. 
College is, no doubt, one of the busiest moments of our lives!  It is an incredibly busy time, so if you don't make an effort to stay organized, you will end up drowning in stress. Maintaining a bullet journal notebook is important to manage your time well.
It also is really important while dealing with writing essays as you need to note all the topics you write a paper on. So, you can find a paper expert in case of such a thought: "I need someone to do my homework for money". 
Are you in need of new bullet journal supplies? Well, before you start your design sessions, let me share with you my favorite supplies that help enhance my creativity.
If you are looking for new, affordable design tools, you may want to look at these! 
✅ This journal stencil planner set that you can use not just for your bullet journal, but also for handmade family holiday cards, greeting cards and letters.
✅ This bullet journal notebook that is 24% heavier compared to other journal brands.
✅  This card ink pen set can help you make beautiful letterings and line widths.
✅ These fine tip pens will change the way you approach drawing in your bullet journal.  I adore them and I can't live without them.
✅ These ball pens are loved by many bullet journalist friends because of its great for creating flowy strokes. 
✅ This highlighter pen set is a top choice for those who love bullet journaling. 
✅ These washable markers are perfect for writing, coloring and drawing.
✅ These washi tapes have wonderful, unique patterns.
✅ These set of pens are designed for every person who loves calligraphy, drawing, and art therapy. 
✅ This graphite paper will save you tons of time by capturing each detail in your original design smoothly. 
✅ These bullet journal stickers will look beautiful for almost every kind of spread imaginable. 
✅  These watercolor brush pens offer good colors for blending and shading bigger areas.
✅  These sticky notes will help you remember important activities and dates. 
Student Bullet Journal Ideas: Here are some bullet journal ideas for students like you!
Not sure what to put in a bullet journal? Whether you are looking for bullet journal ideas for high school students or college students, these are amazing ideas to try. This is the best way to start if you are looking for a bullet journal key for students, bullet journal layouts, bullet journal templates, and bullet journal spreads.
1. Goal Setting Spread (Motivate Yourself!) 
2. To-Do List 
The Source
3. Semester Overview 
Our Source
4. Pretty Headers for your subjects (Perfect for note-taking!)
The Source
5. College Bullet Journal Class Schedule Spread 
Our Source
6. Morning Routine Tracker 
The Source
7. Weekend Planner 
Our Source
8. Bullet Journal Monthly Spread 
The Source
9. Bullet Journal Weekly Layout 
Our Source
10. Social Media Passwords
The Source
11. Birthday Lists 

Our Source
12. Grades Tracker
The Source
13. Study Page
Our Source
14. Sleep Log 
The Source
15. Exam Tracker  
16. Budget Tracker
The Source
17. Self Care Tracker 
Our Source
18. How to Study Tracker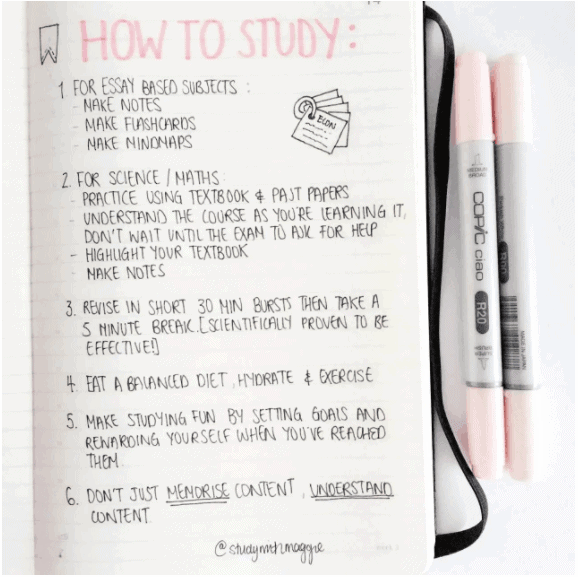 Our Source
More Student Bullet Journal Spreads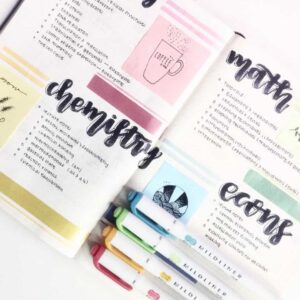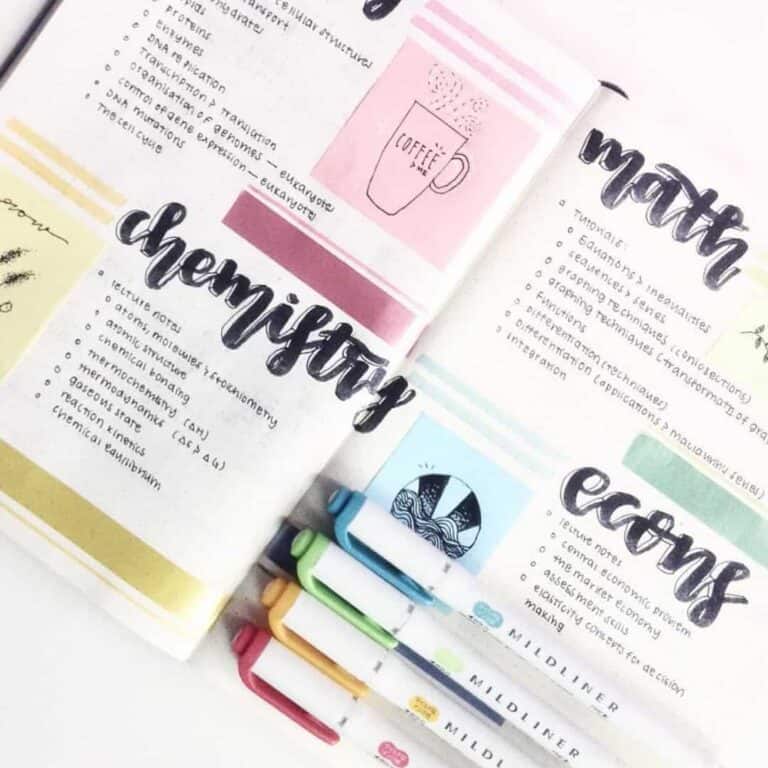 The Source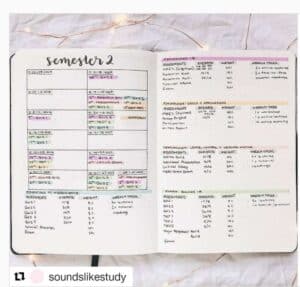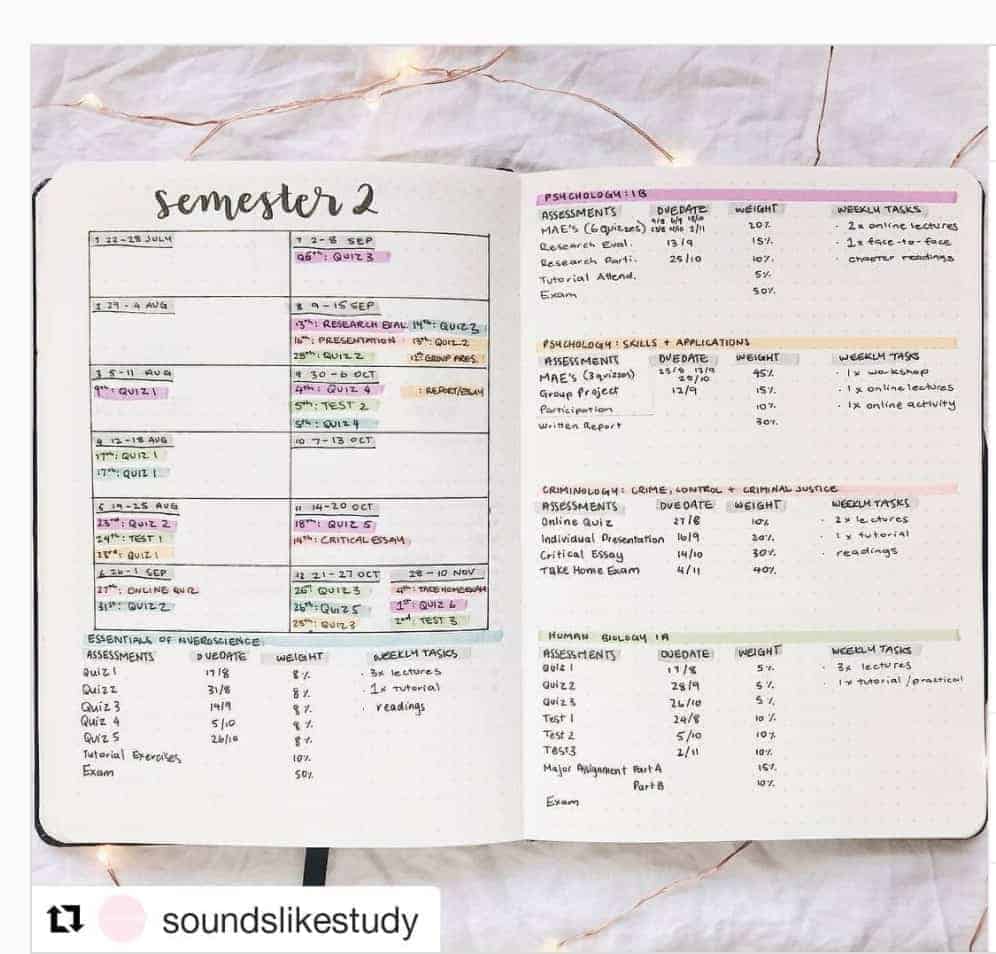 Our Source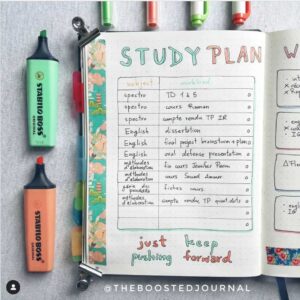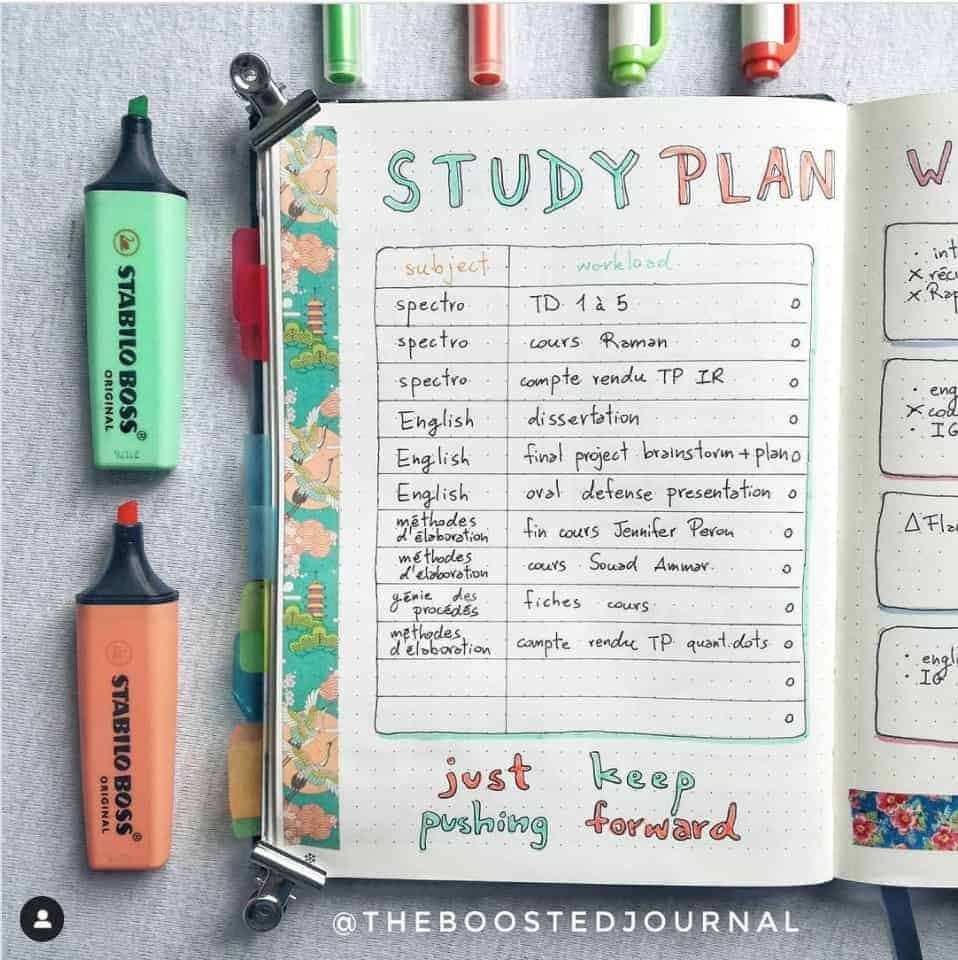 The Source
These student bullet journal page ideas will make you more productive!
Maintaining a student bullet journal can be challenging. Since it's an offline productivity system, making it will take more time compared to a digital one. Working on bullet journal keys and bullet journal weekly spreads takes more effort to create. 
But, trust me, these journal ideas for college students can work for you! Think about it. A bullet journal book essentially provides a unique way for you to organize your entire student life in a book. Bullet journal for students functions as a diary, to-do list, and all-in-one planner.  Plus, it gives you a chance to be creative, which can release a lot of stress!  And if you are looking for ways to make money as a student check out these ideas on how to make money without a job! 
Through amazing bullet journal page ideas, you can consolidate and minimize information, saving you tons of work. If you are looking for more bullet journal ideas for nifty students, check out some of my other articles.
AWeber Sign Up Form authentication failed. Please verify the settings to continue to use AWeber Sign Up Form.
Additional Student Bullet Journal Page Ideas: