We may earn money or products from the companies mentioned in this post.
Are you interested in bullet journaling? I bet you have that one friend that ditched a basic planner for a bullet journal, and I'm telling you, she is not alone! If we are looking for bullet journal hacks that actually work, we just go to Instagram or Pinterest and get millions of ideas.
Bullet journaling is not just a creative outlet where you pour in all of your thoughts. It is also a mindfulness practice that is disguised as a productivity system. Are you excited to create a list of all of your bullet journal ideas? Below are some hacks that can make your bullet journaling experience more productive and less stressful. 
As a newbie or even a pro you may want to learn from a bullet journaling-obsessed person, and that's me! I will be sharing with you some incredible bullet journaling hacks. You see, this may appear simple, but it can also be so overwhelming at first. And trust me, I have been there.  I remember when I got my first bullet journal, it sat on my desk for 2 weeks before I even opened it because I was scared.
Before we dive into my favorite hacks, I want to share some of my best bullet journal tools and where to buy an affordable bullet journal. 
✅ This journal stencil planner set that you can use not just for your bullet journal, but also for handmade family holiday cards, greeting cards and letters.
✅ This bullet journal notebook that is 24% heavier compared to other journal brands.
✅  This card ink pen set can help you make beautiful letterings and line widths.
✅ These fine tip pens will change the way you approach drawing in your bullet journal.  I adore them and I can't live without them.
✅ These ball pens are loved by many bullet journalist friends because of its great for creating flowy strokes. 
✅ This highlighter pen set is a top choice for those who love bullet journaling. 
✅ These washable markers are perfect for writing, coloring and drawing.
✅ These washi tapes have wonderful, unique patterns.
✅ These set of pens are designed for every person who loves calligraphy, drawing, and art therapy. 
✅ This graphite paper will save you tons of time by capturing each detail in your original design smoothly. 
✅ These bullet journal stickers will look beautiful for almost every kind of spread imaginable. 
✅  These watercolor brush pens offer good colors for blending and shading bigger areas.
✅  These sticky notes will help you remember important activities and dates. 
Marking your precious journal doesn't have to be intimidating, though. In fact, just in case you make mistakes, you can cover them up.  And you can read all about that using my white gel pen hack in this article –> 11 Bullet Journal Hacks That You Need to Swipe.
The best thing to start this? Make everything simple for you. Don't complicate things! Record those things that matter a lot to you. 
The Tools You Need to Start Your Bullet Journal
Are you ready to create the best bullet journal notebook? Time to gather those unique bujo ideas, and hunt for the best journals & affordable tools for bullet journaling that you can use.
A Notebook
There are plenty of cult favorites out there that you may certainly would love to use! Read reviews first, and look for one that fits your budget. Do you know where to buy the best bullet journal? Here's a bullet journal we highly recommend.
Pens, Markers and Stencils 
The pen you will use must not bleed through the notebook pages. Settle for a pen that can help you list down your to-dos, and at the same time serve you well when it comes to calligraphy projects. You may also buy bullet journal stencils to make layouts a lot faster. 
Bullet journal stickers
Decorate, decorate, decorate! In addition to this, you can also consider bullet journal stamps. 
There are two important bullet journaling tools you must keep in mind, but of course, to get started, all you need is a basic notebook and pen! Eventually, you can purchase stencils and markers to color-code your journal. Stencils can also help you save more time in creating amazing layouts. 
Are you ready to create the best bullet journal notebook? Time to gather the unique bujo ideas, and hunt for the best journals for bullet journaling. 
Get more help with lettering and doodles
There are plenty of SkillShare videos you can check out if you want to learn more about bullet journal hacks. Bloggers like me learned a lot of things from those classes. The more you learn about bullet journaling, the more you love lettering! Your skills will improve overtime. Take as many classes as you can. Just give it a try!
The best bullet journal hacks that actually work
1. Post It notes and ideas always go well together.
Post It notes are important for creative people like us! If you want to go for a new layout in a new page, don't waste time drawing new, complex layouts. You don't need to! Just use Post It notes for your grocery lists and to-do lists. You can also use them in your weekly bullet planner spreads, with the month calendar on it. Every week as you start a new layout, you can just post a monthly calendar on it, saving you tons of valuable time. Work on your bullet journal planner now!
2. Link similar ideas together through threading.
In the bullet journaling world, threading means linking similar notebook pages together.  For instance, you added a new city to your travel page, but then along the way, you want to add another one to the list. Just write the notebook page number that it continues with at the bottom part of the page. For example, if this was on page 18, and was continued on page 29, then you can just write 29 next to 18. It appears easy, but many people forget to do this!
3. Sketch on separate papers.
Those people who love to doodle on their bullet journal notebooks know that it is risky and permanent. Take away the risk by just using separate pieces of paper, and just pasting it on the page. This is one of those bullet journal hacks that actually work, and is a favorite by many writers and bloggers. 
4. Make unique bookmarks.
A DIY bookmark will make your bullet journal book even more special! There are many ways to do this, depending on the style, and amount of work that you want to do. Here are some cool homemade bookmark ideas you can follow! Click here.
5. Go for a DIY pen holder.
All you need to do is glue a ribbon to a simple binder clip. You now have a unique place to put your pen! Remember, in order to list down all of your brilliant bullet journal ideas, you need to have your pen with you at all times. 
6. Compile your books to make a traveler's notebook. 
Want more bullet journal hacks that actually work? If you have multiple bullet journals on the go then this hack is for you! Compile all of your books into a traveler's notebook. You just loop the elastic through the center of your bullet journal and the cover will hold them all in place.
7. Use graphite transfer paper for easier tracing. 
With the help of graphite transfer paper, you can still draw stunning images! Just print an image of anything you want to draw, and then buy some tracing paper. All you need to do is trace the lines and shapes! As the lines of the coloring page are press down, the transfer paper would leave that same exact drawing in the bullet journal. Very easy way to create amazing drawings.
8. Schedule important tasks through a Calender. 
A calendar can be made in two ways. First, use the page to write those page numbers that relate to those specific days. Another way is to utilize this planning the future, from birthdays to important job-related appointments. 
9. Maximize spaces with flip out pages. 
Any note or photo you flip back to reference regularly must be created into a flip-out page. This can be your weekly job schedule or school schedule. You can try this for your bullet diary. The best bullet journal collection ideas are best written with cute washi tapes on the side. 
10. Make use of washi tapes.
Want even more bullet journal hacks that actually work?  Here is one of my favorites as I make tons of mistakes! When bullet journaling, you can hide your mistakes by using washi tapes. Just post some random strips on those annoying mistakes, then it's gone! This can save you lots of time, and can even help you come up with a beautifully decorated journal page in less than 3 minutes. 
11. Add more beautiful photos.
Another easy element you can add to your bullet journal pages are beautiful photos. When you are drawing a monthly layout, feel free to leave some spaces to put some photos you took from the week. 
Another easy thing to add to your pages, that is often overlooked is photos. When you are drawing a weekly layout, leave a space to put some photos from the week. You will be so glad that you did!
AWeber Sign Up Form authentication failed. Please verify the settings to continue to use AWeber Sign Up Form.
Read More Bullet Journal Hacks:
If You Loved This Article, Please Pin It!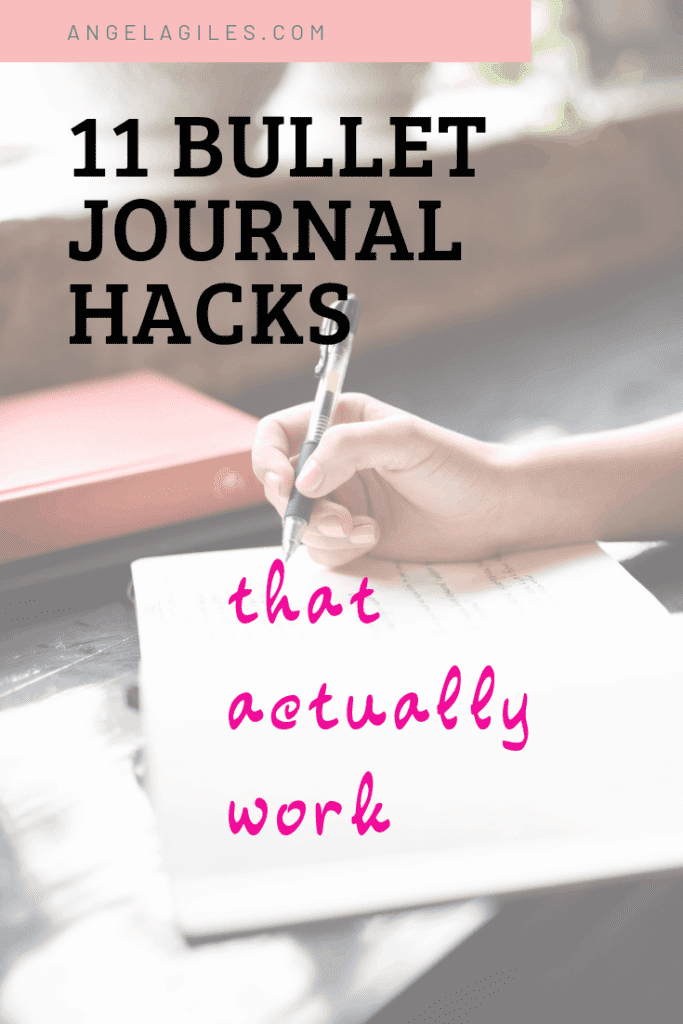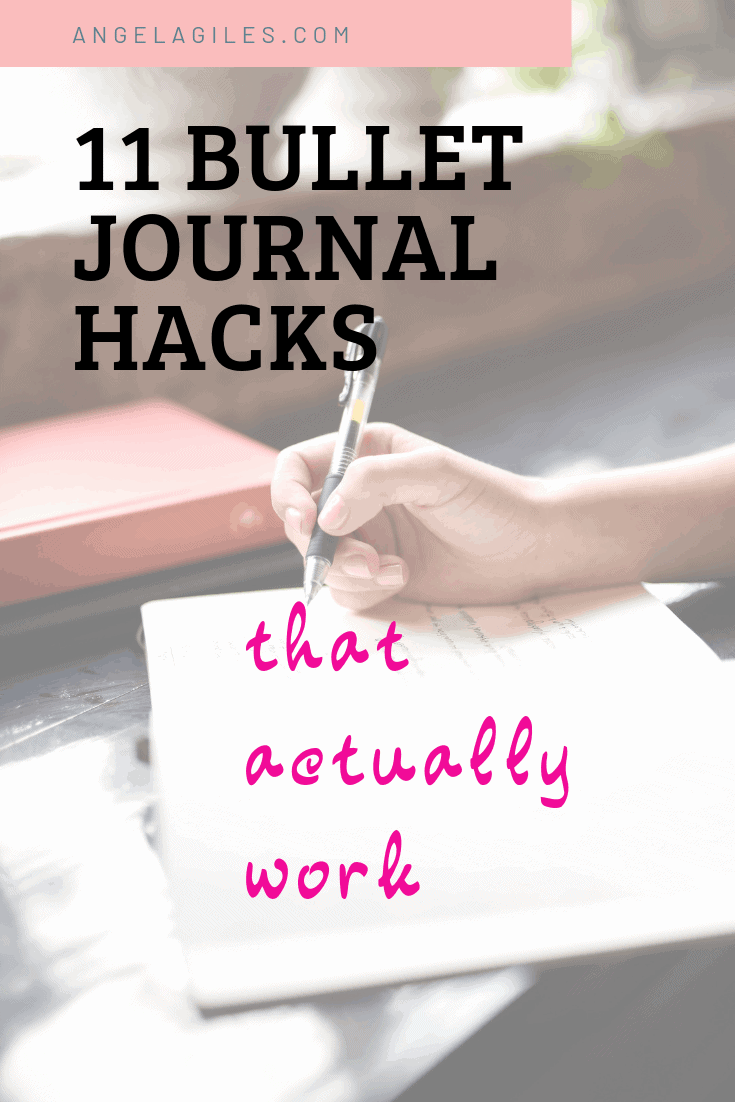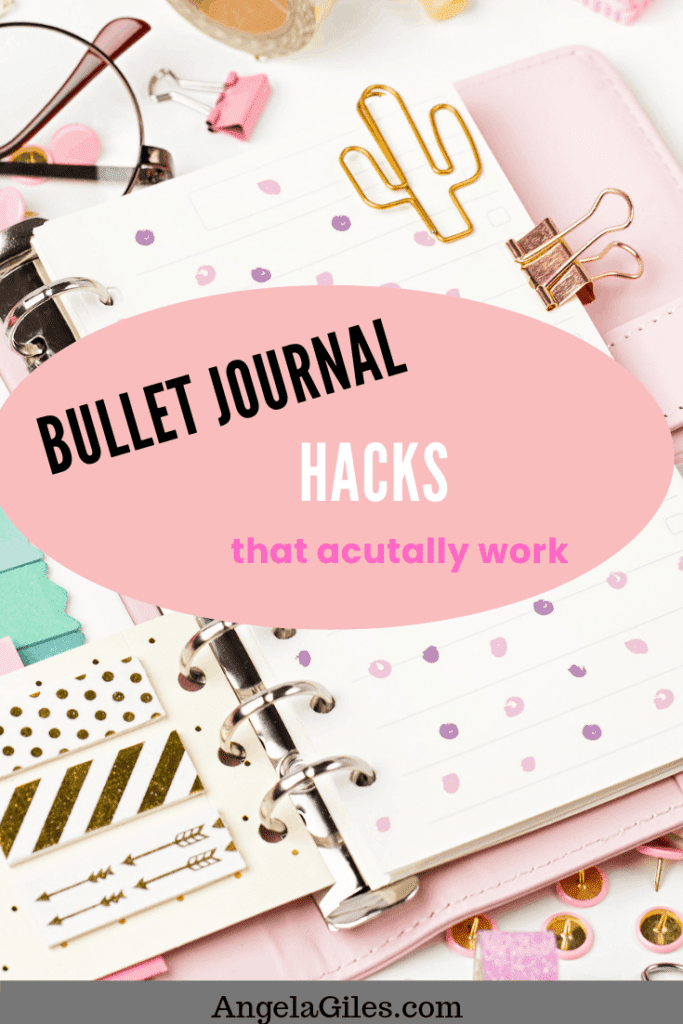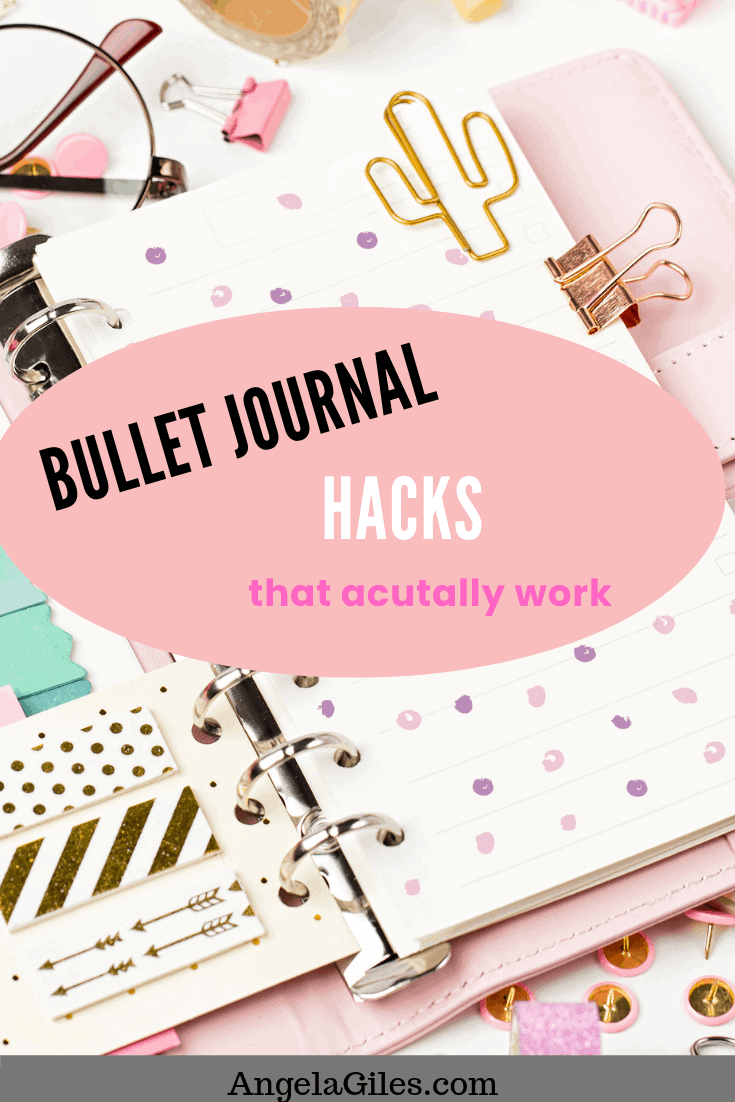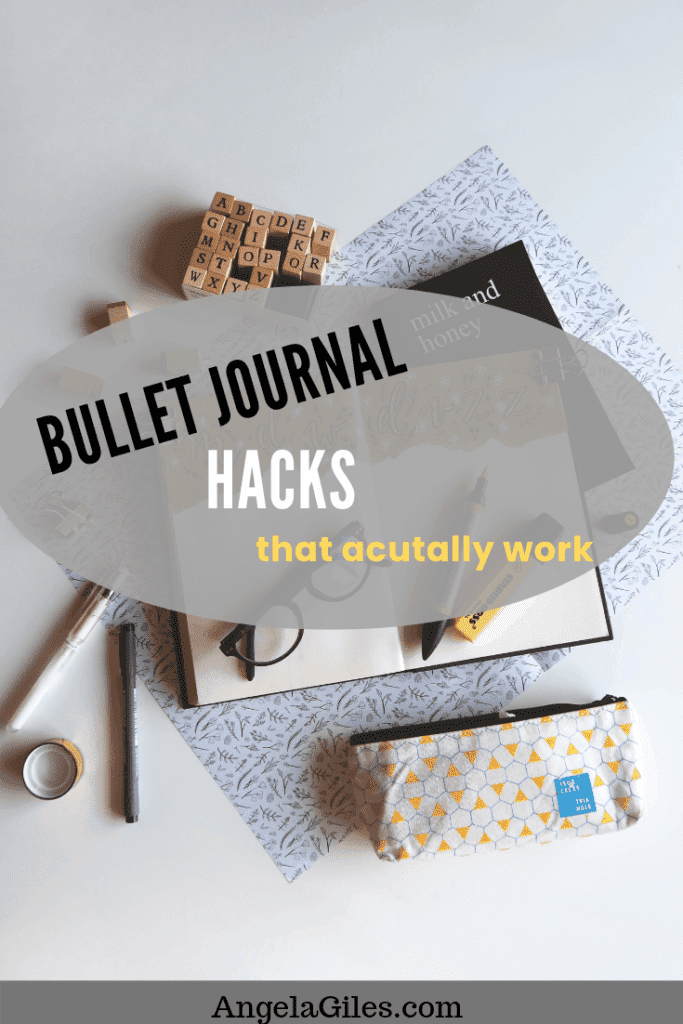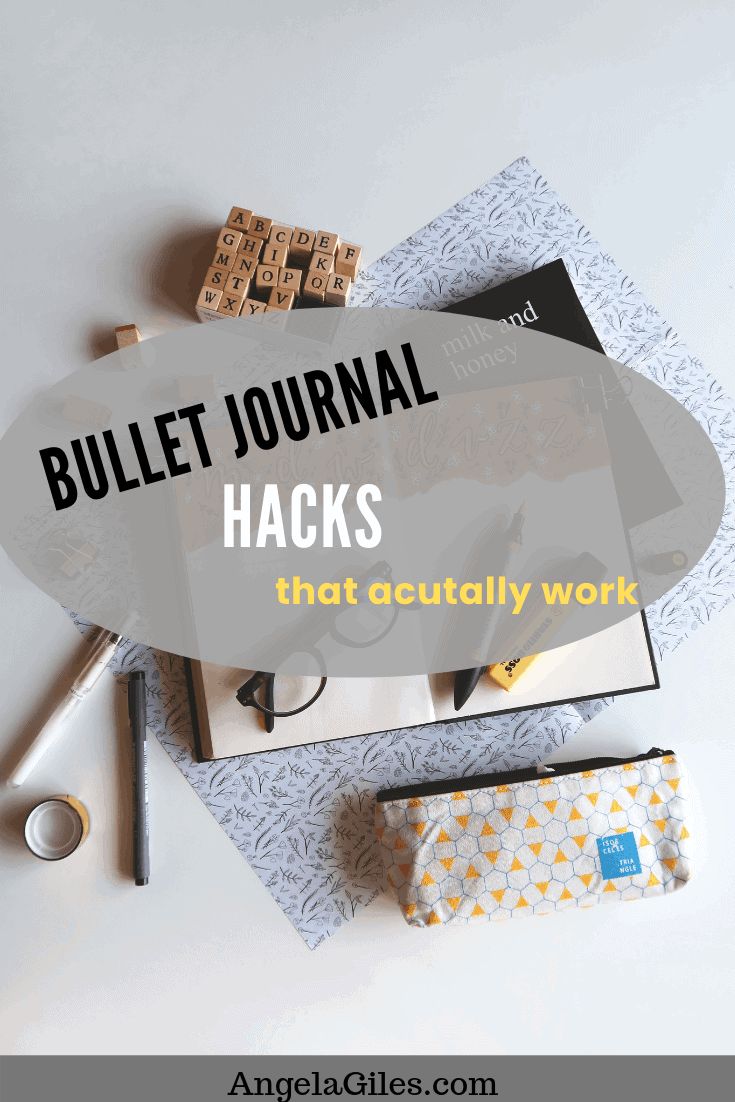 WHAT ARE YOUR FAVORITE BULLET JOURNAL HACKS THAT ACTUALLY WORK? WHICH ONES WORK BEST FOR YOU?! SHARE YOUR IDEAS IN THE COMMENTS!