We may earn money or products from the companies mentioned in this post.
A bullet journal is a mother's best friend. Through a bullet journal, mothers can organize their daily routine, and take down notes about lots of important family matters. If you are a mom of young children, this article is for you! You are officially on the road towards an awesome bullet journaling habit. While this centers on bullet journal page ideas for moms of young children, dads can draw inspiration from these cool bullet journal ideas as well.
Mothers are always busy, from looking through school information to taking note of allergies and emergency contacts. By keeping a bullet journal, you can improve your productivity, and at the same time exercise your creativity.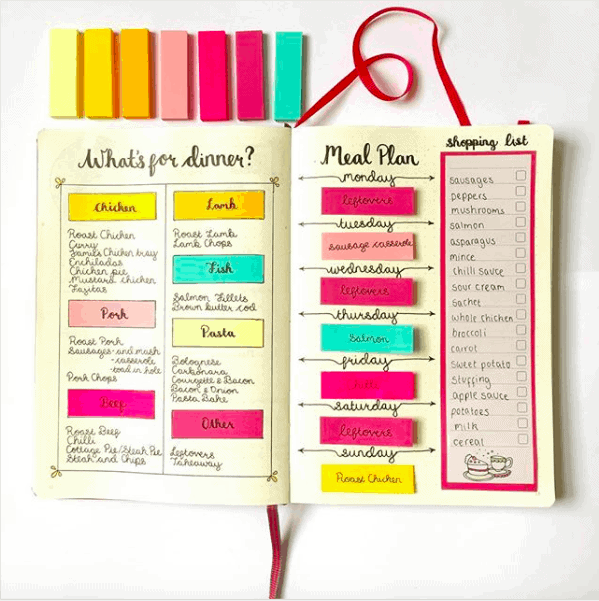 Our Source
Are you in need of new bullet journal supplies? Well, before you start your design sessions, let me share with you my favorite supplies that help enhance my creativity.
If you are looking for new, affordable design tools, you may want to look at these!
✅ This journal stencil planner set that you can use not just for your bullet journal, but also for handmade family holiday cards, greeting cards and letters.
✅ This bullet journal notebook that is 24% heavier compared to other journal brands.
✅  This card ink pen set can help you make beautiful letterings and line widths.
✅ These fine tip pens will change the way you approach drawing in your bullet journal.  I adore them and I can't live without them.
✅ These ball pens are loved by many bullet journalist friends because of its great for creating flowy strokes. 
✅ This highlighter pen set is a top choice for those who love bullet journaling. 
✅ These washable markers are perfect for writing, coloring and drawing.
✅ These washi tapes have wonderful, unique patterns.
✅ These set of pens are designed for every person who loves calligraphy, drawing, and art therapy. 
✅ This graphite paper will save you tons of time by capturing each detail in your original design smoothly. 
✅ These bullet journal stickers will look beautiful for almost every kind of spread imaginable. 
✅  These watercolor brush pens offer good colors for blending and shading bigger areas.
✅  These sticky notes offer are incredible reminders to not forget important items.
Brilliant Bullet Journal Ideas for Moms of Young Children
1. Emergency Numbers Tracker 
Our Source
2. Meal Planner 
The Source
3. Daily Routine Spread (Finish all of your chores early, and manage your time well!)
Our Source
4. Evening Routine Spread 
The Source
5. Allergy and Medication Tracker
Our Source
6. Self-Care Spread
The Source
7. Recipes Tracker (List those recipes you want to do with your kids!)
Our Source
8. Bill Tracker 
The Source
9. Exercise Log 
Our Source
10. Sleep Log
The Source
11. Family Health Tracker
Our Source
For moms with young children: Improve your creativity and productivity by writing on a bullet journal!
Motherhood is an exciting and at the same time challenging experience. Being a mother is not an easy job! By making awesome bullet journal spreads like the ones shown above, you can organize your routine in a creatively awesome way. If you have other mommy friends, this can also encourage them to maintain a bullet journal. 
Are you thinking of the best way to start a bullet journal routine? Start by creating a bullet journal weekly spread. Many bullet journal page ideas for moms of young children start with a simple weekly page, where they track their to-do lists in a detailed manner. 
Buying a new bullet journal and other bullet journal supplies, and writing on one everyday is not a waste of time. At the end of the day, you are doing what is best for yourself, your children and your entire family.
AWeber Sign Up Form authentication failed. Please verify the
settings
to continue to use AWeber Sign Up Form.
Additional Ideas: